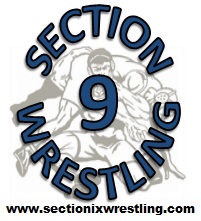 The college wrestling season is in full swing and this weekend will provide fans with several great options to get their fix!  Below are just a few of the weekend events which have some local wrestlers competing but please feel free to email me at sectionixwrestling@gmail.com if you would like to see something added!  Wrestle on!!!!
Friday
SUNY Sullivan vs. SUNY Ulster
Our two local JUCO programs will square of at 7:00 PM on Friday at the Paul Gerry Fieldhouse on the campus of SUNY Sullivan in Loch Scheldrake.  Let's come out in droves to support these two young programs which are both led by former Section 9 wrestlers!  SUNY Sullivan's head coach is Monticello graduate Anthong Ng while SUNY Ulster is led by former Warwick wrestler Brian Vutianitis.  Good luck to both teams!!!
Saturday
Journeymen Northeast Duals
This tournament keeps getting better every year.  The Northeast Duals will take place on Saturday at Hudson Valley Community College in Troy, NY.  It's always a great event and there will be several teams with local ties competing this year!  Drexel University will be there and Monroe Woodbury graduate Evan Barczak could face two nationally ranked opponents at 157 in Tyler Berger (Nebraska, #5 by Flo) and Griffin Parriot (Purdue, #20 by Flo).  Minisink Valley graduate Gerard Daly and Sacred Heart will take on The Citadel, Bloomsburg, and Appalachian State.  Division III power Ithaca College will also be at the NE Duals so we could possibly see Anthony Stramiello (Pine Bush/Monroe Woodbury), Johnny Stramiello (Pine Bush), Dylan Earl (Monroe Woodbury), and Tristin Schiafo (Red Hook) on the mat at some point!  RIT will also be there and they have Sam Weinger (Washingtonville) and Ian Houck (Rondoud Valley) on the roster.  Plus we can't forget about the University of Virginia and their Head Coach Steve Garland (Middletown) who will also have three dual meets on Saturday!  Good luck men!
East Stroudsburg Open
The East Stroudsburg Open is always a great tournament and is less than an hours drive from Port Jervis.  Minisink Valley graduate Michael Raccioppi wrestles at 174 for East Stroudsburg and really opened some eyes last year!
Sunday
Journeymen Collegiate Classic
Day two at Hudson Valley CC will showcase an individual tournament where we will see the Army Black Knights take the mat.  Army kicked of the season in stellar fashion last weekend placing 12 wrestlers at the Princeton Open.  There Black Knights currently have three nationally ranked wrestlers!