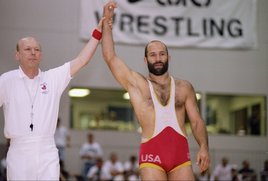 Sixteen years ago, the United States lost one its greatest wrestling heroes – Dave Schultz.  On January 26, 1996 Schultz was shot and killed by DuPont heir John E. duPont at the Foxcatcher Wrestling training facility in Newtown Square, PA.  duPont, later convicted and found to be mentally ill, was the sponsor of  Foxcatcher Wrestling.  He died in prison on December 9, 2010.
Perhaps the most decorated wrestler in US history, Schultz, like many other great wrestlers, did not even take up the sport until junior high school.  Schultz's senior year in high school (1977, Palo Alto, CA) is generally considered the greatest individual season by a high school wrestler in US history.  During that season he won the US Nationals in Greco Roman (open division…against grown men), he pinned a former 2X NCAA champion at an "open" college tournament, and he capped off the season by winning the California HS state title.  Schultz was a 10X World Champion, an Olympic Gold Medalist, and NCAA Champion.
Check out the link below for a recent article by Philly.com which does an outstanding job of Recalling the Schultz – duPont Tragedy.