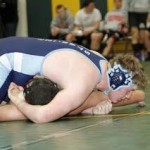 Saugerties crowned two individual champions en route to a fifth place team finish at the 33rd Annual Eric D'Agnese (Somers) Tournament.  Section 2 power Columbia won the team title followed by host Somers (Section 1) and St. Anthony's (CHSAA – Long Island).
In the marquee match-up of the finals, Saugerties heavyweight Ethan Stanley defeated Columbia's El Shaddai Gilmore-Vanhoesen 4-3 in quadruple overtime.  Stanley scored an escape with three seconds left in the ultimate tie breaker period to secure the victory.  Both Stanley and Gilmore-Vanhoesen are expected to be in contention for a state title in February.  Sawyer 182 pounder Chris Farrell also earned an individual title via his round-robin performance.  Andrew Mentz(170), James Bethel(195) , and Keoni Nakapaahu(220) all finished second for Saugerties.
Click here for final team standings as well as final individual results.