Friday 12/9 & Saturday 12/10
Minisink Valley @ Linda Stuart Duals in Colonie
Despite missing two starters due to injury, Minisink Valley went 6-1 at the Colonie Tournament with their only loss coming to out of state power Mt. Anthony from Vermont. Undefeated Warriors included Nick Picariello (99), Joey Yanis (182),  Andrew Covais (195), and Andrew Slagle (220).
Minisink Valley 70 Albany Academy 10
Minisink Valley 58 Indian River 18
Minisink Valley 64 Ketcham 12
Minisink Valley 57 Burnt Hills 25
Minisink Valley 40 Queensbury 34
Minisink Valley 36 Massapequa 31
Mt. Anthony, VT 38 Minisink Valley 36
Onteora @ Valley Duals
Copenhahen 51 Onteora 25    Central Valley 78 Onteora 6
Onteora 46 Little Falls 36        Onteora 57 Whiteboro 30
La Salle 54 Onteora 34            SVEC 57 Onteora 26
Mexico 48 Onteora 30             La Salle 45 Onteora 39
Saturday 12/10
Cornwall & Rondout Valley @ Dragon Duals
1st Place – Columbia
2nd Place – Pearl River
3rd Place – Cornwall
4th Place – Horace Greeley
5th Place – Rondout Valley
Undefeated Cornwall wrestlers were Christian Prokosch (99), Steve Gazzillo (145), and Will Leonard (182).  Columbia's John Devine (138) was voted tournament MOW.
Pearl River 60 Rondout Valley 24        Pearl River 41 Cornwall 36
Cornwall 60 Rondout Valley 24           Cornwall 51 Horace Greeley 32
Columbia 44 Cornwall 31
Pine Bush @ East Ramapo Titan Tournament 
Pine Bush Varsity represented Section 9 Wrestling at the "East Ramapo Titan Duals" in Spring Valley, NY this Saturday 12/10/2016, and took 1st place of 6 Varsity Teams.  Pine Bush's Tommy Askey went 5:0 at 120 lbs with all 5 pins to take "Most Outstanding Wrestler" ! Pine Bush had 6 undefeated wrestlers on Saturday :
Jordan Suarez (106), Tommy Askey (120), Derrick Magsamen (126), Shaun Burgos (145), Chris Tremper (160), and Owen Daly (170).
Pine Bush 50 East Ramapo 34     Pine Bush 51 Tappan Zee 15
Pine Bush 66 Arlington 24          Pine Bush 54 Croton Harmon 33
Pine Bush 66 Nyack 24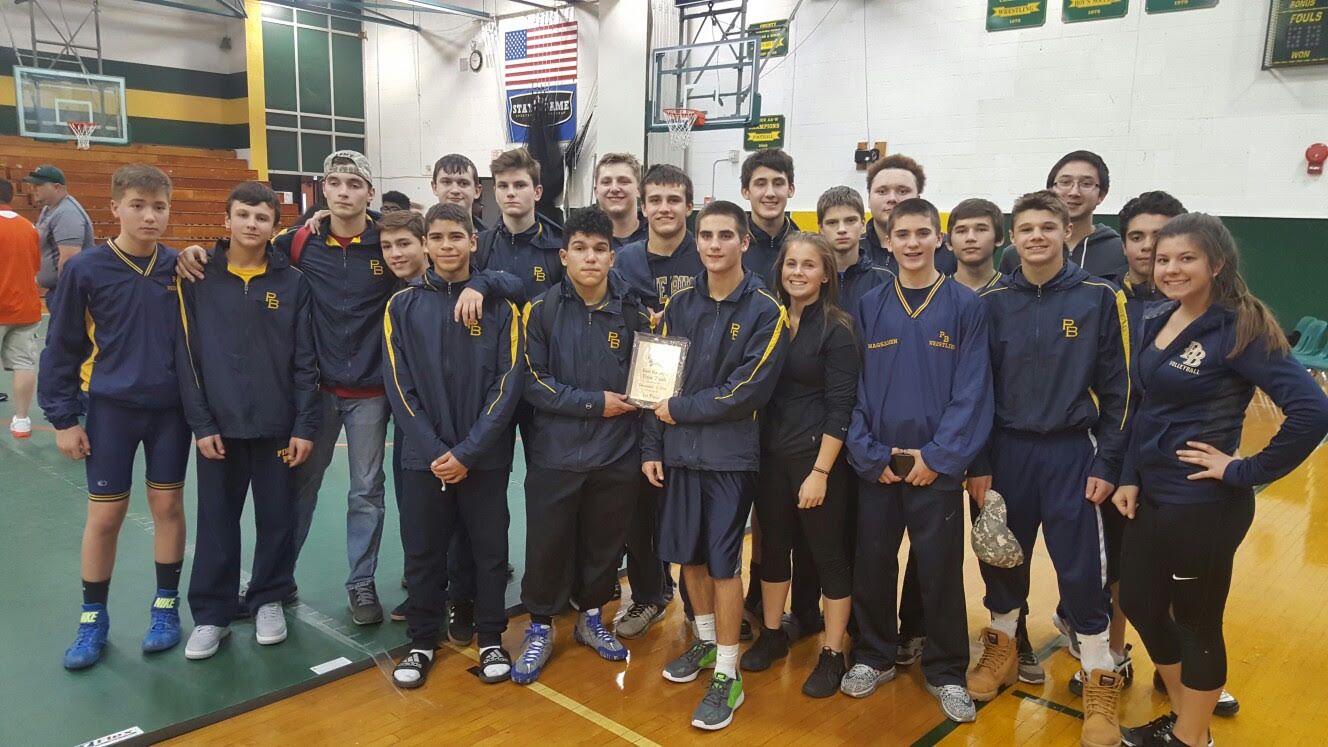 John Jay Tournament
| | | |
| --- | --- | --- |
| 1 | JOHN JAY CROSS RIVER | 217.5* |
| 2 | WALLKILL | 215.5* |
| 3 | MIDDLETOWN | 197.0 |
Wallkill crowned 1 champ, 6 runner ups, and 2 thirds, 1-4th ,two-5th and 1-6th at the John Jay Tournament this Friday/Saturday
3rd place:
138-Kyle Ripa
170-Brian Mascaro
2nd place:
99-Julianna Duva-JJCR dec Derek Ellison-Wallkill SV 6-4
113-Mickey Bruno-PV major dec Avery Ellison -Wallkill 10-1
120-Tyler Albis-JJEF wbfall James Faison-Wallkill 5:40
126-Andrew Davis (not entered)
132-Randy Earl-JJEF dec Brad Bonner-Wallkill 7-0
145-Ray Cotto-JJCR major dec Joe Pushman-Wallkill 9-1
195-Johnny Santos-Fox Lane wbfall Billy Kras-Wallkill 3:!7 
Champion
182-Mike Fekishazy won by inj default over Evan Frank (3rd NYS last year)-JJCR. Fekishazy was winning 6-2 late in third period when Frank stopped the match.
Tournament MOW- Grant Cuomo-Brewster-152 lbs
Middletown finished 3rd as a team behind Champion John Jay Cross River and Runner up Wallkill. Top 3 placers for the Middies:
Champions – 170lbs Adonis Morano, 285lbs, Norris Gipson.
Runners up – 170lbs Tajh Ali, 220lbs Horace Duke
3rd place – 106lbs Justin Morales, 152lbs Nate Garcia, 195lbs Julius Oquendo
Newburgh Free Academy crowned 2 champions and had 3 other wrestlers finish 3rd.  Greg Fischer was crowned champion at 106 while Tyler Serafini won the title at 152.  Tyler Dellatore (113), Maxx DeCapua (182), and William McCartney (285) all finished in 3rd place for the Goldbacks.  Click HERE for all of the NFA individual results.
Kingston @ Matmania in Glens Falls
Kingston placed 5th of 18 teams at the Glens Falls Matmania. Seven Tigers placed.
Nijee Noble took 2nd at 170  with a 3-0 loss to Northern Adirondack's Justin Trembley. In the semis, Noble defeated 2x Section II champ Eoghan Sweeney of Niskayuna 2-1.
Chris Bouton took 2nd at 132 with a loss to Rolland LaPoint of Northern Adirondack.  Tyler Marzarago placed 3rd at 195lbs, Hayden Barley 4th at 220lbs, Javier Casteneda 4th at 126lbs, and Jake Chenier and Ryan Muller taking 5th and 6th respectively.