The Mid-Hudson was started in 1965 as the Arlington Wrestling Invitational by Mr. Bill Wright, Arlington's first wrestling coach. Four teams participated (Arlington, Onteora, Brewster, and Saugerties) and Onteora was team champion. It expanded to six teams in 1966, eight schools in 1967, and 13 teams in 1970.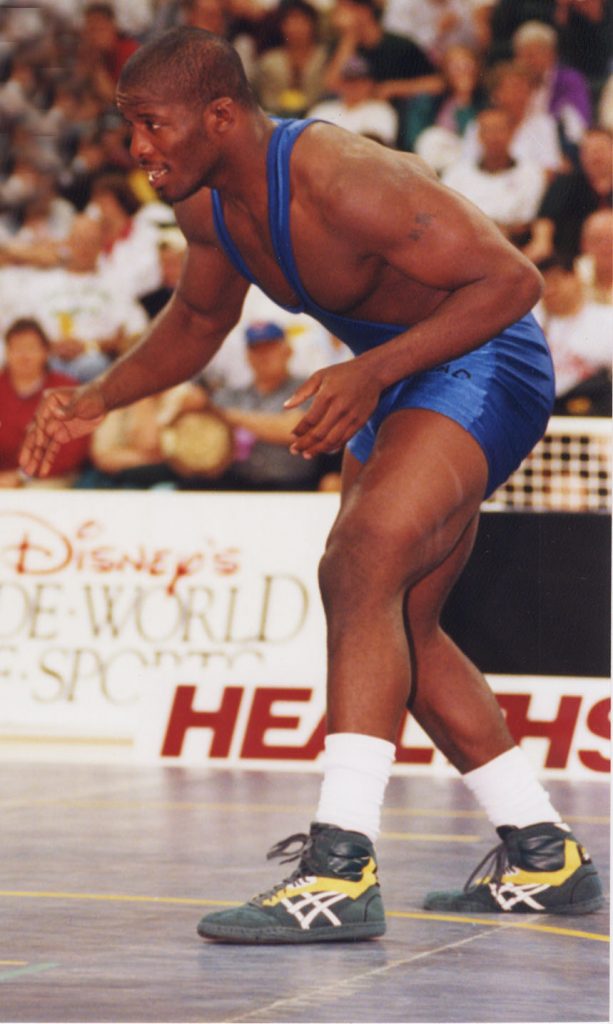 In 1971 it expanded to 16 teams and was moved to Dutchess Community College. It remained at DCC until 1983 and was moved to Kingston High School (Kate Walton Field House). The tournament was expanded to 25 teams. Mr. Dean Short of Kingston was tournament director. In '02 it moved back to Arlington and has been there ever since under the direction of Mr. Fred Perry. It is the longest running wrestling tournament in NYS. It has had NCAA and Olympic Champions, including Jeff Blatnick (Olympic Champion) and Kerry McCoy (2X NCAA Champion). There has been only one wrestler to win 5X Mid-Hudson titles! While wrestling for his alma mater, Monroe Woodbury head coach John Gartiser won the Mid-Hudson in 1997 (96 lbs.), 1998 (103 lbs.), 1999 (112 lbs.), 2000 (125 lbs.) and 2001 (140 lbs.). Only three wrestlers have won the Mid-Hudson four times! Valley Central's Lou Ruggirello Sr. won the tournament in 1986, 1987, 1988, and 1989. He would go on to win two NYS medals placing 3rd in 1988 and winning the title in 1989. Louie's teammate at Valley Central, Jeff Lewis, won the Mid-Hudson in 1983, 1984, 1986, and 1987. Lewis would go on to become a 2X NYS place winner finishing 2nd and 3rd! Pine Bush graduate Johnny Stramiello won the Mid-Hudson in 2009, 2010, 2012, and 2013. Stramiello was a 2X NYS place winner taking 6th place honors 2011 and 2012.
Let's take a look at the year-by-year individual and team champions. The vast majority of this information is from the Long Island Wrestling Association website. There are a few years that are not complete, and some years have many first names missing. If anyone can help fill in these blanks, please put the information in the comment section or email me at sectionixwrestling@gmail.com. I would also like to add any noteworthy comments next to the champions name so if you have any information that you would like to see added, send it to me! Enjoy!
1965: Team Champions – Onteora HS
• 95 – Tom Raffaldi, Onteora
• 103 – Richard Biafield, Arlington
• 112 – Mike Sherrer, Onteora
• 120 – John Warns, Saugerties
• 127 – Ed Zambrowski, Brewster
• 133 – Jim Carr, Onteora
• 138 – John O'Hara, Brewster
• 145 – Rick Doran, Onteora
• 154 – Frank Raffaldi, Onteora
• 165 – Wes Kissel, Onteora
• 180 – Mark Hoyt, Onteora
• 215 – Dennis Sutton, Arlington
1966: Team Champions – Wappingers HS
• 95 – Mike Brown, Wappingers
• 103 – Craig MacElveen, Wappingers
• 112 – Mike Hamigan, Wappingers
• 120 – Vince Minasi, Wappingers
• 127 – George Courtney, Newburgh
• 133 – Sal Favata, Newburgh
• 138 – Al Favata, Newburgh
• 145 – Fred David, Wappingers
• 154 – Nick Zuzulo, Wappingers
• 165 – Dennis Nostrand, Wappingers
• 180 – Dennis Sutton, Arlington
• 215 – Bruce Caswell, Arlington
1967: Team Champions – Wappingers HS
• 95 – Bill Ciccarelli, Wappingers
• 103 – Bill Conley, Wappingers
• 112 – Rudy Kullsek, Newburgh
• 120 – Vince Minasi, Wappingers
• 127 – Bill Hernandez, Newburgh
• 133 – Dan Locke, Wappingers
• 138 – Al Favata, Newburgh
• 145 – Fred David, Wappingers
• 154 – Steve Bracco, Washingtonville
• 165 – Nick Zuzulo, Wappingers
• 180 – Hunt Hanna, Wappingers
• 215 – Frank Panaro, Newburgh
1968: Team Champions – Arlington HS
• 95 – John Humeston, Beacon
• 103 – George DePuy, Ellenville
• 112 – Bill Ciccarelli, Roy C. Ketcham
• 120 – Bruce Barr, Newburgh
• 127 – Rudy Kolisek, Newburgh
• 133 – Phil Courtois, Arlington
• 138 – Al Favata, Newburgh
• 145 – Larry Libihoul, Arlington
• 154 – Don Harlin, Beacon
• 165 – Bill Young, Ellenville
• 175 – Steve Bernard, Saugerties
• 215 – Hugh Knickerbocker, Arlington
1969: Team Champions – Newburgh HS
• 98 – John Humeston, Beacon
• 107 – Jose Feliciano, Newburgh
• 115 – Paul Miccio, John Jay EF
• 123 – Bob Strong, Newburgh
• 130 – Bill Ciccarelli, John Jay EF
• 137 – Keith Kenney, Newburgh
• 145 – Ennis Trent, Newburgh
• 155 – Rick Lack, Suagerties
• 165 – Reed Johnson, John Jay EF
• 175 – John Brown, Newburgh
• 185 – Hugh Knickerbocker, Arlington
• 215 – Doug Odell, Arlington
1970: Team Champions – Cornwall HS
• 98 – Jim Sciamanna, Newburgh
• 105 – Jim Tiso, Newburgh
• 112 – Mark Roberts, Arlington
• 119 – Steve Lynch, Cornwall
• 126 – Brad Kanter, John Jay EF
• 132 – Joe Brewer, Cornwall
• 138 – Rich Lark, Cornwall
• 145 – Pat LaMaestro, Ellenville
• 155 – Benjie Scherer, Cornwall
• 167 – Bill Melvin, Cornwall
• 177 – Dave Lawrence, Newburgh
• 215 – Doug Odell, Arlington
1971: Team Champions – John Jay EF HS
• 98 – Jim Sciamanna, Newburgh
• 105 – Jose Feliciano, Newburgh
• 112 – Joe Goldsmith, Ramapo
• 119 – John Longabucco, Spring Valley
• 126 – Brad Kanter, John Jay EF
• 132 – Paul Miccio, John Jay EF
• 138 – Rich Lark, Cornwall
• 145 – Dave Hauser, Ramapo
• 155 – Sean O'Sullivan, Washingtonville
• 167 – Jim Horvath, Ramapo
• 177 – Paul Moore, Ramapo
• 215 – Benjie Scherer, Cornwall
• 255 – Ken McElroy, Washingtonville
1972: Team Champions – Valley Central HS
• 98 – Mark Scott, Cornwall
• 105 – Sclatini, Valley Central
• 112 – Ortiz, Roy C. Ketcham
• 119 – Haberman, Lawrence
• 126 – Brad Kanter, John Jay EF
• 132 – Joe Raimondi, Valley Central
• 138 – Viggo Worum, Ramapo
• 145 – Rich Lark, Cornwall
• 155 – Rich Robbins, Lawrence
• 167 – Andreno, Lawrence
• 177 – Rich Lawrence, Newburgh
• 215 – Rich O'Banks, Valley Central
• 250 – Boykin, Newburgh
1973: Team Champions – Ramapo HS
• 98 – Tim Golden, Newburgh
• 105 – Hal Zendle, Niskayuna
• 112 – Steve Silverberg, Ramapo
• 119 – Frank Rodriguez, Ramapo
• 126 – Tony Marciano, Ramapo
• 132 – George O'Shea, Arlington
• 138 – Kirk Boothe, Niskayuna
• 145 – Mike McReady Ramapo
• 155 – Rich Robbins, Lawrence
• 167 – Joel Lord, Niskayuna
• 177 – Rich Lawrence, Newburgh
• 215 – Lee Ramson, Cornwall
• 250 – Rich Wright, Washingtonville
1974: Team Champions – Niskayuna HS
• 92 – Hayden Schulman, Lawrence
• 98 – Tom Berry, Rondout Valley
• 105 – Doug Seline, Niskayuna
• 112 – Howie Berger, Niskayuna
• 119 – Fred Adige, Newburgh
• 126 – Steve Silverberg, Ramapo
• 132 – Mitch Murray, Brockton, MA
• 138 – Mike Harris, Newburgh
• 145 – Paul Packard, Brockton, MA
• 155 – Matt Van Benthem, Niskayuna
• 167 – Rich Sipple, Kingston
• 177 – Earl Jordan, Ramapo
• 215 – Jeff Blatnick, Niskayuna – 1984 Olympic Gold Medalist – GR
• 250 – Doug Gordon, Brockton, MA
1975: Team Champions – Niskayuna HS
• 91 – Chris Jackson, Baldwin
• 98 – Mike Raimondi, Valley Central
• 105 – John Parisella, Niskayuna
• 112 – Willie Munoz, Lawrence
• 119 – Lou Dionisio, Baldwin
• 126 – Rob Viventi, Niskayuna
• 132 – Vin Fucci, Ramapo
• 138 – Jay Weller, Valley Central
• 145 – Doug Lithgow, Baldwin
• 155 – Steve Thompson, Niskayuna
• 167 – Al Distefano, Washingtonville
• 177 – Dave Sanford, Baldwin
• 215 – Marco Minuto, Ramapo
• 250 – Tim Davis, Valley Central
1976: Team Champions – Tappan Zee HS
• 91 – Ted Casey, Newburgh
• 98 – Paul Marguiles, Tappan Zee
• 105 – Gene Andrews, Cornwall
• 112 – Steve Zucker, Baldwin
• 119 – Bob Hirt, Tappan Zee
• 126 – Neal Zendle, Niskayuna
• 132 – Karl Heller, Valley Central
• 138 – Corkee Macek, John Jay EF
• 145 – Paul Meyers, Baldwin
• 155 – Kevin Eggleston, Baldwin
• 167 – Craig Marshian, Tappan Zee
• 177 – Tom Hubel, Tappan Zee
• 215 – Jim Skaarva, John Jay EF
• 250 – Jay Woerderman, Washingtonville
1977: Team Champions – Baldwin HS
• 91 – Mike Dergarabedian, Baldwin
• 98 – Pete Cestra, Lawrence
• 105 – Chris Jackson, Baldwin
• 112 – Mike Raimondi, Valley Central
• 119 – Dean Degarabedian, Baldwin
• 126 – Ned Zendle, Niskayuna
• 132 – Greg Viventi, Niskayuna
• 138 – Tim Doyle, Tappan Zee
• 145 – Terry Kelly, Niskayuna
• 155 – Paul Meyers, Baldwin
• 167 – Kevin Eggleston, Baldwin
• 177 – John Fanti, White Plains
• 215 – Eric Marko, Newburgh
• 250 – Phil Razy, Kingston
1978: Team Champions – Niskayuna HS
• 91 – Mike Politano, Lawrence
• 98 – John Meyers, Baldwin
• 105 – Mike Dergarabedian, Baldwin
• 112 – Joel Feingold, Niskayuna
• 119 – Andy Seras, Niskayuna – 1988 Olympian GR
• 126 – Rich Lithgow, Baldwin
• 132 – Dean Dergarabedian, Baldwin
• 138 – Gordon Zellner, Arlington
• 145 – Arnold Clinton, White Plains
• 155 – Dave Audoyan, Tappan Zee
• 167 – Eugene Emmert, Tappan Zee
• 177 – Chris Morley, John Jay EF
• 215 – Kirk Maisch, Kinston
• 250 – Peter Antonelli, Lawrence
1979: Team Champions – Tappan Zee HS
• 91 – Steve Karas, Tappan Zee
• 98 – Jon Sato, Sleepy Hollow
• 105 – Lou Hamer, Kingston
• 112 – Ed Gillespie, Baldwin
• 119 – Chuck Kennedy, Kingston
• 126 – Andy Seras, Niskayuna – 1988 Olympian GR
• 132 – Rich Lithgow, Baldwin
• 138 – Steve Jackson, Baldwin
• 145 – Arnold Clinton, White Plains
• 155 – Mike Skalla, Rondout Valley
• 167 – Joe Vega, Tappan Zee
• 177 – Tod Giles, Ramapo – Greco Olympic alternate; former Army head coach
• 215 – Paul McAdon, Washingtonville
• 250 – Scott Nichols, Arlington
1980: Team Champions – Baldwin HS
• 91 – Rick Grande, Ramapo
• 98 – Henry Flinter, Baldwin
• 105 – Rod Smyth, Arlington
• 112 – Marc Schwartz, Lawrence
• 119 – Chuck Kennedy, Kington
• 126 – Andy Silverberg, Ramapo
• 132 – Joel Feingold, Niskayuna
• 138 – Dave Welker, Somers
• 145 – Rich Lithgow, Baldwin
• 155 – Roland Crawford, Ossining
• 167 – Chris DeLorenzo, Ramapo
• 177 – Chris Wheeler, Ossining
• 215 – Paul McAdon, Washingtonville
• 250 – Scott Nichols, Arlington
1981: Team Champions – Niskayuna HS
• 91 – J. Pisanello, Baldwin
• 98 – G. Christman, Niskayuna
• 105 – J. Elliott, Arlington
• 112 – J. Golden, Minisink Valley
• 119 – S. Hazelton, Niskayuna
• 126 – M. Brady, Lawrence
• 132 – J. Placek, Niskayuna
• 138 – M. Byrne, Minisink Valley
• 145 – C. Smith, Roy C. Ketcham
• 155 – K. Davey, Baldwin
• 167 – S. Carson, Baldwin
• 177 – D. Wilson, Lawrence
• 215 – J. Tamburo, Baldwin
• 250 – D. Koplovitz, Niskayuna
1982: Team Champions – Lawrence HS
• 91 – Dale Robin, Arlington
• 98 – Todd Williams, Minisink Valley
• 105 – Joe Pisanello, Baldwin
• 112 – Joe Ciccone, Kingston
• 119 – Dave Acoomada, Lawrence
• 126 – Scott Dergarabedian, Baldwin
• 132 – Ricky Kelly, Arlington
• 138 – Paul Lewis, Valley Central
• 145 – Charlie Trotta, Lawrence
• 155 – Frank Brooks, Rondout Valley
• 167 – Dan Poprilo, Lawrence
• 177 – Brian Silcott, Fox Lane
• 215 – Curtis Freeman, Ossining
• 250 – Lou Bouchard, Kingston
1983: Team Champions – Baldwin HS
• 91 – K. Devlin, Baldwin
• 98 – Jeff Lewis, Valley Central
• 105 – D. Weisburg, Ramapo
• 112 – G. Shapiro, Ramapo
• 119 – J. Ciccone, Kingston
• 126 – Dean Ford, Minisink Valley
• 132 – R. Kelly, Arlington
• 138 – S. Bendett, Niskayuna
• 145 – J. Kanaras, Baldwin
• 155 – F. Brooks, Rondout Valley
• 167 – C. Trotta, Lawrence
• 177 – A. Gnida, Somers
• 215 – M. Barrett, Baldwin
• 250 – Name Unavailable
1984: Team Champions – Rondout Valley HS
• 91 – D. Robin, Arlington
• 98 – D. Smith, Rondout Valley
• 105 – Jeff Lewis, Valley Central
• 112 – Ray Martir, Minisink Valley
• 119 – Todd Williams, Minisink Valley
• 126 – Rich Parete, Rondount Valley
• 132 – Terence Hollywood, Minisink Valley
• 138 – T. Zylstra, Roy C. Ketcham
• 145 – John Parete, Rondout Valley
• 155 – F. Brooks, Rondout Valley
• 167 – N. Evangelista, White Plains
• 177 – N. Chriss, White Plains
• 215 – G. Gonzalez, John Jay EF
• 250 – J. Miller, Niskayuna
1985: Team Champions – Minisink Valley HS
• 91 – Kevin Garvelli, Minisink Valley
• 98 – Jeff Cherry, Minisink Valley
• 105 – D. Robin, Arlington
• 112 – Raymond Martir, Minisink Valley
• 119 – Joe Morgan, Red Hook/Rhinebeck
• 126 – Rich Parete, Rondout Valley
• 132 – Lou Ruggirello, Valley Central
• 138 – J. Sabol, Baldwin
• 145 – M. Robinson, Baldwin
• 155 – N. Badalato, Kingston
• 167 – S. Shippos, Baldwin
• 177 – Dan Sanchez, Rondout Valley – 2X Olympian for Puerto Rico
• 215 – D. Ridenhour, Ossining
• 250 – John Nickless, Valley Central
1986: Team Champions – Baldwin HS
• 91 – Kevin Garvelli, Minisink Valley
• 98 – Scott Hansen, Minisink Valley
• 105 – C. Rohling, John Jay EF
• 112 – Tim Taft, Minisink Valley
• 119 – J. Duque, Valley Central
• 126 – Jeff Lewis, Valley Central
• 132 – C. Izzo, Mechanicville
• 138 – Lou Ruggirello, Valley Central
• 145 – Darryl Collins, Minisink Valley
• 155 – J. Bolton, Mechanicville
• 167 – J. Carrello, Baldwin
• 177 – S. Shippos, Baldwin
• 215 – M. Corwin, Baldwin
• 250 – T. Dittrich, Baldwin
1987: Team Champions – Niskayuna HS
• 91 – J. Pepper, Baldwin
• 98 – J. Duque, Valley Central
• 105 – D. Sommers, Saugerties
• 112 – T. Shaw, Ossining
• 119 – M. Trepeta, Baldwin
• 126 – C. Carter, Ossining
• 132 – Jeff Lewis, Valley Central
• 138 – Lou Ruggirello, Valley Central
• 145 – J. Nappi, Niskayuna
• 155 – D. Robin, Arlington
• 167 – K. Smith, Roy C. Ketcham
• 177 – Mike Bucci, Red Hook
• 215 – J. Flynn, Rondout Valley
• 250 – H. Thomas, Ossining
1988: Team Champions – Niskayuna HS
• 91 – S. Epstein, Baldwin
• 98 – Ken Wojehowski, Cornwall
• 105 – J. Pepper, Baldwin
• 112 – E. Koch, Rondout Valley
• 119 – Frank Popolizio, Niskayuna – Journeymen Wrestling founder
• 126 – M. Trepeta, Baldwin
• 132 – D. Newcomb, Niskayuna
• 138 – J. Bena, Niskayuna
• 145 – Lou Ruggirello, Valley Central
• 155 – A. MacKinnon, Niskayuna
• 167 – M. Lesick, Goshen
• 177 – Mike Bucci, Red Hook
• 215 – Alex Bilosi, Monroe Woodbury
• 250 – M. Pasquariello, Niskayuna
1989: Team Champions – Longwood HS
• 91 – Craig Haynes, Longwood
• 98 – Matt Klucina, Niskayuna
• 105 – Mark Aguilar, Washingtonville
• 112 – Chris Conway, Longwood
• 119 – Jeff Duque, Valley Central
• 126 – Mike Castro, Washingtonville
• 132 – Pat Allison, Monroe Woodbury
• 138 – Jason Burke, Longwood
• 145 – Mike Quaglio, John Jay EF
• 155 – Charlton Woodley, Longwood
• 167 – Heath Macaluso, Minisink Valley
• 177 – Nick Hall, Longwood
• 215 – Brian Barnes, Longwood
• 250 – Joe Yanis, Minisink Valley
1990: Team Champions – Longwood HS
• 91 – Rason Pfeifer, Longwood
• 98 – Jim Missale, Longwood
• 105 – Brett Adams, White Plains
• 112 – Teofilio Gomez, Sleepy Hollow
• 119 – Craig Schlifstein, Baldwin
• 126 – Juan Garcia, Sleepy Hollow
• 132 – Mike Castro, Washingtonville
• 138 – Jason Burke, Longwood
• 145 – Mike Bendett, Niskayuna
• 155 – Mike Quaglio, John Jay EF
• 167 – Mike Cotto, Ossining
• 177 – Kerry McCoy, Longwood – 2X NCAA Champion @ Penn State
• 215 – Nick Hall, Longwood
• 250 – Aubrey Francois, Arlington
1991: No Tournament – Site Unavailable
1992: Team Champions – Longwood HS
• 91 – John Watanabe, Monroe Woodbury
• 98 – Shaun Lewis, Longwood
• 105 – Dustin Zakar, Longwood
• 112 – Tim Giambalco, Mahopac
• 119 – Bill Lynch, Valley Central
• 126 – Brian Miller, New Paltz
• 132 – Chris Cotten, Valley Central
• 138 – Mike Bena, Niskayuna
• 145 – Anthony Mazzurco, Mahopac
• 155 – Julius Smith, Ossining
• 167 – Bryan Drago, Longwood
• 177 – Mike DeMeo, Niskayuna
• 215 – Dan Hansen, Baldwin
• 250 – Vinnie Mulare, Longwood
1993: Team Champions – Longwood HS
• 91 – Paul Paquin, Cornwall
• 98 – P. J. Bory, Suffern
• 105 – Chris Matteotti, Suffern
• 112 – Rason Pfeifer, Longwood
• 119 – Griff Powell, Suffern
• 126 – Graig Schneider, Suffern
• 132 – Anthony Popolizio, Niskayuna
• 138 – M. Simonton, Longwood
• 145 – W. Davis, Suffern
• 155 – J. Lange, Longwood
• 167 – Julius Smith, Ossining
• 177 – Mike Rechtorovic, Valley Central
• 215 – Gambino, Kingston
• 250 – J. Fortson, Ossining
1994: Team Champions – Niskayuna HS
• 91 – Jason Finnerty, Longwood
• 98 – Steve Garland, Middletown – Head Coach @ University of Virginia
• 105 – Dan Garland, Middletown
• 112 – P. J. Bory, Suffern
• 119 – Dustin Zakar, Longwood
• 126 – Graig Schneider, Suffern
• 132 – Matt Doherty, Arlington
• 138 – Griff Powell, Suffern
• 145 – Kyle James, Niskayuna
• 155 – Mike Bena, Niskayuna
• 167 – Scott Johanneman, Monroe Woodbury
• 177 – Pat Popolizio, Niskayuna – Head Coach @ NC State
• 215 – Mike Rechtorovic, Valley Central
• 250 – Ed Despres, Niskayuna
1995: Team Champions – Northern Adirondack HS
• 91 – Kevin Fleenor, Newburgh
• 98 – Phil Mansueto, Middletown
• 105 – Tony Harrell, Longwood
• 112 – Trent Curry, Northern Adirondack
• 119 – Paul Paquin, Cornwall
• 126 – Steve Romano, Baldwin
• 132 – Jeff Smith, Rondout Valley
• 138 – David Myatt, Northern Adirondack
• 145 – Mike Helm, Roy C. Ketcham
• 155 – Tim Griffin, Newburgh
• 167 – Rob Padilla, Newburgh
• 177 – Pat Popolizio, Niskayuna – Head Coach @ NC State
• 215 – Kevin Shippos, Baldwin
• 250 – Ron Ganello, Middletown
1996: Team Champions – Northern Adirondack HS
• 96 – Rocco Mansueto, Middletown
• 103 – Phillip Mansueto, Middletown
• 112 – Joey Ketcham, Longwood
• 119 – Mike Popolizio, Niskayuna
• 125 – Keith Polosky, Longwood
• 130 – Paul Paquin, Cornwall
• 135 – Chad Poirier, Northern Adirondack
• 140 – Steve Romano, Baldwin
• 145 – G. Sable, Longwood
• 152 – George Butwell, Newburgh
• 160 – Matt Dunne, Monroe Woodbury
• 171 – Kevin Paul, Shenendehowa
• 189 – Ken Barringer, Valley Central
• 220 – Kevin Shippos, Baldwin
• 275 – Ron Ganello, Middletown
1997: Team Champions – Northern Adirondack HS
• 96 – John Gartiser, Monroe Woodbury
• 103 – Sean Miller, Niskayuna
• 112 – Rocco Mansueto, Middletown
• 119 – Phil Mansueto, Middletown
• 125 – Pat Griffen, Valley Central
• 130 – Joe Molloy, Rondout Valley
• 135 – Keith Polosky, Longwood
• 140 – Chad Poirier, Northern Adirondack
• 145 – Pat Sansbury, Valley Central
• 152 – Dennis Clark, Monroe Woodbury
• 160 – George Sable, Longwood
• 171 – Dan Perry, New Hartford
• 189 – Rich Downer, Ossining
• 215 – Joe Sahl, Valley Central
• 275 – Robert Hafler, Niskayuna
1998: Team Champions – Monroe Woodbury HS
• 96 – Mike Mormile, Monroe Woodbury
• 103 – John Gartiser, Monroe Woodbury
• 112 – Salvador Cruz, Long Beach
• 119 – Mike Ingenito, North Babylon
• 125 – Joe Ketcham, Longwood
• 130 – Dave Edwards, Cornwall
• 135 – William Turano, North Babylon
• 140 – Joe Mazzurco, Mahopac
• 145 – Mike D'Amboise, Shenendehowa
• 152 – Greg Parker, Shenendehowa
• 160 – Mark Groski, Cobleskill
• 171 – Dan Uebel, Cornwall
• 189 – Dan Sable, Longwood
• 215 – Steve Gero, Northern Adirondack
• 275 – Matt Tarullo, Colonie
1999: Team Champions – Monroe Woodbury HS
• 96 – Matt Sganga, Longwood
• 103 – Mike Mormile, Monroe Woodbury
• 112 – John Gartiser, Monroe Woodbury
• 119 – Brad Trombley, Northern Adirondack
• 125 – Matt Stenglein, Colonie
• 130 – Nick Munn, South Lewis
• 135 – Dave Edwards, Colonie
• 140 – Jonathan Masa, Long Beach
• 145 – Ben Morczek, South Lewis
• 152 – Joe Mazurcco, Mahopac
• 160 – Nick Rausenberger, Newburgh
• 171 – Kevin Lawrence, Newburgh
• 189 – Nick Montague, Newburgh
• 215 – Dan Sable, Longwood
• 275 – Matt Tarullo, Colonie
2000: Team Champions – Monroe Woodbury HS
• 96 – Mike Tutunjian, Longwood
• 103 – Matt Sganga, Longwood
• 112 – Mike Mormile, Monroe Woodbury
• 119 – Will Cappelletti, Mahopac
• 125 – John Gartiser, Monroe Woodbury
• 130 – Greg McCoy, North Babylon
• 135 – Matt Stenglein, Colonie
• 140 – Rich Corrigan, Minisink Valley
• 145 – Casey Todd, Monroe Woodbury
• 152 – Joe Mazzurcco, Mahopac
• 160 – Sean Fehn, North Babylon
• 171 – Rex Harris, Ossining
• 189 – Kevin Bohran, John Jay EF
• 215 – Jason Weber, Kingston
• 275 – Jon Geddes, Colonie
2001: Team Champions – MacArthur HS
• 96 – Matt DeLorenzo, MacArthur
• 103 – Andy Franco, Monroe Woodbury
• 112 – Matt Saganga, Longwood
• 119 – Matt Stuart, Colonie
• 125 – Sean Spereza, Niskayuna
• 130 – Josh Stenglein, Colonie
• 135 – Trevor Chinn, Canandaigua
• 140 – John Gartiser, Monroe Woodbury
• 145 – James Strauss, MacArthur
• 152 – Tom Cuppernell, Canandaigua
• 160 – Rob Stubbs, MacArthur
• 171 – T. R. Chinn, Canandaigua
• 189 – Chris Parris, North Babylon
• 215 – Gian Villante, MacArthur
• 275 – Jon Geddes, Colonie
2002: Team Champions – MacArthur HS
• 96 – Lou Ruggirello, Valley Central
• 103 – Steve Valastro, Valley Central
• 112 – Andy Franco, Monroe Woodbury
• 119 – Mike Tutunjian, Longwood
• 125 – Darren Mima, Kingston
• 130 – Joe Williams, Long Beach
• 135 – Manny Castang, Ossining
• 140 – Mike Roberts, Colonie
• 145 – Trevor Chinn, Canandaigua
• 152 – Tom Cuppernell, Canandaigua
• 160 – Ricky Scott, Valley Central
• 171 – Kevin O'Donnell, MacArthur
• 189 – Declan Josephson, Port Chester
• 215 – Gian Villiante, MacArthur
• 275 – Jon Geddes, Colonie
2003: Team Champions – Longwood HS
• 96 – Garrett Schretter, Longwood
• 103 – Marc Zurla, North Rockland
• 112 – Darius Blackmon, Longwood
• 119 – Chris McAlesse, Longwood
• 125 – Jonathan Ortega, Roy C. Ketcham
• 130 – Mike Cucolo, Fox Lane
• 135 – Trevor Gale, Onteora
• 140 – Chris Cannizzaro, Millbrook
• 145 – Ryan Castle, Pawling
• 152 – John Gilliam, Longwood
• 160 – Willis Freeman, Kingston
• 171 – Ben Herricks, Cornwall
• 189 – A. J. McGinty, John Jay EF
• 215 – Jordan El-Hag, Fox Lane
• 275 – Cody Chase, Onteora
2004: Team Champions – Longwood HS
• 96 – Gerrard Gerrardi, Baldwin
• 103 – Garrett Schretter, Longwood
• 112 – Vinny Argese, Carmel
• 119 – Dave Colagiovanni, Mahopac
• 125 – Pat McCabe, Carmel
• 130 – Chris McAlesse, Longwood
• 135 – Chris Backofen, Kingston
• 140 – Trevor Gale, Onteora
• 145 – Greg Holmes, Longwood
• 152 – Jeremy Shanker, Cornwall
• 160 – Tom Graff, Arlington
• 171 – Emman Sarwari, Longwood
• 189 – Jesse Callahan, Newburgh
• 215 – Noel Clarke, Arlington
• 275 – Norbal Thompson, Ossining
2005: Team Champions – Longwood HS
• 96 – Andrew Cabbibo, Roy C. Ketcham
• 103 – Drew Bloss, Cornwall
• 112 – Fred Wilkinson, Riverhead
• 119 – Kyle Piaquadio, Newburgh
• 125 – Dave Colagiovanni, Mahopac
• 130 – Dan Fox, Longwood
• 135 – Terrence Bennett, Riverhead
• 140 – Chris McAlesse, Longwood
• 145 – Jeff Smith, Cornwall
• 152 – Matt Shakin, Ossining
• 160 – Tom Graff, Arlington
• 171 – Keith Nevins, Kingston
• 189 – Mike Tricario, Longwood
• 215 – Noel Clarke, Arlington
275 –
2006: Team Champions – Rocky Point HS
96 –
103 – Vinny Pecora, Baldwin
112 – Anthony Volpe, Rocky Point
119 –
125 – Kyle Piaquadio, Newburgh Free Academy
130 –
135 –
140 –
145 –
152 –
160 – Max O'Meara, Red Hook
171 – Nick Simmons, Arlington
189 –
215 – Noel Clake, Arlington
275 –
2007: Team Champions – Rocky Point HS
• 96 – Ross, Rocky Point
• 103 – Vinny Pecora, Baldwin
• 112 – Escobar, Rocky Point
• 119 – Cabbibo, Roy C. Ketcham
• 125 – Drew Bloss, Cornwall
• 130 – Dom Oddo, Mahopac
• 135 – Anthony Volpe, Rocky Point
• 140 – Ceccio, Rocky Point
• 145 – Coggins, Rocky Point
• 152 – Cinque Mandela, Newburgh
• 160 – James Brundage, Ossining
• 171 – Marcus Spearman, Newburgh
• 189 – Mark McGrath, Kingston
• 215 – Brandon Bruinix, Pine Bush
• 275 – Corey James, Kingston
2008: Team Champions – Longwood HS
• 96 – Corey Rasheed, Longwood
• 103 – Vinny Pecora, Baldwin
• 112 – Nick Hall, Longwood
• 119 – Taylor Larala, Newburgh
• 125 – Justis Flamio, Mahopac
• 130 – Patrick Jennings, Longwood
• 135 – Steve Dutton, Rocky Point
• 140 – Dan Graff, Arlington
• 145 – Anthony Volpe, Rocky Point
• 152 – Greg Wetzel, Arlington
• 160 – James Brundage, Ossining
• 171 – Clayton Neivert, Ossining
• 189 – Marcus Spearman, Newburgh
• 215 – Ernest James, Longwood
• 275 – Simon Ojulo, Newburgh
2009: Team Champion – Arlington HS
• 96 – John Stramiello, Pine Bush
• 103 – Jimmy Duckham, Arlington
• 112 – Lewis, Rondout Valley
• 119 – Dan Pineda, Arlington
• 125 – Taylor Laraia, Newburgh
• 130 – Steve Pagiluca, Mahopac
• 135 – Kyle Davidson, Cornwall
• 140 – David Wright, Red Hook
• 145 – Dan Graff, Arlington
• 152 – Misha Barry, Arlington
• 160 – Greg Wetzel, Arlington
• 171 – Dan Lupo, Roy C. Ketcham
• 189 – Daniel Panken, Ossining
• 215 – Taylor, Baldwin
• 285 – Mike Scarpino, Mahopac
2010: Team Champions – Cornwall HS
• 96 – John Stramiello, Pine Bush
• 103 – Alex Delacruz, Ossining
• 112 – T. J. Kreider, Cornwall
• 119 – Dan Pineda, Arlington
• 125 – Luke Roth, Cornwall
• 130 – Collin Dimler, Rondout Valley
• 135 – Trent Costello, Kingston
• 140 – Chris Kellermueller, Newburgh
• 145 – Dale White, John Jay EF
• 152 – Vin Grella, Beacon
• 160 – Misha Barry, Arlington
• 171 – Thor McHugh, Arlington
• 189 – Scott Bova, Arlington
• 215 – Daniel Panken, Ossining
• 285 – Seth Stauble, Kingston
2011: Team Champions – Arlington HS
• 99 – Jay Albis, John Jay EF – 2X NCAA D3 Champ
• 106 – Simon Greebel, Hewlett
• 113 – T. J. Kreider, Cornwall
• 120 – Mark Settembrino, Roy C. Ketcham
• 126 – Mizam Tamaradze, West Springfield, MA
• 132 – Luke Roth, Cornwall
• 138 – Angel Santos, Arlington
• 145 – Joe Mastro, Yorktown
• 152 – Jack McKeever, Brookfield, CT
• 160 – Kenny Line, West Springfield, MA
• 170 – Steven Sabella, Yorktown
• 182 – Thomas Murray, Yorktown
• 195 – Deon Edmond, Kingston
• 220 – Justin Conahan, Arlington
• 285 – Seth Stauble, Kingston
2012: Team Champions – Yorktown HS
• 99 – Chris Cuccolo, Pine Bush
• 106 – Kevin Rodriguez, Port Chester
• 113 – John Stramiello, Pine Bush
• 120 – Nick Tolli, Arlington
• 126 – Alex Delacruz, Ossining
• 132 – Dan Murphy, Roy C. Ketcham
• 138 – Rob Rosenberg, Hewlett
• 145 – Brad Marvin, Roy C. Ketcham
• 152 – Joe Mastro, Yorktown
• 160 – Austin Weigel, Onteora
• 171 – Kyle McGuire, Newburgh
• 182 – Thomas Murray, Yorktown
• 195 – Steve Sabella, Yorktown
• 220 – Trent Lofaro, Ossining
• 285 – David Varian, Yorktown
2013: Team Champions – Arlington HS
• 99 – Alfredo Olmedo, Arlington
• 106 – Jamie Pulver, Saugerties
• 113 – John Stramiello, Pine Bush
• 120 – Brett Brice, Longwood
• 126 – Alex Delacruz, Ossining
• 132 – Nick Tolli, Arlington
• 138 – Brett Johnson, Cornwall
• 145 – Dan Murphy, Roy C. Ketcham
• 152 – Alec Guevara, Wallkill
• 160 – Mike Peterson, Arlington
• 170 – Tyler Blasko, Wallkill
• 182 – Jon Silveri, Arlington
• 195 – Andrew Grella, Beacon
• 220 – James Bethel, Saugerties
• 285 – Matt St. Onge, Clarkstown South
2014: Team Champions – Wallkill HS
• 99 – Andrew Davis, Wallkill
• 106 – Anthony Stramiello, Pine Bush
• 113 – Tyler Lynch, Valley Central
• 120 – Harrison Pettway, Longwood
• 126 – Evan Corso, Longwood
• 132 – Da'mani Burns, Newburgh
• 138 – Brady Robin, Arlington
• 145 – Mack Phillips, Valley Central
• 152 – Mike DeCapua, Newburgh
• 160 – Charles Tsakh, Hewlett
• 170 – Quinn Zsido, Cornwall
• 182 – Mike Fekishazy, Wallkill
• 195 – Tanner Nielsen, Arlington
• 220 – Nate Donah, Saugerties
• 285 – Isaac Serrano, Newburgh
2015: Team Champions – Mattituck HS
• 99 – Matthew Romano, Valley Central
• 106 – Tyler Albis, Saugerties
• 113 – Jack Bokina, Mattituck
• 120 – Randy Earl, John Jay EF
• 126 – Eric Fisher, Longwood
• 132 – Evan Corso, Longwood
• 138 – Lucas Pincus, Hewlett
• 145 – Brady Robin, Arlington
• 152 – Brian Bucci, Saugerties
• 160 – Ryan Sebesta, Wallkill
• 170 – Michael Fekishazy, Wallkill
• 182 – James Hoeg, Mattituck
• 195 – Tanner Zagarino, Mattituck
• 220 – Andrew Anthony, John Jay EF
• 285 – Mike Curiel, Hewlett
2016: Team Champions – Mattituck HS
99 – Dennis Robin, Arlington
106 – Tom Fitzsimmons, Ward Melville
113 – Matt Romano, Valley Central
120 – Luke Bokina, Mattituck
126 – Randy Earl, John Jay EF
132 – Raef Lievano, Ward Melville
138 – TJ Pincus, Mattituck
145 – Lucas Pincus, Hewlett
152 – Nijee Noble, Kingston
160 – Isaac Matthews, Roy C. Ketcham
170 – Mark O'Hanian, Valley Central
182 – Mike Fekishazy, Wallkill
195 – Kyle Davis, Beacon
220 – Jimmy Ball, Saugerties
285 – Jacquez Poole, Arlington
2017: Team Champions – Rocky Point HS
99 – Nikko Walsh, Rondout Valley
106 – Ivan Garcia, Port Chester
113 – Logan Sciotto, Rocky Point
120 – Anthony Sciotto, Rocky Point
126 – Tyler Albis, John Jay EF
132 – Raf Lievano, Ward Melville
138 – Ryan Callahan, Rocky Point
145 – Jack Bokina, Mattitick
152 – Corey Connelly, Rocky Point
160 – Shaun Burgos, Pine Bush
170 – Dillon Ross, Onteora
182 – Mike Gordon, Hewlett
195 – Maxx DeCapua, Newburgh Free Academy
220 – Will Leonard, Cornwall
285 – Liam Dietrich, Red Hook
2018: Team Champions – Rocky Point
99 – Colby Amell, Saugerties
106 – Mike Rapuano, Xavier
113 – Nikko Walsh, Rondout Valley
120 – Evan Matias, Rocky Point
126 – Dennis Robin, Arlington
132 – Mat Malherio, Highland
138 – Logan Sciotto, Rocky Point
145 – Kris Ketcham, Rocky Point
152 – Nate Ross, Onteora
160 – Corey Connelly, Rocky Point
170 – James Arnaneo, Ward Melville
182 – Cameron Durant, Guilderland
195 – Maxx DeCapua, Newburgh Free Academy
220 – Will Leonard, Cornwall
285 – Zach Mairoano, Hewlett
2019: Team Champions – Xavier HS
99 – PJ Duke, Carmel
106 – Chris Crawford, Beacon
113 – Nick LaMorte, Rocky Point
120 – Darren Ketcham, Rocky Point
126 – Ivan Garcia, Port Chester
132 – Ethan Herschander, Ward Melville
138 – Logan Sciotto, Rocky Point
145 – James Lunt, Xavier
152 – Tommy Askey, Pine Bush
160 – Pat Ross, Onteora
170 – James Araneo, Ward Melville
182 – Tyler Pelech, Longwood
195 – Joe Russell, Newburgh Free Academy
220 – Colby Suglia, Mattituck
285 – Joe Nolan, Ossining
2020 – No Tournament – COVID
2021: Team Champions – Miller Place HS
102 – Luke Satriano, Valley Central
110 – Dillon Arrick, Arlington
118 – Christian Lievano, Ward Melville
126 – Justin Fortugno, Briarcliff/Byram Hill/Valhalla/Westlake
132 – Joe Sparacio, Mattituck
138 – Dylan Levesque, Xavier
145 – Angelo Centrone, Mahopac
152 – Tim Bova, Arlington
160 – Robert Cunningham, Miller Place
172 – Anthony Bartolotto, Miller Place
189 – Jabali Zoia, Longwood
215 – Thomas Lunt, Xavier
285 – Jacob Maiorano, Hewlett