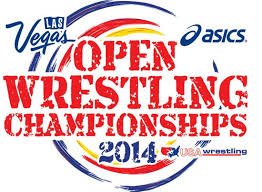 The Las Vegas Convention Center will be the site of some of the most exciting wrestling of the year when it serves as host to this weekend's Las Vegas/ASICS Senior Open and Junior wrestling tournaments. 
Of local interest, two of Army wrestling coaches are entered in the Senior Open's freestyle tournament and have received seeds.  Brad Pataky, a Penn State graduate who serves as an Army Wrestling assistant coach, is the #8 seed at 57 kilograms (125.5 pounds).  The 8th seed at 86 kilograms (189 pounds) is West Point's volunteer assistant Enock Francios.  Francois also serves as club coach for the West Point Wrestling Club.  Army will also have 4 competitors participating in the Junior freestyle division as Logan Everett (137.5), Mark Marchetti (145.5), Brian Harvey (174), and Austin Wilding will all take to the mat!
Best of luck Brad, Enock and all of the Army wrestlers!
Senior Open Women's freestyle preview
Senior Open Men's freestyle preview
Senior Open Men's Greco preview
Junior Freestyle Preview