Section 9's Stramiello, Weigel, and Raccioppi Ready To Go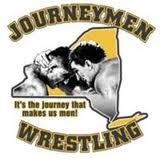 Hey all of you wrestling junkies out there!  Are going through wrestling withdrawal like I am???  I have the cure…hop in your car on Sunday and head up to Niskayuna High School to watch the 2012 Journeymen Classic.  Last year's inaugural event was a huge success and this year's event should be even better!  Some of the best wrestlers from NY, NJ, PA and New England are competing as well as a few die-hards from as far away as VA, NC, and MD.  Flowrestling will be on hand to cover what promises to be one of the toughest and most exciting preseason wrestling tournaments in the country.
The Journeymen Classic is an upper level tournament…it's not open to just anyone who feels like entering a wrestling tournament.  Hundreds of wrestlers applied for an entry however only the most credentialed wrestlers were accepted.  Section 9 was fortunate enough to have three of our very best earn the right to compete.  Three-time Section 9 champion Johnny Stramiello is entered at 120 pounds.  Stramiello, a junior from Pine Bush, placed 6th in NYS last season.  Onteora senior Austin Weigel is entered at 170 pounds.  Weigel was the D2 champ at 152 last season on was one victory away from placing at the state tournament.  Weigel has already qualified for the Super 32 tournament.  In the qualifying event, he lost in the finals by a score of 7-5 to PA state champion Garrett Peppelman.  Minisink Valley sophomore Michael Raccioppi is the final Section 9 entry.  He will be competing at 125 at the Classic.  Raccioppi was a state qualifier last season going 1-2 at the state tournament and also placed 7th at last year's Eastern States Wrestling Classic.  Best of luck to all three wrestlers!!!
Here is a brief list of some of the most decorated wrestlers entered in the 2012 Journeymen Classic:
Tommy Aloi (106) – from VA, finished 2nd at NHSCA Junior Nationals
Brent Fleetwood (113) – from DE, nationally ranked by Intermat and Flowrestling
Nick Piccininni (113) – Will the defending NYS champ get a shot at Fleetwood???
Michael Bedard (120) – NC state champ is also a Fargo All-American
Michael Cefolo (120) – NJ state champion
Kevin Jack (120) – CT state champ was also 1st at the Eastern States
Sean Peacock (130) – Can the NYS champ stay with the NJ studs entered at 130?
Scott Delvecchio (135) – NJ state champion
Nick Kelley (140) – Shenendehowa senior was a Fargo All-American
Colby Dean (145) – 3X Virginia state champion
Jonathan Schleifer (160) – NJ junior was the NHSCA sophomore national champ
Chris Chorzepa (170) – CT native was the New England HS champion
Pete Renda (182) – PA stud is nationally ranked!!!
Jesse Webb (285) – VT junior is a 2X NHSCA champion