Minisink Valley Freshman To Compete in Sweden!
Help Send Mia to Sweden GoFundMe Page 
Congratulations to Minisink Valley freshman Mia Macaluso for being selected by USA Wrestling to compete for the Cadet World Team in Sweden from February 19 to February 22.  This incredible opportunity will allow Macaluso to train with Team USA's Olympic coach Terry Steiner for 3 days!  The trip to Sweden will also include 4 days of additional training with Russian and Japanese Olympic coaches!  This is a self funded trip so any contributions to offset the cost are greatly appreciated!
Help Send Mia to Sweden GoFundMe Page 
Impressive results at several different events helped Macaluso get onto the radar of the USA Wrestling Cadet Team. She is a NYS Girls Folkstyle state champion, a Mohawk Valley Freestyle Festival finalist, a NYC Gotham finalist, and a New England Girls Freestyle champion. Macaluso also finished 2nd at the prestigious Body Bar Nationals in Irvine, TX in May – this is likely the result that punched her ticket to Team USA!  Prior to her trip to Sweden she will go to the New York Athletic Club in NYC from February 9-12 where she will be trained by Coach Steiner as well as Assistant National Coaches Erin Tomeo and Emma Randall.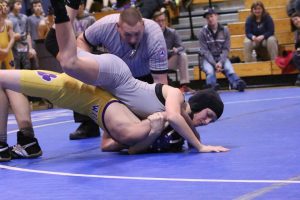 Mia is a two year varsity wrestler for Minisink Valley.  She competed at 106 lbs. last season and will likely be at 113 lbs this year.  She trains freestyle with the Venom Girls Wrestling Club based out of Otisville, NY.  Venom Girls is run by Mia's father, Heath Macaluso, who is a 1990 Minisink Valley graduate who wrestled for long time Minisink Coach John Bell.  Macaluso finished 6th in NYS as a senior before wrestling D1 in college for Wagner where he was coached by current MV wrestling coach Kevin Gallagher. When asked about coaching Mia Macaluso Coach Gallagher said, "Mia is a pleasure to coach on and off the mat. She is one of our hardest workers, and I am proud to have her on our team."
Congratulations Mia for this tremendous honor!  Section 9 Girls Wrestling is officially on the map!!!