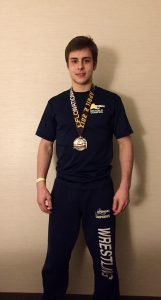 Congratulations to Eldred wrestler Noah Curreri for taking 6th place at 160 pounds at FloNationals!  Curreri went 5-3 in an extremely competitive bracket which was won by Trent Hidlay from PA, the #3 ranked 160 pounder in the nation!  All three of Curreri's losses were to wrestlers who also placed (#2, #4, and #5).  Curreri is also a 2X NYS placewinner and finished 2nd in Albany this year. Awesome job Noah!
Monroe Woodbury junior Dylan Earl also competed this weekend and went 1-2!  Great job Dylan!
Below are the results for both Noah and Dylan.
Dylan Earl (Monroe Woodbury)
Rd 32: Earl dec 9-6 Seibert (unattached)
Rd 16: Rohrbaugh (Team Nauman) wbf 3:15 Earl
Consi Rd 16 #2: Witmer (Bison Legend) tech 16-0 Earl
Noah Curreri (Eldred)
Rd 64: Curreri dec 8-1 Bradley (Athens)
Rd 32: Curreri dec 4-3 Giantonio (VA Elite)
Rd 16: Curreri maj 11-1 Dempsey (Flat River Wrestling)
Quarters: Hastings (unattached) maj 9-0 Curreri
Consi Rd 8 #2: Curreri  dec 12-5 Kata (Seagulls)
Consi Rd 4: Curreri dec 5-4 Giantonio (VA Elite)
Consi semis: Tiongson (Ground Control) dec 8-3 Curreri
5th Place Match: Cuomo (Iowa Style) dec 3-0 Curreri