Congratulations to Steve Fischbein, Wayne Carroll and Stefan Banach for being inducted into the Upstate NY Chapter of the National Wrestling Hall of Fame.  Fischbein and Carroll were inducted  for Lifetime Service to the sport of wrestling while Banach was inducted as an Outstanding American.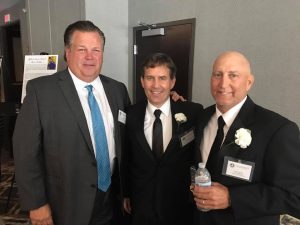 Coach Fischbein recently retired as head wrestling coach from his alma mater, Monroe Woodbury High School.  As a wrestler, Fischbein was a Section 9 champion and placed 4th in NYS.  He wrestled at the collegiate level at SUNY Albany and SUNY Brockport and was also a Gold Medalist at the 1986 Empire State Games in Greco Roman.  As a coach, Fischbein led 2 teams to #1 rankings in NYS (2000 & 2014) and had 9 other teams finish in the top 10!  He also coached two state champions, Mike Mormile and Jamie Franco.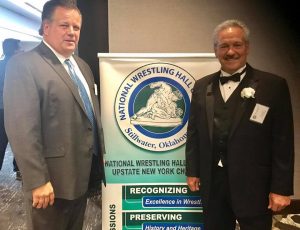 Wayne Carroll is a graduate of Goshen High School where he was an accomplished wrestler. He was a Section 9 champion and finished 5th in NYS at 145 as a senior.  He went on to wrestle in college at East Stroudburg University. Carroll's biggest contribution to the sport of wrestling has been as an official where he has been selected to officiate the NYS Wrestling Championships and impressive 10 times!  Wayne is also a recent inductee of the NYSPHAA Wrestling Hall of Fame.
Colonel (retired) Stefan Banach was also honored at this weekend's ceremony with the Outstanding American Award.  Banach was a standout wrestler for Port Jervis High School and a NYS placewinner.  He wrestled in college at Clemson University and then transferred to Iowa where he joined his brothers Ed and Lou, both 1984 Olympic gold medalists.  After retiring from wrestling Banach served 27 years in the US Army and received numerous awards including the Bronze Star Medal with "Valor Device" for heroism under fire in combat.
Congratulations to all three men….Section 9 is very proud!!!