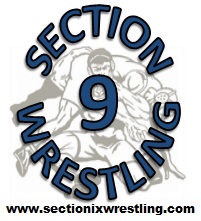 Section 9 Wrestling
Individual Rankings – Combined D1/D2
Preseason
Well it's that time of the year!!!!  Wrestling season kicks off this week with a several dual meets scheduled for Wednesday, so why not start off the season with some preseason rankings!!!  I mention this every year, but it's worth repeating…
Rankings, especially preseason rankings, are just an opinion.  They mean nothing!  The match is won or lost on the mat!
Preseason ranking are especially tricky because there is a lot of guess work involved.  I do the best I can with the information that is provided to me.
99 pound weight class will not be ranked until the next rankings are released.
Respectful comments and suggestions are welcomed to sectionixwrestling@gmail.com.
106 Pounds
1. Colby Amell – Saugerties, junior
2. Justin Morales – Middletown, sophomore
3. Nikko Walsh – Rondout Valley, freshman
4. Christian Prokosh – Cornwall, senior
5. Jacob Chenier – Kingston, sophomore
6. Matt Morris – Red Hook, sophomore
113 Pounds
1. Greg Fischer – Newburgh Free Academy, senior
2. Ryan Burgos – Monroe Woodbury, junior
3. Nick Picariello – Minisink Valley, sophomore
4. Nick Scancarello – Monroe Woodbury, sophomore
5. Drew Greco – Warwick, freshman
6. Aiden Cuppett – New Paltz, sophomore
120 Pounds
1. Dylan Earl – Monroe Woodbury, senior
2. Jordan Suarez – Minisink Valley, sophomore
3. Brandon DeLaRosa – Newburgh Free Academy, junior
4. Patrick Ross – Onteora, freshman
5. Liam Bullock – Chester, junior
6. Chris Del Rio – Washingtonville, freshman
126 Pounds
1. Marco Vespa – Monroe Woodbury, junior
2. James Faison – Wallkill, sophomore
3. Nick Ross – Onteora, freshman
4. Sean Savacool – Minisink Valley, sophomore
5. Tom Maddox – Washingtonville, junior
6. Luke Fischer – Newburgh Free Academy, sophomore
132 Pounds
1. Connor Greiner – Minisink Valley, senior
2. Matthew Romano – Valley Central, sophomore
3. Tommy Askey – Pine Bush, sophomore
4. James Heinlein – Saugerties, junior
5. Carson Sauschuck – Port Jervis, senior
6. Ethan Palanca – New Paltz, freshman
138 Pounds
1. Vinny Vetrano – Minisink Valley, senior
2. Nate Ross – Onteora, sophomore
3. Joe McGinty – Monroe Woodbury, sophomore
4. Frank Fea – Goshen, senior
5. Dylan Greer – Pine Bush, senior
6. Ceaser Luna – Highland, junior
145 Pounds
1. Dom Vetrano – Minisink Valley, senior
2. Zach Chartrand – Onteora, senior
3. Mat Malherio – Highland, junior
4. Nick Florin – Pine Bush, junior
5. Robert Estevez – Monroe Woodbury, junior
6. Dan Mandic – Goshen, senior
152 Pounds
1. Ian Houck – Rondout Valley, senior
2. William Harrison – Port Jervis, junior
3. Steve Gazzillo – Cornwall, junior
4. Nick Albornoz – Minisink Valley, junior
5. Derek Magsamen – Pine Bush, senior
6. Nate Cantwell – Saugerties, junior
160 Pounds
1. Tristen Schiafo – Red Hook, senior
2. Shaun Burgos – Pine Bush, senior
3. Tyler Serafini – Newburgh Free Academy, junior
4. Joe Pushman – Wallkill, senior
5. Nick Solek – Washingtonville, senior
6. Destin Morano – Middletown, junior
170 Pounds
1. Dillon Ross – Onteora, senior
2. Timmy Ganuncio – Minisink Valley, senior
3. Collin Cummings – Valley Central, senior
4. Graeme Knisell – Saugerties, sophomore
5. Kraig Thomas – Wallkill, junior
5. Pasquale Satriano – Valley Central, junior
182 Pounds
1. Jason Butler – Port Jervis, senior
2. Brian Mascaro – Wallkill, senior
3. Ryan Hobson – Red Hook, senior
4. Alex Miller – Newburgh Free Academy, senior
5. Matt Bucci – Saugerties, junior
6. Nicholas Rekuc – Ellenville, junior
195 Pounds
1. Joe Yanis – Minisink Valley, senior
2. Sam Santander – Monroe Woodbury, junior
3. Andrew Wierzbicki – Warwick, senior
4. Ben Santarpia – Washingtonville, senior
5. Anthony Owen – Saugerties, junior
6. Mark Crisfield – Valley Central, junior
220 Pounds
1. Maxx DeCapua – Newburgh Free Academy, sophomore
2. Will Leonard – Cornwall, junior
3. Harrison Parrelli – Warwick, senior
4. Julius Oquendo – Middletown, senior
5. David Strauss- Monroe Woodbury, junior
6. John Goodell – Eldred, senior
285 Pounds
1. Andrew Fenner – Minisink Valley, senior
2. Bryce Moore – Valley Central, junior
3. Max Kissack – Washingtonville, senior
4. Preston Havison – Monroe Woodbury, junior
5. Liam Dietrich – Red Hook, sophomore
6. Caleb Williams – Newburgh Free Academy, junior