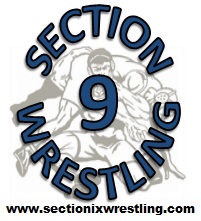 It was a great opening week for Section 9 Wrestling!  Take a look at some of the highlights….if I missed anything feel free to shoot me an email or just mention it in the "Comments" section!  Let's keep it rolling S9!
Minisink Valley and NFA Take Out Top Section 2 Teams!
Minisink Valley went 5-0 at the Ballston Spa Duals and defeated the host team by a 56-19 margin.  NFA went 7-0 at the Columbia Duals and recorded a 37-36 win over Niskayuna!  Ballston Spa (#2) and Niskayuna (#1) are the two top-ranked teams in Section 2!  Great job Warriors and Goldbacks!!!
Port Jervis 5-0 @ Lance Golubinski Duals
Congratulations to the Red Raiders for going 5-0 and taking home the team title at the Lance Golubinski Duals on Saturday! Saugerties finished 2nd at 4-1, Oneonta was 3rd at 3-2 and host Goshen came in 4th at 2-3.
Middletown Crowns 4 Champs at Bethlehem Round Robin
The Middies took home 4 individual titles and had 3 other wrestlers finish 2nd at the Bethlehem Round Robin Tournament.  Justin Morales (106), Moises Diaz (113), Joe Velazquez (152), and Julius Oquendo (220) all grabbed gold for Middletown! Kingston was also up at Bethlehem and Zaviar Bennet went 4-1 and came in 2nd 170 pounds!
Individual Results of Note…
G. Fischer (NFA) 3-0 over Brown (Warwick) @ 113
Sauschuck (PJ) 4-3 over Heinlein (Saug) @ 132
Malherio (Highland) 6-4 over N. Curreri (Eld) @ 145
N. Curreri (Eldred) 5-3 over Mandic (Goshen) @ 145
D. Vetrano (MV) 17-2 over Gazzillo (Cornwall) @ 145
Mahaney (PJ)  wbf over Cantwell (Saug) @152
Doherty (Mont) 10-2 over Mahaney (PJ) @ 152
Velazquez (Midd) 14-5 over Thomas (Wallkill) @ 152
Harrison (PJ) 5-1 over Bucci (Saug) @ 170
Barley (King) 17-10 over Owen (Mont) @ 220