Friday and Saturday
Minisink Valley @ Linda Stuart Duals (Colonie)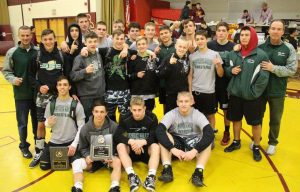 Minisink Valley were a dominant 7-0  on their way to the team title at the Linda Stuart Duals in Colonie.  Dominick Vetrano went a perfect 7-0 at 138 pounds and was selected at the Middle Weight MOW!  Also going 7-0 for the Warriors were Jordan Suarez (120), Connor Greiner (132), Timmy Ganunucio (170), and Joe Yanis (182/195).  Great job Minisink!
Minisink Valley 84 Albany Academy 3
Minisink Valley 80 Colonie 3
Minisink Valley 74 Queensbury 9
Minisink Valley 51 Indian River 13
Minisink Valley 66 Burnt Hills 9
Minisink Valley 43 Mt. Anthony (VT) 18
Minisink Valley 39 Massapequa 19
Onteora @ Valley Duals
Norwich 51 Onteora 27
Onteora 48 LaSalle 35
Lowville 48 Onteroa 33
Lowville 42 Onteora 30
Onteora 51 Mount Markham 36
Central Valley Academy 60 Onteora 14
Holland Patent 51 Onteora 33
Middletown, Wallkill, & New Paltz @ Patriot Tournament (JJEF)
Middies took Home the team title at the John Jay Patriot Tournament this weekend!
Fox Lane, John Jay East Fishkill, Wallkill and John Jay Cross River rounded out the top 5 in the team race. Justin Morales (106) and Elijah Babb (195) each won their weight classes for Middletown while Moises Diaz (113), Matt Figueroa (195) and Julius Oquendo (220) came in 2nd. Destin Morano (160) finished 3rd for the Middies.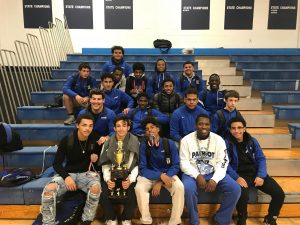 Wallkill Results
99- Matt Davis 3rd
106- George Thomas 4th
113- Derek Ellison 3rd
120- Jacob Lyle 4th
126- William Pushman 6th
138- Justin Lyle 4th
152- Joseph Pushman 3rd
160- Walter Mazariego 5th
170- Brian Mascaro 1st, Tyler Jaffee 6th.
182- Alfredo Mazariego 6th
285- Chase Hawkins 2nd
Saturday
Cornwall, Rondout Valley @ Cornwall Dragon Duals
Congratulations to Cornwall head coach Don Blaine for picking up his 500th career victory this weekend!  Great job Donnie!
Pearl River 37 Cornwall 36
Cornwall 54 Rondout Valley 24
Columbia 74 Rondout Valley 6
Port Jervis, Red Hook, VC @ Port Jervis Holiday Duals
Pine Bush, NFA @ East Ramapo Titan Duals
Kingston @ Glen Falls "Matmania" Tournament
4 Tigers placed at the 17th annual Matmania Tournament hosted by Glens Falls.
3rd- Donell Weigel 170lbs
3rd-Hayden Barley 220lbs
4th- Ryan Muller 120lbs
4th – Christian Francisco
Noah Warneke 126lbs, Jake Studt 138lbs, Zavier Bennet 170lbs, and Christian Kuster 285lbs performed well but eventually were cut short in the blood round.
Highlighting the Tigers was Donell Weigel. Donell lost in the first round to eventual champion ( 2x Section II champ) Eoughan Sweeney of Niskayuna but wrestled back to 3rd with a last second reversal to beat Corinth's Nate Warington 11-9!
Burke @ Mamaroneck Tournament
Burke Catholic had three place winners at the 44th Annual Mamaroneck Tiger Tournament.
Brendan Douthit 138 went 4-1 and placed 5th
James Shaw 145 went 3-2 and placed 6th
Dan Gandt 184 went 2-1 and placed 5th