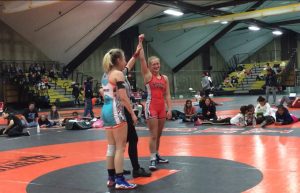 Let's take a look at how some of our local wrestlers did this weekend.  If I have missed anyone please email the results to me at sectionixwrestling@gmail.com.
Marchese, Tigue, Fenner Grab Titles at MAWA Northern Regional
Congratulations to Drew Marchese (Washingtonville), Eric Tigue (Port Jervis), Adam Fenner (Minisink Valley) for taking 1st place at this weekend's MAWA Northern Regional held in Shamokin, PA. Marchese went 3-0 with a pin and 2 decisions in capturing the 100 pound Intermediate Division title. Tigue ran the table at 128 Intermediate Division going 4-0 with a tech fall, two majors and a decision.  Fenner, competing at 220 pounds in the Advanced Division, recorded 2 pins in a 7-1 decision on his way to the title.  Others placing in the top 4 at Shamokin were Justin Morales (2nd @ 111, Elite Division), Luke Jones (2nd @ 152, Advanced Division), Ryan Muller (3rd @ 130, Elite Division), Matt Romano (3rd @ 135, Advanced Division), Josh Sam (3rd @ 140, Advanced Division), Jace Hirsch (3rd @ 152, Advanced Division), Brian Giacchi (3rd @ 171, Advanced Division), Elijah Babb (3rd @ 189, Elite Division), Colby Amell (4th @ 111, Elite Division), Eli Weinstein (4th @ 120, Elite Division), and Aiden DeEntremont (4th @ 220, Intermediate Division). All top-4 placewinners qualified for the MAWA Eastern Nationals in Maryland and May 5th and 6th! Congrats boys!!!
Suarez and Askey 5-0 for Team Champs STWC at Tin Man Duals
Minisink Valley's Jordan Suarez and Pine Bush's Tommy Askey both went 5-0 wrestling for team champs STWC at this weekend's Tin Man Duals held at Delaware Valley HS in Matamoras, PA. Great job both boys! Port Jervis also entered a team here and they were led by William Harrison who went 5-1 for the tournament!
Mia Mac Champ, Pauls Takes 2nd at Gotham City Tournament
It was an all Minisink Valley final at 132 at this weekends Gotham City Tournament as Mia Macaluso took home the title by defeating teammate and good friend Grace Pauls in the finals.  Both girls cruised into the finals of the 18 girl bracket!  Great job Mia and Grace!
Barczak Places 2nd @ Phil Portuese NE Freestyle Regionals
Great performance by Monroe Woodbury grad/Drexel freshman Evan Barczak in taking 2nd place at 70kg in the U23 Division! Minisink Valley senior Joey Yanis also looked solid in his first freestyle event of the year.  Yanis went 4-2 at  Junior 195 pounds with his 2 losses coming to the 2nd and 4th place finishers. Matt Morris (Red Hook) and Jacob Chenier (Kingston) also competed, both were entered at 113 Cadet in both freestyle and Greco.  Morris went 2-2 in both styles while Chenier finished 1-2 in freestyle and 3-2 in Greco.  Great job boys!