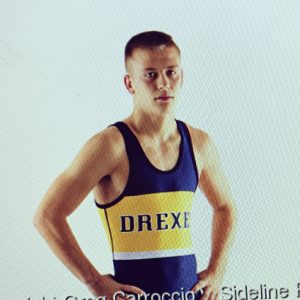 Not many local wrestlers in action this weekend but we wanted to give some recognition to Vinny Vespa and Evan Barczak, both Monroe Woodbury graduates, who competed in the UWW U23 World Team Trials in Akron, OH on Saturday.  Vespa, who now wrestles at 141 pounds for Hofstra, competed at 65 kg and went 1-2 representing the Blue and Gold Wrestling Club.  Barczak, who wrestles at 157 for Drexel, competed at 70 kg and went 4-2 competing for the Pennsylvania RTC.  Match-by-match results are listed below.
Vinny Vespa (Hofstra, 65kg)
Rd 64: Cory Crooks (Sunkist Kids) dec 6-0 Vespa
Consie Rd 32 #1: Vespa dec 6-4 Colton Yapoujian (Pomona HS)
Consie Rd 32 #2: Nate Hagan (Edinboro RTC) tech 10-0 Vespa
Evan Barczak (Drexel, 70kg)
Rd 128: Grant Bond (Husky Elite WC) dec 8-7 Barczak
Consie Rd 64 #1: Barczak tech 10-0 Avery Shay (Clarion RTC)
Consie Rd 64 #2: Barczak tech 16-6 Brett Kaliner (Edge Wrestling)
Consie Rd 32 #1: Barczak tech 14-3 Greg Gaxida (Valley RTC)
Consie Rd 32 #2: Barczak dec Hunter Richard (Cornell)
Consie Rd 16 #1: Cole Martin (Wisconsin) tech 10-0 Barczak
Check out all of the All-Americans from NYS!!!
U23 – Freestyle
61kg – Vito Arujau (Syosset HS, Cornell) – CHAMPION
61kg – Nick Piccininni (Ward Melville HS, Ok St) – 6th place
74kg – Alex Smythe (Eden HS, Buffalo) – CHAMPION
97kg – Ben Honis (Jamesville Dewitt HS, Cornell) – 3rd place
125kg – Youssif Hemida (Mamaronack, Maryland) – CHAMPION
125kg – Michael Hughes (Smithtown West, Hofstra) – 6th place
Cadet – Freestyle
45kg – Stevo Poulin (Shenedehowa HS, Section 2) – 3rd place
48kg – Joe Scheeran (Galway HS, Section 2) – 8th place
51kg – Greg Diakomihalis (Hilton HS, Section 5) – 3rd place
80kg – Jacob Logan (New Rochelle HS, Section 1) – 7th place
U23 – Greco-Roman
77kg – Jesse Porter (Shenedehowa, NYAC) – CHAMPION