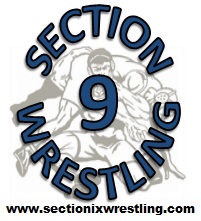 Even though we are a few months away from the start of the 2018 – 2019 wrestling season, let's take a look at some of the wrestlers that we should definitely keep an eye on this winter!  This post will highlight our Division 2 (small school) wrestlers….an article focusing on the D1 kids will post in a few days.
Returning State Placewinner
Liam Dietrich – Red Hook, junior
Dietrich opened eyes in 2017 when he finished 2nd at 285 as a freshman!  This past season he won the Section 9 title at 285 and went on to finish 5th in NYS. Don't be surprised if he is a few steps higher on the podium in Albany this year!  Dietrich is big and athletic; he's a tough match-up for any heavyweight in NYS and he's the only returning NYS placewinner at 285!!!
2018 Section 9 Champs With At Least 1 Victory At States
Eric Tigue – Port Jervis, freshman
Tigue made some noise at 113 in Syracuse last January at the State Dual Championships when, as an 8th grader, he picked off former state champ and senior Jon Charles by a score of 5-3.  Tigue lost in sudden victory in the blood round at the individual state tournament in Albany so he is extra motivated to step on the medal stand this coming February!
Ethan Palanca – New Paltz, sophomore
Palanca punched his ticket to Albany by knocking off a defending Section 9 champ, Pat Ross from Onteora at 120 pounds.  Up at the state tournament Ethan won his first match before running into 2X state champ Trent Svingala and then lost his first wrestleback.  The New Paltz sophomore is definitely a contender to place this year!
Nikko Walsh – Rondout Valley, sophomore
A 2X Section 9 champion at 99 pounds, Walsh went 0-2 in Albany in 2017 but was much more competitive this past season at the state championships! He pinned his opening round opponent in the first period before dropping two very competitive matches 3-1 and 6-0 (to the wrestler who placed 4th). Walsh works hard in the off season and is poised for another great season!
Other Returning 2018 Section 9 Champs
Nick Ross – Onteora, sophomore
Nick was the S9 champ at 126 this past season and was champ at 113 in 2017! Can we be looking at a future 5X S9 champ?
Mat Malherio – Highland, senior
Mat is a 2X S9 champ at 138. In Albany, he lost 5-2 in the opening round to the eventual state champion Mike Zariff.  This could be his break through season!
William Harrison – Port Jervis, senior
The PJ senior is as tough as any wrestler in Section 9, D1 or D2. Don't be surprised if he contends for a medal in Albany in February.
Devin Dixon – New Paltz, senior
220 pound champ Dixon's first trip to the state tournament was a learning experience that he hopes to build upon this coming season.
Matt Morris – Red Hook, junior
Morris had a tough draw at 106 in Albany…his losses came to the eventual 4th and 5th place finishers.
Some Others To Keep An Eye On
Nate Ross – Onteora, junior
Nate came in 2nd in a very tough 138 pound weight class and was the S9 champ in 2017 at 126.  Albany has not seen the last of him!
Pat Ross – Onteora, sophomore
Suffered a tough loss to Palanca at 120 in 2018 and was the champ at 106 in 2017. Like his brother Nate, he also will return to the state tournament!
Nick Curreri – Eldred/Liberty/Sullivan West, senior
Nick came in 3rd in the aforementioned very tough 138 pound weight class. His only loss was a 4-3 decision to the champion Malherio.
Luke Jones – Eldred/Liberty/Sullivan West, junior
Jones lost a tough 5-1 decision at 152 to Harrison.  He has put in a lot of off season work and will be looking to punch his ticket to the Times Union Center!
John Antonelli – Marlboro, junior
Antonelli finished 2nd as an 8th grader at 99, 3rd at 106 as a freshman and 2nd at 126 last season as a sophomore. Could we see him on the top of the S9 podium this season?