Popolizio, Conners, Hogan, Freischlag, and Tracy Also Get the Nod; Veysman from New York Wrestling News to be Honored As Well!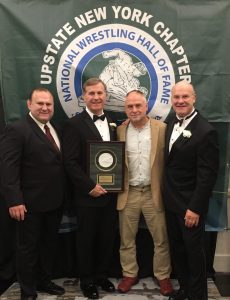 Well another Section 9 alum is being inducted into the Upstate NY Chapter of the Nation Wrestling Hall of Fame!  Congratulations to former Port Jervis wrestling coach Mark Faller for being part of the 2018 induction class! The induction ceremony will take place on Sunday, September 23 in East Syracuse.
Faller graduated from Port Jervis in 3 years and attended Harvard where he would excel both on and off the mat. He was an alternate for the 1976 Olympics in Greco Roman. Faller would return to Port Jervis where he led the Red Raiders, including Ed, Lou, and Steve Banach, to an incredible 70-2-1 record from 1975-1980.  Faller left Port Jervis to take over as head wrestling coach for Division 1 Franklin & Marshall where he would finish with a 122-104-1 coaching record without the benefit of athletic scholarships! From there, Faller moved to Georgia to earn his Ph.D. and then moved to Anchorage, Alaska where he was a psychology professor at Alaska Pacific University. Coach Faller is now retired and resides in Knoxville, TN. Congratulations Mark…Section 9 is proud to call you one of our own!
Also being inducted into the 2018 HOF Class are:
Frank Popolizio – Journeymen Wrestling and Shenendehowa HS
Michael Connors – Fulton HS and Oswego State
Scott Freischlag – Wayne Central School District
Michael Hogan – Peru Central School District
Gene Tracy – Section III Wrestling Official
A few others will be receiving special recognition for their contribution to the sport of wrestling and I would be remiss if I did not give special mention to Betsy Veysman.  Betsy will receive the Stanbro Media Award for her work in promoting the sport of wrestling.  Betsy founded www.newyorkwrestlingnews.com which has quickly become the most followed and trusted media resource for amateur wrestling in New York State…period! During her tenure at the site she worked tirelessly to post articles, results, and rankings were simply unparalleled! Congratulations my friend…very well deserved!
Congratulations to all of the 2018 inductees!!!