Let's take a look at a weight class by weight class breakdown of the 2019 NYSPHSAA Wrestling Championships. The tournament takes place on 2/22 & 2/23 at the Times Union Center in Albany, NY.
Tournament Schedule                Official Brackets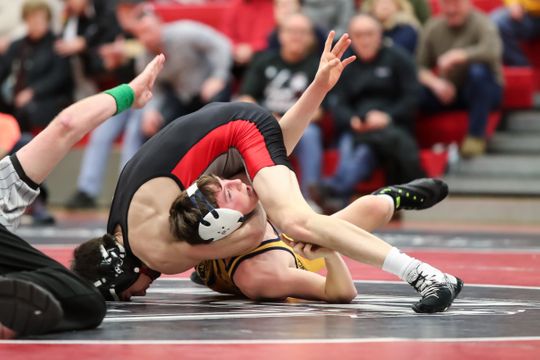 99 Pounds
The lightweights are always fun to watch at this tournament because many of the competitors here are young and they improve tremendously throughout the course of the season. The top seed and one of the favorites here is Anthony Conetta from Massapequa. Conetta sports a 44-1 record with his only loss coming to the #2 seed, Gregor McNeil from Hilton at the state duals. McNeil has a 28-1 record and guess who his only loss is to….yup, Conetta at ESC. There are several talented wrestlers who will have something to say about it! Sachem East's Jared Weinhaus is 45-4 and will compete here as will Section 8 wildcard Killian Foy from MacArthur. Section 2 champ Jashon Holmes is 40-3 and has the potential to place high here as does the wrestler responsible for two of his losses, Angelo Centrone from Mahopac. Both Section 9 entries, Andrew Marchese and Colby Amell, will be competitive here as will Section 6's 7th grader Cameron Catrabone who is 34-1 this season!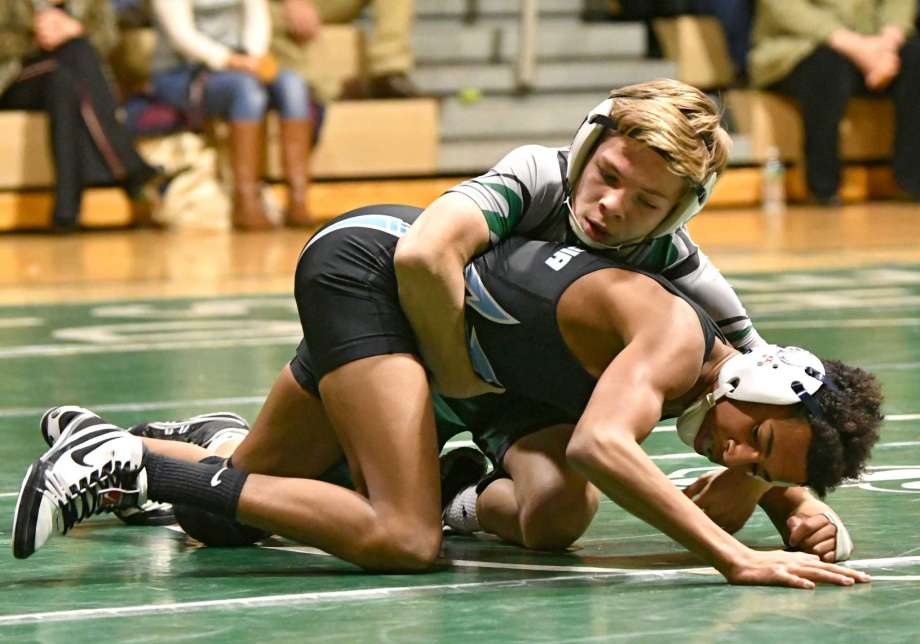 106 Pounds
Stevo Poulin from Section 2 Shenedehowa is the favorite here. Stevo was the 99lb state champ last year, he's a 2X Eastern States Classic champion, and he's currently ranked #2 in the nation by Intermat and #3 by FloWrestling! Poulin will not walk through this weight however! His opponent in last year's state final, Chase Liardi from Section 8 Massapequa, is anxious for a rematch as is Minisink Valley 7th grader Zack Ryder. Ryder was teched by Stevo early in the season but closed the gap drastically by January and lost to him 10-3 in a match where he rode Stevo out the entire 3rd period! Hilton's Rocco Camillaci was a NYS place winner last year and has only two losses this year – 1-0 to Liardi and 6-1 to Poulin – both at Eastern States. A few other to keep our eyes on here include Horsehead's Zack Levey, Long Beach's Jeremiah Echiverria, and Carson Alberti from Section 6. Section 9 wildcard Justin Morales has pushed Ryder twice this season and could surprise people here as may Central Islip's Kwesi Amoa.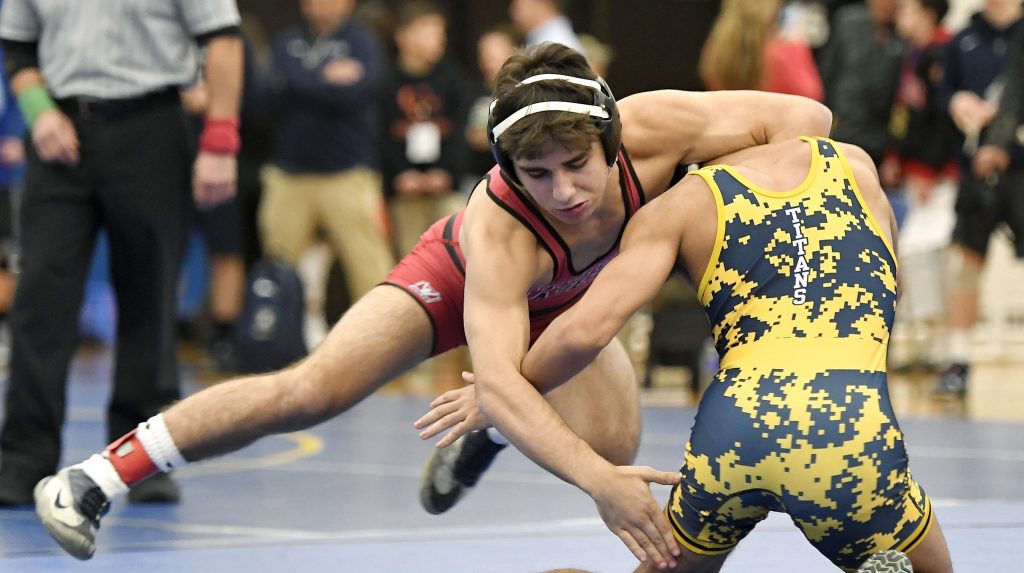 113 Pounds
The top seed and heavy favorite at 113 is Hilton junior Greg Diakomihalis who is a 3X NYS champion and is currently ranked #1 in the country by FloWrestling and #2 by Intermat! He is 51-0 and has scored bonus points in every match except one where he defeated 2X NYS D2 champ Anthony Noto 5-2 in the ESC finals. Diakomihalis is on a 162 match unbeaten streak. However…Greg D is not the only state champ in this bracket! Last year's 106 pound champ Terry Adams from Monsignor Farrell will challenge here as will a wrestler who has beaten him this year, Luke Smith from Section 11 Hauppauge. Section 8 champ Josiah Encarnacion from Wantagh is a state placer and we should also watch out for Section 4 champ Dante Rigal. A few others to watch here include Jake Eckerle from Section 11 and the Sleezer twins Ryan and Dylan from Section 2 Queensbury. Section 9 entry Jacob Chenier is having a great season and may surprise someone in the bracket!
120 Pounds
The weight class is without question one of the most wide open in the tournament in either division. The top seed here is Jaden Scott from Section 5 Rush Henrietta. Scott, only a freshman, was the state runner-up at 106 last season and is 36-0 this year with a win over D2 state champ Marek Bush. One of the other favorites at 120 is Sean Carter from Section 11 North Babylon. Carter was a state place winner last season and is 36-2 this season. One of his losses was to D2 hammer Jordan Titus and the other was in the ESC finals where he dropped a decision to nationally ranked Sam Latona from Alabama. Latona's closest match at ESC however came from a different wrestler in this bracket, James Ryan from Monsignor Farrell. Ryan lost to Latona 8-6 in sudden victory then wrestled back to 3rd place. There are a few other state placers here as well! Monroe Woodbury's Marco Vespa has finished 4th and 3rd at the last two state tournaments and Section 1 champ Ivan Garcia has also stepped on the medal stand in Albany. Vespa, however, needed an at-large birth to get in the tournament this year because he was picked off in the Section 9 finals by Minisink Valley junior Nick Picariello by a score of 6-2. Freshman Geoge Oroudjov from Section 8 Syosset will definitely make some noise here and will inevitably continue the legacy of his older brothers Nick and Vito Arujau. Let's also keep an eye on wildcards CJ Lee (Section 5) and Amos Rivera (Section 1) as both have the potential to place at this weight!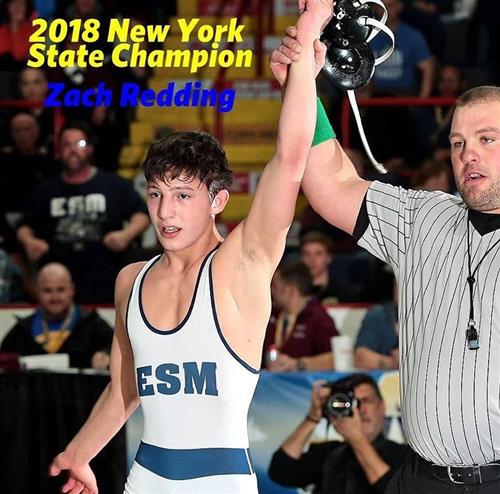 126 Pounds
With a returning state champ, a returning 3rd place finisher, and a few other absolute hammers, 126 will be a great weight class to follow this year! Top seeded Zach Redding was the NYS champ at 120 last year. He is 47-2 on the season and finished 3rd at the Eastern States Classic after dropping a 10-7 decision to Zeke Escalara from Wyoming Seminary. His other loss was up at 132 to one of the favorites there, Preston Maucere. Redding has wins a wins over a few of the wrestlers in this bracket including one of the other favorites Dennis Robin from Arlington who placed 4th at ESC. At ESC, Robin recorded an impressive 10-2 major decision over Section 5 champ Ryan Burgos for Hilton who will definitely contend here as will Tyler Kellison from Section 3 who placed 3rd in NYS at this exact weight last season! Kellison, however, was majored 10-0 by Burgos then lost to Marek Bush and he did not place at ESC! Aiden Rabideau from Clarence, Chris Cook from John Jay Cross River, and Alexis Diaz from North Rockland all needed wildcards to get to Albany however all three have the potential to place and we certainly cannot overlook Section 9 champ Jordan Suarez who is 34-4 on the season and is hungry for a spot on the medal stand!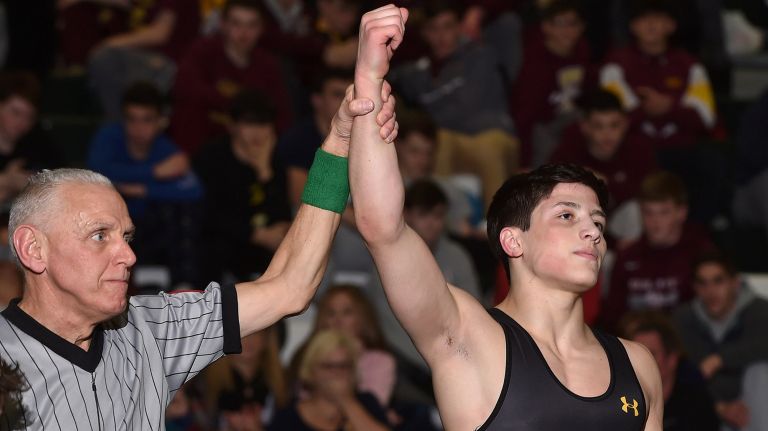 132 Pounds
This weight class boasts a returning NYS #2, a returning NYS #3, and a returning NYS #4 – and it's possible that none of them are the favorite! St. Anthony's Preston Maucere is having an awesome season! The Catholic school champ is 37-4 and all four losses are to out-of-state wrestlers. Perhaps the most impressive result for Maucere this season was his 6-4 loss to Beau Bartlett of Wyoming Seminary who is ranked 3rd in the nation by Intermat! Maucere also lost 7-6 to St. Joe's stud Sammy Alvarez who is also nationally ranked. One of the other favorites at 132 is Justin McDougald from Section 6 Niagara Wheatfield. McDougald placed 2nd in NYS last year at 126. He is undefeated this season and was the 2019 ESC champion at 132. Another one to watch here is Logan Sciotto from Section 11 Rocky Point. Sciotto has a 47-4 record and he finished 3rd in NYS last year at 113. One of Sciotto's losses this season was to Section 8 champ Xavier Pommells from Uniondale who will definitely contend for a high medal here as will Alex Samson from Section 5 who placed 6th in NYS last year. Devin Woodworth from Section 4 placed 4th in the state last season and needed a wildcard to get to Albany because he was defeated by Drew Witham from Corning in the Section 4 finals. A few others to watch here are Mike Blando from Massapequa and Tommy Maddox from Washingtonville.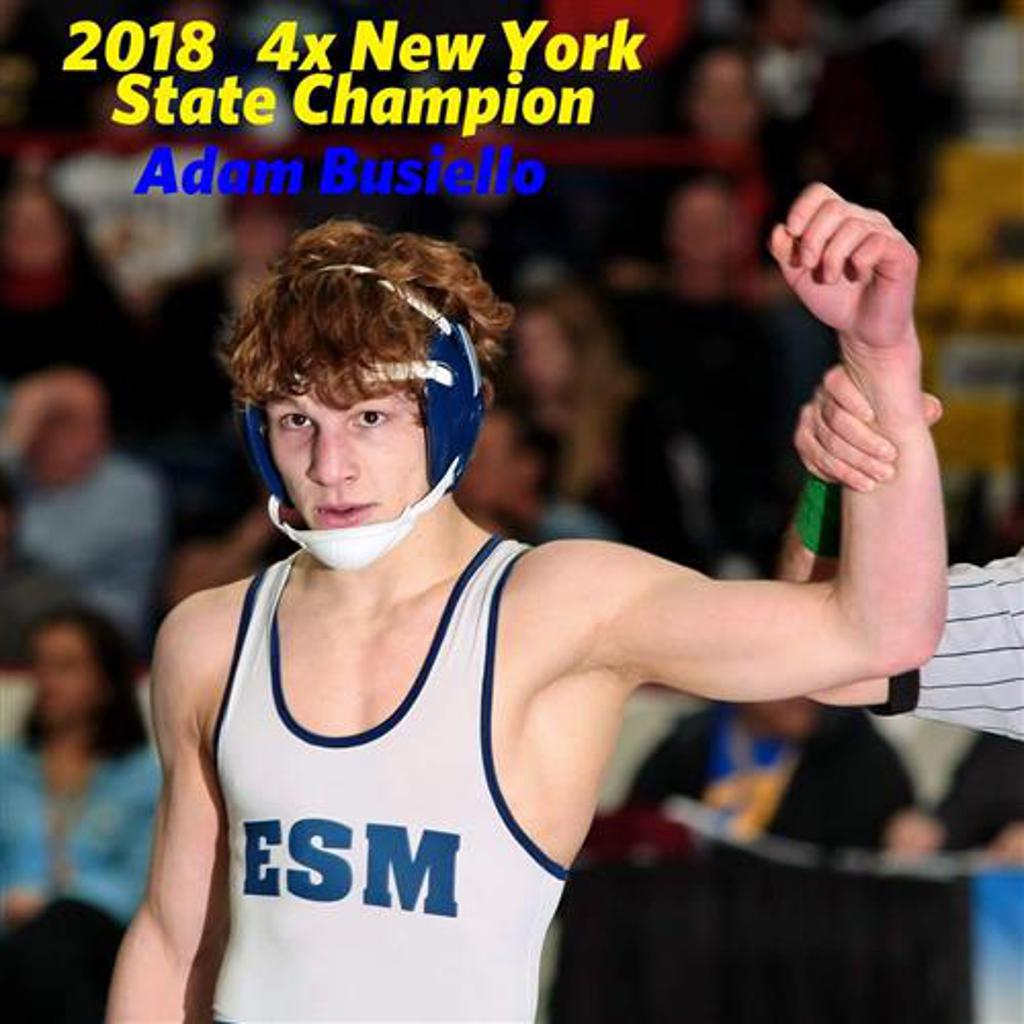 138 Pounds
Eastport South Manor senior Adam Busiello is hoping to become only the 3rd wrestler in NYS history to win 5 state titles! Busiello is 46-0 this season, he won the Eastern States Classic, and he is ranked 4th in the nation by Intermat! So he's clearly the huge favorite to win at 138 this year right? Not so fast! One of Busiello's wins this season was a razor close 3-2 win over Willie McDougald from Section 6. McDougald, a junior at Niagara Falls, is 40-1 on the season and was the state champion at 132 last season! To many wrestling fans, this is the most highly anticipated match of the tournament! And just to make things a little more interesting we probably shouldn't overlook Mason Wersinger from Section 5 Spencerport. Wersinger is 40-0 this season and is looking to surprise everyone by defeating one or both of the state champs in this bracket! Others to watch at 138 include undefeated Kyle Althenn from Section 8 Mepham, state placer Chase Daudelin from Corning, Brendon Carroll and Tyler Albis from Section 1, Zacc Romero from Brooklyn Tech, and ESC placer Sean Savacool from Section 9 Minisink Valley!
145 Pounds
Although it is not loaded with returning NYS place winners, 145 is definitely one of the toughest weights in this year's tournament! Without exaggeration, there are at least a half of a dozen wrestlers with a shot at winning this weight! Let's start with Jonathan Spadafora from Section 11. The Half Hollow Hills East senior is 38-1 this season and came in 2nd at the ESC losing in the finals to CT hammer Tyler Sung by a 3-2 margin. Sophomore Brock Delsignore from Section 2 Shenendehowa has been to Albany before and is having a great year. AJ Kovacs from Iona Prep is an absolute hammer and could win it ill here as could Lee Mauras from Section 8 Freeport who placed 4th in NYS last season. Karamvir Hothi from Rush Henrietta and Jeremy Scuttalero from Massapequa both needed wildcards to get in – overlooking either one of them would be a huge mistake. Section 9 has two tough wrestlers entered at 145 in Tommy Askey from Pine Bush who grinded out a tough 3-1 win over Minisink Valley's Nick Albornoz at the Section 9 tournament! This will be a great weight to watch unfold!
152 Pounds
Wide open – that is the best way to describe the 152 pound weight class at this year's tournament! Section 11 champ and ESC finalist Danny Mauriello is definitely one of wrestlers to watch here. The Hauppauge junior is 39-2 and neither of his losses are to wrestlers in this bracket. Section 8 has two excellent entries here in Garret Gibbons from Massapequa and Joe Simons from Farmingdale. Gibbons defeated Simons 8-7 in the Section 8 finals. Do not be surprised if both place in the top 6 this weekend in Albany. Same can be said for Section 6. Warren McDougald, Jr. and Ryan Stencel are both hammers and will contend here as will Ty Raines from Section 5 Churchville Chili. Christian Hansen from St. Anthony's has wrestled a brutal schedule and may be the most battle tested wrestler in the field. Section 2 also has two excellent wrestlers in the bracket in Sean Malenfant from Averill Park and Jacob Edwards from Columbia. Jason Scibek from Horsehead's and Joe McGinty from Monroe Woodbury could also do very well at 152 this year!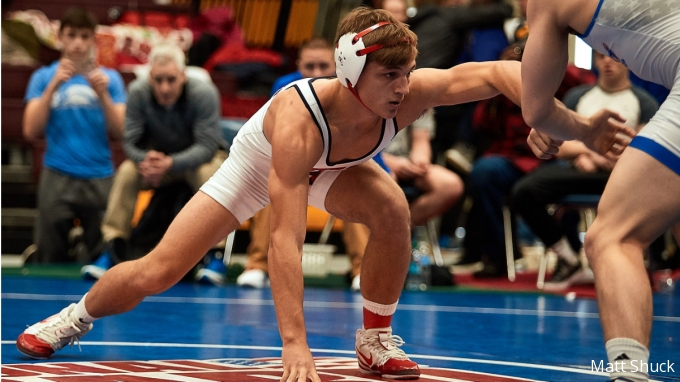 160 Pounds
Kyle Mosher from Section 8 South Side finished a very respectable 5th in NYS last year….but what a difference a year makes! After an incredible off season, Mosher is now ranked in the top 10 in the nation by both Flo and Intermat and is considered by many the favorite to take home the title at 160 pounds. He will not be untested…far from it! Section 5 champ Cooper Kropman is a hammer! Still only a sophomore, Kropman finished 3rd at 152 in NYS last year and he is 30-2 this season. His only two losses came at The Powerade Tournament and one of the losses was a 4-2 sv loss to Ryan Vulakh who is currently ranked 3rd in the country by Intermat. A Mosher vs Cropman final could be an absolute war! Adam Daghestani from Grand Island Section 6 is a perfect 46-0 this season and the #3 seed – he will definitely make some noise at 160 this year! There are definitely some other talented wrestlers in this weight and we should definitely keep an eye on such as Peter Mashkov from Niskayuna, Jackson Hulse from Westhampton Beach, and Steven Gazzillo from Cornwall!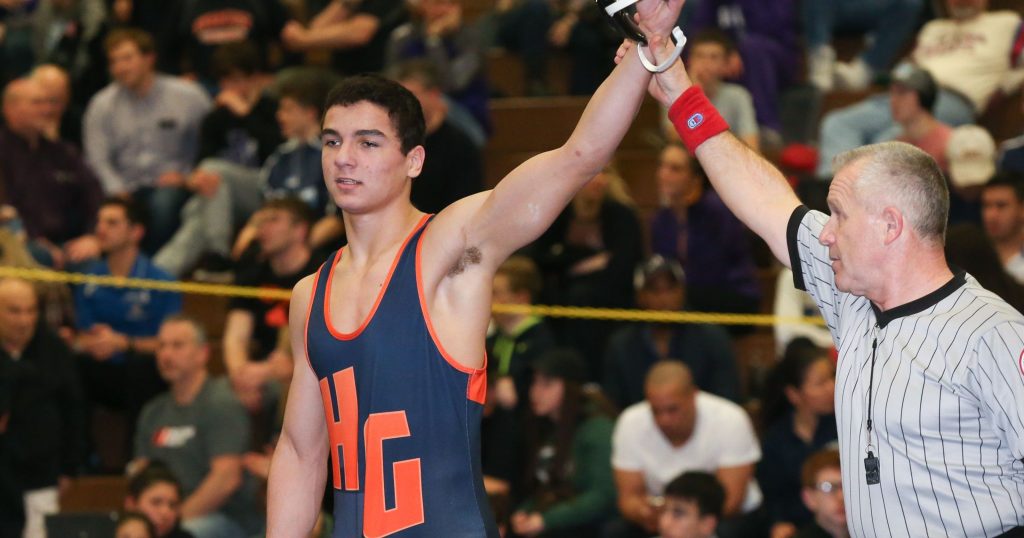 170 Pounds
The 170 pound weight class is another meat grinder up in Albany! Section 1 champion Aaron Wolk is 41-1 this season and will definitely be one of the favorites. Wolk finished 5th in NYS last year and was an ESC finalist losing a 2-1 decision to D2 stud Ross McFarland. Some of Wolk's wins at ESC however were razor close decisions over some of the wrestlers in his bracket this weekend, namely Matt Rogers, Paul Illicete, and Joe Gannone. Rogers is the Section 8 champion from Wantagh and lost 6-5 to Wolk at ESC. Illicite won the crown in Section 11 and he dropped a 7-5 decision to Wolk. Gannone from Eastport South Manor stayed withing 2 points of Wolk at ESC losing 6-4. Gannone actually finished 3rd in Section 11 because he lost to another contender here, Corey Connolly from Rocky Point who finished 4th in NYS last season! Another NYS finisher, JD Moore from Levittown Division, is tough as nails and so is Section 2 champ Jakai Townsend from Burnt Hills. A few other to watch here include Matt Bucci from Saugerties, Josh Thibeault from Niagara Wheatfield, and Jeff Geller from Staten Island Tech.
182 Pounds
Perhaps one of the heaviest favorites to win his weight class in the tournament is Section 1 champ Jake Logan. The New Rochelle senior is a perfect 36-0 this year and he is the defending NYS champion at this weight. Logan, who will be wrestling at Lehigh in the fall, is a 2X ESC champion and is currently ranked 8th in the nation by both Intermat and Flo. Logan will definitely be tested though! Fombo Azah from Carthage is the 2nd seed and he is having a great season which includes a runner up finish to Logan at the ESC. The one opponent who Logan has not teched or pinned this year is Eduard Dzhioev from the PSAL who is also in this bracket. At the Eastern States Classic, Dzhioev lost a 4-2 decision at ESC to Angelo Petrakis from Massapequa who is definitely one of the contenders here. Section 9 champ Tyler Serafini is making his second trip to the states and definitely has the ability to get on the podium with a medal! Some others to watch here include Michael Tyrell from Hauppauge, Liam Mooney from Colonie, Joe Cocozza from Penfield, and Connor Kenney from Grand Island.
195 Pounds
There is a lot of talent entered in this weight class however Hilton senior Sammy Deprez has to be considered the odds-on favorite to take the top step of the medal stand on Saturday night. Deprez, who is 40-0 this season, finished 3rd in NYS last year and is currently ranked 9th in the nation by Intermat and 17th by FloWrestling. Deprez's biggest challenge will likely come from either Jhordyn Innocent from East Ramapo, a state finalist last year, or Matt Kelly from Iona Prep. Both wrestlers lost to Deprez at ESC but they are very talented wrestlers who have the ability to push him in a rematch. A few other wrestlers to watch here are Liam McIntyre from Westhampton Beach, Matt Hegi from Mepham, Sam Santander from Monroe Woodbury, and Todd DeGroat from Vestal.
220 Pounds
The favorite and top seed at 220 pounds is Will Leonard from Section 9. The Buffalo bound senior is undefeated this season and won the Eastern States Classic in January. If Leonard, who placed 6th in NYS last year, is able to advance to the finals we could possibly see an all Section 9 final pitting Leonard versus NFA junior Maxx DeCapua. DeCapua, who finished 6th in NYS at 195 last year, received a wildcard after losing to Leonard 5-0 in the Section 9 finals. Section 4 champ Lucas Scott is having a great sophomore campaign at 31-1 and will definitely will be in the mix here as will ESC finalist Dylan Gianikos from Pat-Med. Emre Mabocoglu from PSAL cannot be overlooks and the same can be said for Section 8 champ Dequan Stewart from Roosevelt. We should also keep an eye on Nick Serce from Irondequoit in Section 5 and undefeated Nik Koch from Averill Park in Section 2.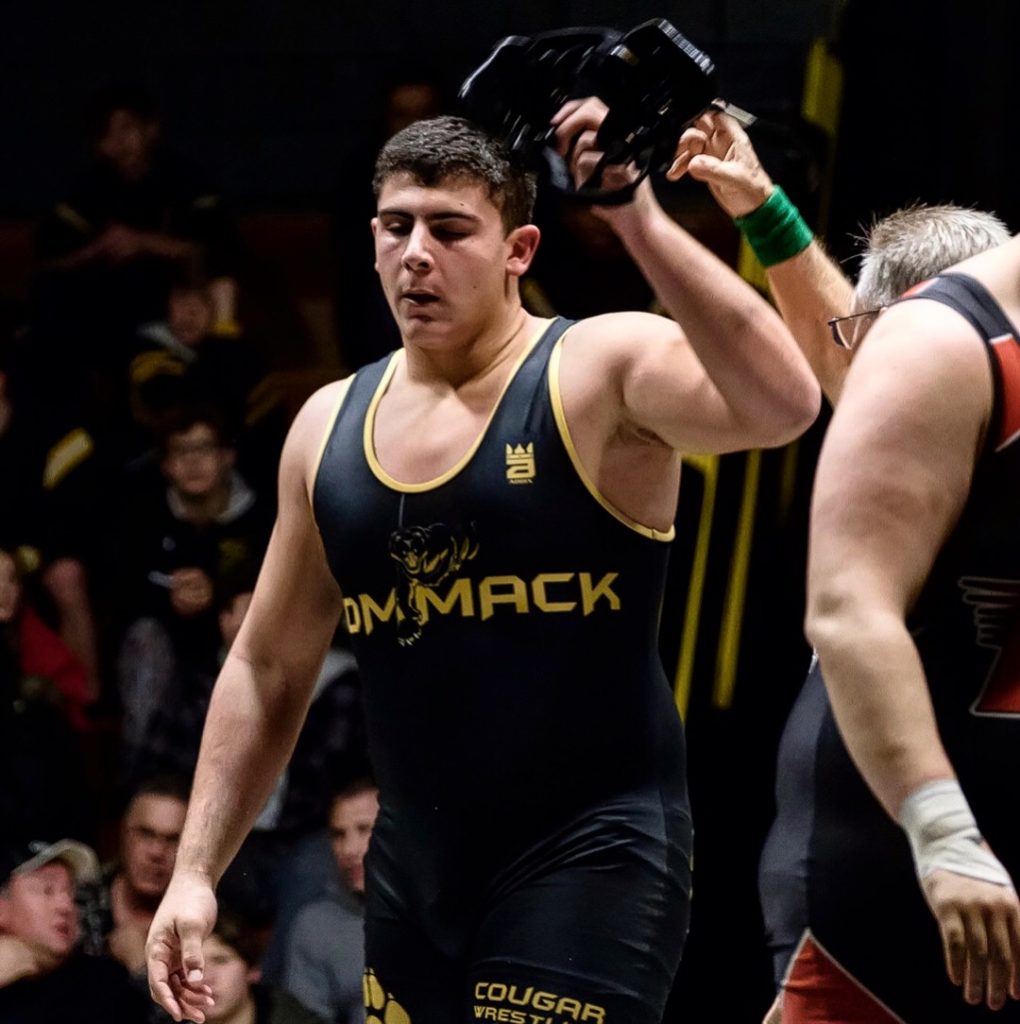 285 Pounds
Commack senior Joey Slackman was the runner-up at 285 in Albany last year and he is poised to take the next step to the top of the podium this weekend. Slackman, who is nationally ranked in the top 20 by both Flo and Intermat, is a perfect 42-0 this season and will be wrestling for Penn in the Fall. This is not a one-horse-race however as there are several talented wrestlers at 285 including 2nd seed Jake Stangle from Ballston Spa and 3rd seeded Adam Fenner from Minisink Valley who is only a sophomore! We also need to keep an eye on both Section 5 entries – Colton Crane from Gates Chili and Collin Burns from Hilton. Section 9 wildcard Preston Havison is dangerous as is Collin Null from Carthage and Myles Norris from Freeport.