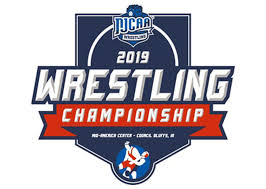 Congratulations to our two local JUCO wrestling programs for sending a total of six wrestlers to the National Junior College Athletic Association (NJCAA) Wrestling Championships! The tournament is this weekend March 1st & 2nd at the Mid-America Center in Council Bluffs, Iowa. Match-by-match results will be posted here! Let's meet all five of the qualifiers.
SUNY Sullivan
Robert Satriano (149, sophomore)
Satriano is a 2016 graduate of Valley Central High School where he finished 3rd in Section 9 as a senior. Robert was 14-7 this year for the Generals and punched his ticket to nationals by finishing 2nd at the Eastern District Championships.
Dan Mandic (149, freshman)
Mandic is a 2017 graduate from Goshen High School where he placed 6th at 145 as a senior. Mandic wrestled in Ohio prior to moving to Goshen for his senior season. Dan had a 6-9 record this season but got the job done when it mattered and place 3rd at Districts.
J'havon Innocent (174, sophomore)
J'havon is a 2017 graduate of East Ramapo High School in Section 1. Innocent finished 2nd in Section 1 as a senior and received an at-large birth to the state tournament where he went 1-2. J'havon was 14-8 this season and advanced to the nationals by taking 2nd at the district tournament.
SUNY Ulster
Gavin Pasqualini (125, freshman)
Gavin is a 2017 graduate of Arlington High School where he won the Section 1 championship at 120 pounds as a senior. Pasqualini went 14-8 this season and finished 2nd at the districts to punch his ticket to Council Bluffs!
Matthew Shields (165, sophomore)
Matt is a 2017 graduate of Onteora where he placed 2nd in Section 9 as a senior. Shields is now a 2X NJCAA qualifier! He knocked of nationally ranked Brian Torres from Nassau CC in the semis and then finished 2nd in the districts to qualify for nationals. Matt has 14 wins this season and finished 4th at the Williams Open.
Adonis Morano (174, freshman)
Morano is a 2018 graduate of Middletown High School. Adonis missed his senior year due to injury however he won the Section 9 crown at 170 pounds as a junior. This season Adonis went 11-7 and placed 4th at the districts tournament to advance to the nationals!