A trio of former Section 9 wrestlers have cracked the top 5 on the national boards to begin the 2019-2020 college wrestling season! Michael Raccioppi (Minisink Valley, '14), Da'mani Burns (Newburgh Free Academy, '16), and AJ Aeberli (Minisink Valley, '16) have been recognized by FloWrestling and InterMat as among the top wrestlers in their weight classes.
#2 @ 174 in DII – Michael Raccioppi (East Stroudsburg)
Raccioppi is a 2014 graduate of Minisink HS where he was a 5X Section 9 finalist, a 2X Section 9 champion, and finished 2nd in NYS state as a senior! Last season Raccioppi capped of an incredible season by finishing 3rd in the nation at 174 and he comes into his final season of collegiate wrestling as the 2nd ranked wrestler in the nation for DII.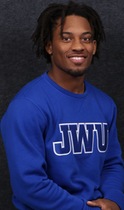 #3 @ 149 in DIII – Da'mani Burns (Johnson & Wales)
Burns graduated from Newburgh Free Academy in 2016 where he finished his high school career as a 2X NYS placewinner including a 3rd place finish as a senior. Da'mani led all DIII wrestlers in pins last season and entered the 2019 NCAA DIII Tournament at the top ranked wrestler at 149. This year Burns is ranked as the preseason #3 and hopes to finish high on the podium in March!
#4 @ 174 in DIII – AJ Aeberli (Coast Guard Academy)
Aeberli started his high school career in Warwick but moved to Minisink Valley for his junior and senior years where he finished as a 2X NYS placewinner which included being crowned the 160 lb. NYS champion in 2016. Aeberli was an All-American last season, finishing 6th at 174, and comes into his senior campaign ranked #4 in the nation by both FloWrestling and InterMat.