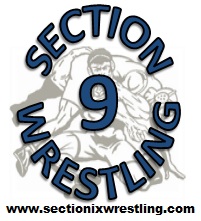 Well it's that time of the year! The regular season officially kicks off this week so it's time to release our first edition of the Section 9 Individual Rankings! Please keep in mind that rankings are just for fun – they create buzz and discussion. Preseason rankings are especially difficult because there are no current results to use as a gauge. There is also the issue of weight. The wrestlers are being ranked based on an educated guess of where the wrestler will begin the season. The vast majority of these wrestlers will be at least one weight class lower once the 2 pound growth allowance is applied. Any comments are welcomed at sectionixwrestling@gmail.com. Enjoy!
99 Pounds – Will not be ranked until after the +2 growth allowance.
106 Pounds
1. Alex Greco (Warwick, freshman)
2. Trevor Tufano (Port Jervis, sophomore)
3. Rey Ortiz (Pine Bush, freshman)
4. Jordan Brown (Monroe Woodbury, freshman)
5. Sebastian Vidacovich (Valley Central, freshman)
Tufano was the D2 champ last season but Greco gets the nod at #1 here because of his head-to-head over him. Ortiz had a very solid season last year but we should definitely keep an eye on MW frosh Jordan Brown who put in a very busy off season including a win over #5 Vidacovich to win the Hudson Valley Challenge. Let's also not forget NFA's Kevin Segali, Washingtonville's Mason Ketcham, Wallkill's Rocco Futia and Middletown's Manny Saenz.
113 Pounds
1. Justin Morales (Middletown, senior)
2. Jackson Merli (NFA, sophomore)
3. Nicolo Ricciuto (Valley Central, junior)
4. Luke Greiner (Minisink Valley, 8th)
5. Peter Bender (Highland, junior)
The top spot at 113 goes to 2X state qualifier Morales who is hoping for his third trip to Albany and his first trip to the medal stand! The Middletown senior definitely has what it takes! Next at 113 is Merli who finished 3rd at 99 last year and he is followed by a very scrappy Ricciuto. MV's Luke Greiner is improving rapidly and comes in at #4 just ahead of last year's D2 champ at 106 Bender from Highland. Others to look out for here are Cornwall's Kevin Rourke and Port Jervis 8th grader Ryan Ross.
120 Pounds
1. Andrew Marchese (Washingtonville, sophomore)
2. Santos Ocasio (Monroe Woodbury, senior)
3. Jaden Hansen (NFA, junior)
4. Joey Curreri (Eldred/Liberty/Sullivan West, junior)
5. Sofia Macaluso (Minisink Valley, sophomore)
Washingtonville sophomore Andrew Marchese takes the top spot at 120 for our preseason rankings. Marchese was the Section 9 champ at 99 last season and put in a huge off season which included a strong showing at the prestigious Journeymen Classic. The 2nd spot goes to MW senior Ocasio who was 3rd at 113 last season followed by a very talented Jaden Hansen from NFA. Hansen took 3rd at 106 last season and he's still new to the sport and has a lot of upside. Eldred's Joey Curreri grabs the 4th spot just ahead of MV sophomore Sofia Macaluso who took 3rd at this weight last season and became the 1st girl in S9 history to place at the sectionals. A couple other to keep on the radar here are Wallkill's Matt Davis, Warwick's Erik Nilson, Rondout Valley's Rocco Deaviro, and Middletown's Kenny Santiago.
126 Pounds
1. Nick Picariello (Minisink Valley, senior)
2. Jacob Chenier (Kingston, senior)
3. Drew Greco (Warwick, junior)
4. Elliot Crocco (New Paltz, senior)
5. Austin Maddox (Washingtonville, junior)
Picariello defeated 3X NYS placewinner Marco Vespa to win the S9 title at 120 last season and he's our preseason #1 here but he has Kingston senior Jacob Chenier nipping at his heels! Chenier was the 113 S9 champ last season and placed 7/8 in Albany! Greco, Crocco, and Maddox round out a very tough top 5 at 126 but we can not overlook Robert Drost from Saugerties, Gabe Giumarra from Cornwall, Lucas Ospina from Roundout Valley, Grant Barczak from Monroe Woodbury, and Ivan Colon from Middletown!
132 Pounds
1. Zack Ryder (Minisink Valley, 8th)
2. Matt Morris (Red Hook, senior)
3. John Antonelli (Marlboro, senior)
4. Luke Fischer (NFA, senior)
5. Moises Diaz (Middletown, senior)
Four seniors and an 8th grader…but this isn't your typical 8th grader! Ryder finished 2nd in NYS at 106 last season losing a razor close 4-3 decision to Stevo Poulin, the #2 ranked wrestler in the nation at 106 last year! Morris had a great season too taking 6th place in NYS at 113 D2. Antonelli is the model of consistency placing 2nd, 3rd, 2nd, and 2nd his last your seasons at the sections….will this be the year he breaks through?Fischer from NFA and Diaz from Middletown are tough and will definitely contend here as will VC's Travis Phillips, Goshen's Eli Weinstein, MV's Mia Macaluso, and Washingtonvilles Jacob Poppe.
138 Pounds
1. Jordan Suarez (Minisink Valley, senior)
2. Josh Sam (Middletown, senior)
3. Matt Romano (Valley Central, senior)
4. Brain Lombardi (Minisink Valley, junior)
5. Joey Amato (Port Jervis, senior)
Suarez was the Section 9 D1 champ at 126 last year and hoping to make a return trip to Albany this season and cap his career with a state medal! Coming in at #2 is Josh Sam, a finalist at 132 last season, and then Matt Romano who is a 2X NYS qualifier. Do not look past #4 Lombardi who has put in a busy off season who comes in just ahead of Amato who was a D2 finalist at 132 last season. Joe Ferro from Kingston is another wrestler to keep an eye on here!
145 Pounds
1. Sean Savacool (Minisink Valley, senior)
2. Eric Tigue (Port Jervis, sophomore)
3. Ethan Palanca (New Paltz, junior)
4. Gabe Galarza (Pine Bush, senior)
5. Gavin Richter (Kingston, junior)
The top 3 here are all former Section 9 champions! Savacool was the D1 138 champ and an ESC placer last year so he grabs the top spot followed by PJ sophomore Tigue who is looking to make his 3rd trip to Albany! New Paltz junior Palanca was a runner up at 138 last year to Savacool but he was the 120 pound D2 champion two years ago! Long Island transplant Galarza should make an immediate impact in S9 and comes in at #4 followed by the very tough Gavin Richter from Kingston. Let's also not overlook Dan Downs from Monroe Woodbury who will definitely be competitive this year!
152 Pounds
1. Tommy Askey (Pine Bush, senior)
2. Nick Ross (Onteora, junior)
3. Jaccob Gonzalez (Minisink Valley, junior)
4. Aiden Cuppett (New Paltz, senior)
5. Chris Fini (Goshen, senior)
Two absolute hammers sit atop 152! Pretty much can flip a coin but we'll go with Askey at #1 for now. The Pine Bush senior was the S9 D1 champ at 145 last season and finished 4th in NYS. Next comes Nick Ross who is a 3X D2 champ and he finished 3rd at 138 in Albany last year. At #3 we have the very dangerous Jaccob Gonzalez from Minisink Valley followed by seniors Aiden Cuppett and Chris Fini who round out the top 5. Warwick's Justin Orlando, MV's Andrew Filip, and New Paltz's Levi Wyn should not be looked over in this very deep weight class!
160 Pounds
1. Joe McGinty (Monroe Woodbury, senior)
2. Nate Ross (Onteora, senior)
3. Evan Gibbons (Warwick, senior)
4. Pablo Garcia (Middletown, senior)
5. Bryce Horner (Port Jervis, senior)
Not too shabby when the top two ranked guys in a weight are D1 college commits! McGinty came in 4th at 152 D1 last year and will be going to Hofstra next fall while Ross, who took took 6th at 152 D2 last year, will be taking his talents to Buffalo! Warwick senior Gibbons is looking to improve on his 4th place S9 finish last year and he is followed by Garcia and Horner to round off the top 5. There could be some depth in both divisions here as we should watch for Jace Hirsch from MV, Dylan Burgos from PB, Logan Smith from Highland and Henry Peters from E/L/SW.
170 Pounds
1. Patrick Ross (Onteora, junior)
2. Joe Velazquez (Middletown, senior)
3. Chris McLaughlin (Minisink, senior)
4. Marcus Brown (Monroe Woodbury, junior)
5. Vincent Gennaro (Washingtonville, senior)
The third Ross brother in our rankings is Patrick and he will begin the season as our #1 at 170. Pat is taking a huge jump in weight – he was at 132 last season – but he seems to be making the adjustment well! Velazquez took 3rd at 160 in S9 D1 last season and is extremely talented. Third ranked McLaughlin from MV is always dangerous followed Brown and Gennaro who round out our top 5. A few others to keep our eyes on are Alden Hathaway from Wallkill, Aiden Maduro from Highland and Brendan Douthit from Burke!
182 Pounds
1. Ethan Gallo (Minisink Valley, freshman)
2. Graeme Knisell (Saugerties, senior)
3. Justin Lyle (Wallkill, junior)
4. Max Wernicki (Monroe Woodbury, senior)
5. Nick Patterson (NFA, senior)
Our preseason #1 at 182 is Ethan Gallo from Minisink Valley. Gallo, only a freshman, was the runner-up to Gazzillo at 160 last year and is looking to make his first of several trips to the Times Union Center. Coming it at #2 is Knisell from newly reclassified D2 Saugerties. Knisell was having a very solid season last year but did not wrestle in the Section 9 tournament. Lyle took 4th at 170 last year and had some nice wins as did Wernicki from MW and Patterson from NFA who round out the top 5. This weight could have some depth too as we have guys like Logan Michaels from New Paltz, Mike Paravati from MW, and Jeremy Mazzella from Warwick hoovering around 182!
195 Pounds
1. Joe Russell (NFA, junior)
2. Scott Geysen (Minisink Valley, junior)
3. Darwin Banegas (NFA, senior)
4. Zavier Bennet (Kingston, senior)
5. Steven Felice (Monroe Woodbury, senior)
Russell is very talented wrestler who came in 4th at 182 last season and begins this season ranked #1 at 195. Our #2 here is MV junior Scott Geysen who took 5th at at 182. Our #3 here is perhaps the most credentialed – Banegas had a solid season but an outstanding S9 tournament finishing 3rd at 195! Bennet from Kingston comes in at #4 and Felice from MW holds the #5 spot for now. We should also keep an eye on James O'Neil's Connor Boyer, Chester's Cole Greco and Saugerties' Craig Laurey.
220 Pounds
1. Maxx DeCapua (NFA, senior)
2. James Oosterom (Port Jervis, senior)
3. Armel Duke (Middletown, senior)
4. Carson Henry (Minisink Valley, junior)
5. Jonathan Perez (Highland, senior)
This is another weight that is loaded with talent! Maxx DeCapua is a 2X placewinner and is our #1 here. DeCapua took 3rd in NYS at 220 D1 last season and 6th at 195 in 2018. Interesting fact – Maxx has yet to win a S9 title…both of his trips to Albany were via wildcard! PJ's Oosterom took 5th at 220 D2 last year and is looking to ascend higher up the podium this year. Middletown's Armel Duke is very talented and can definitely push anyone here as can our #4 Carson Henry from MV. Jonathan Perez had a great regular season but is looking for better results in the D2 Section tournament this year. He's our #5 at 220 to begin the season. A few others to watch here might be Stephon Holmes from Kingston and Dylan Bullock from Chester.
285 Pounds
1. Adam Fenner (Minisink Valley, junior)
2. Stephan Monchery (Middletown, 8th)
3. Devin McGovern (Chester, senior)
4. Logan Hickey (Warwick, senior)
5. Frank Hernandez (Monroe Woodbury, senior)
Adam Fenner from Minisink Valley finished 5th in NYS D1 last season at this weight and is our clear #1 here. Right behind him is middle schooler Monchery who opened many eyes last year as a 7th grader competing at 285. Chester's McGovern was the runner up in D2 last year and he is followed by Hickey and Hernandez who finished 1st and 2nd respectively in last year's JV Championships. Southard from Port Jervis and Gittens from Highland will also be very competitive in D2 285 and should not be overlooked as is the case with Evan Jansen from New Paltz and Jackson Fakler from Wallkill!