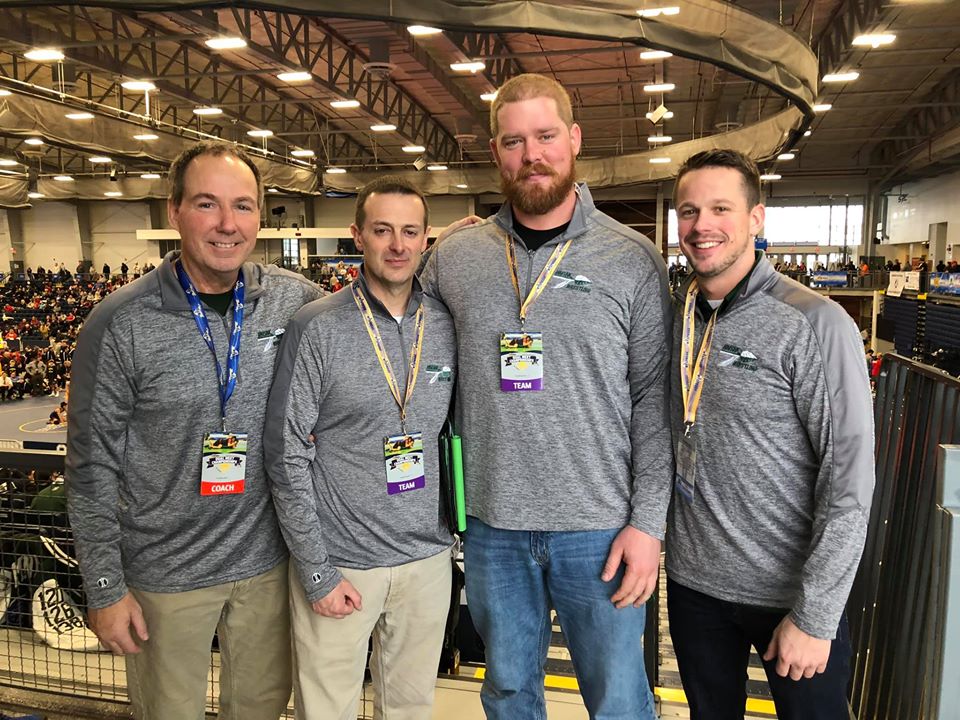 Congratulations to the Coaches Gallagher, Hendershot, Potter, Byrne and the entire Minisink Valley wrestling team for winning the 2020 NYSPHSAA Dual Meet Championship! The Warriors completely dominated the competition outscoring their opponents 210 – 72 in their four dual meets on Saturday in Syracuse! This is the 2nd time since 2015 that Minisink Valley has finished #1 in NYS. The Warriors also finished 3rd in the state last season and 2nd in NYS in 2018. Minisink Valley has finished in the top 10 in NYS for seven consecutive seasons!
The Warriors made a statement in their opening dual of pool competition trouncing Section 11 power Commack 57-9. Commack received a wildcard birth into the tournament after finishing 2nd in the Section 11 tournament. They defeated favored Hauppauge in the semifinals but lost to Patchogue-Medford in the finals. Commack was a tough team but Minisink Valley had too much horsepower for them winning 12 of the 15 matches including pins by Zak McKernan (106), Zack Ryder (126), Jordan Suarez (132), Chris McLaughlin (170), Ethan Gallo (182), Carson Henry (195), and Adam Fenner (285). Nick Picariello also picked up a nice 3-1 win at 120 over 2X NYS placewinner Jake Eckerle.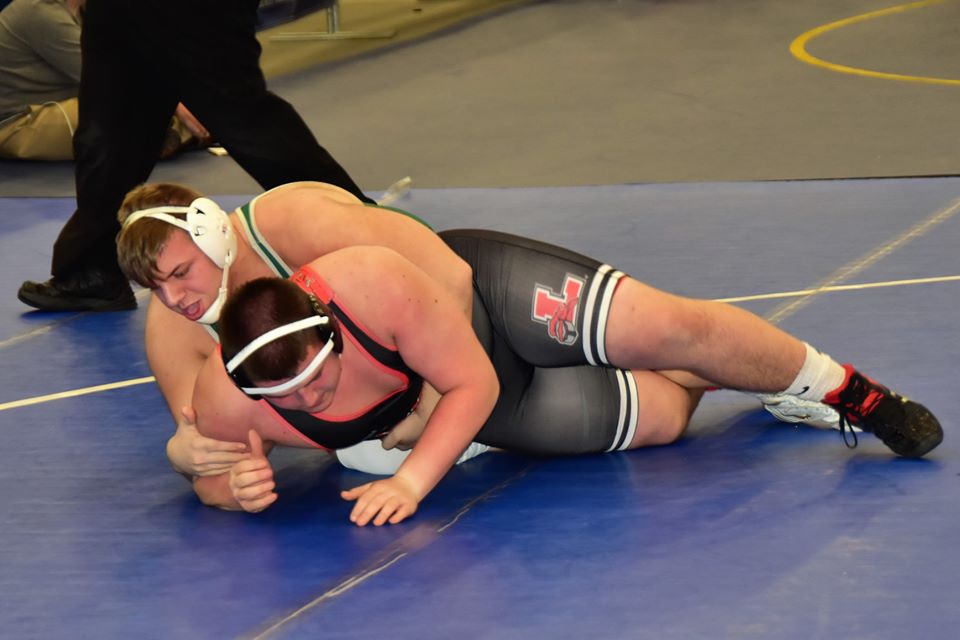 In their other pool match the top seeded Warriors took on eighth seeded Lancaster from Section 6. The result was pretty similar to their opening round dual – the Warriors controlled the dual from beginning to end! This time, however, Minisink won 13 of the 15 matches and notched 8 pins in defeating Lancaster by a 64-11 margin. Picking up the pins for Minisink were Anthony Tresch (99), Zack Ryder (126), Jordan Suarez (132), Jaccob Gonzalez (145), Jace Hirsch (152), Ethan Gallo (195), Scott Geysen (220), and Adam Fenner (285). By going 2-0 in pool matches the Warriors advanced to the semifinal round where they would meet Section 2 power Shenendehowa.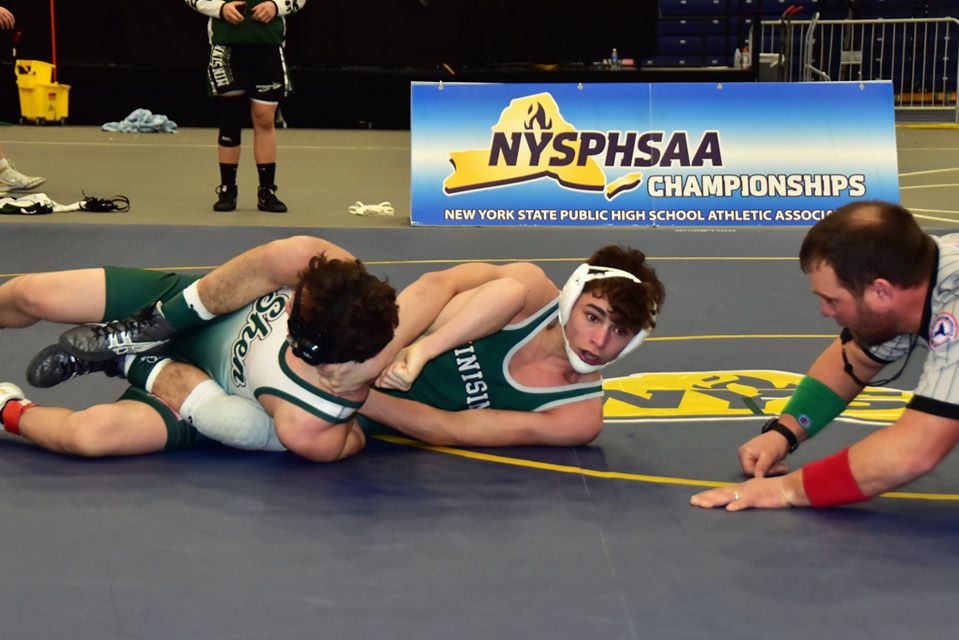 The semifinal round began at the 106 pound weight class and a glance at the match-ups made it quite evident that this dual meet was going to be a battle! Shenendehowa won the first 3 matches and led the Warriors 14-0 after a technical fall victory at 120 by Stevo Poulin, the 2nd ranked 113 pound wrestler in the nation. The Warriors answered back with 5 straight wins and took the lead 26-14 after 152. Shenendehowa answered right back with 3 consecutive wins and recaptured the lead 27-26 after 182 and only four matches remaining! This was the only time this season that Minisink Valley has been trailing a dual to a NYS team after 11 matches! The Warriors responded and they responded with authority! Minisink swept the last four matches picking up 21 points and advanced to the finals with a 47-27 win over Shen!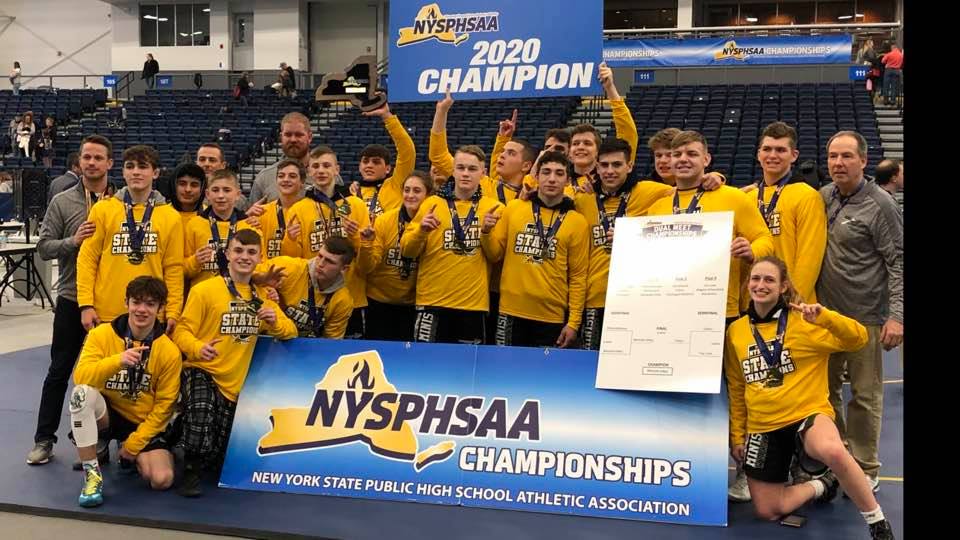 The stage was set for a finals showdown between Minisink Valley and Section 3 champion and hometown favorite Fulton! The Section 3 team was wresting with a ton of energy and had a lot of momentum and local crowd support in their favor! The dual started at 113 and the Warriors quieted the crowd by winning 5 of the first 6 matches ending with an exciting, back-and-forth sudden victory win by Brian Lombardi at 145 giving the Warriors a 21-3 lead. Fulton then ripped off three straight wins and closed the gap to 21-16 going into 182. Minisink Valley won 2 of the next 3 matches before clinching the dual and the championship when Adam Fenner picked up a 1st period pin at 285 making the score 39-19 with only two matches left! Fenner, only a junior, picked up his 100th career win earlier in the day. The Warriors won at 99 and lost at 106 making the final score 42-25! Congratulations again to the entire Minisink Valley wrestling program!

Click here for every Minisink Valley box score from Saturday