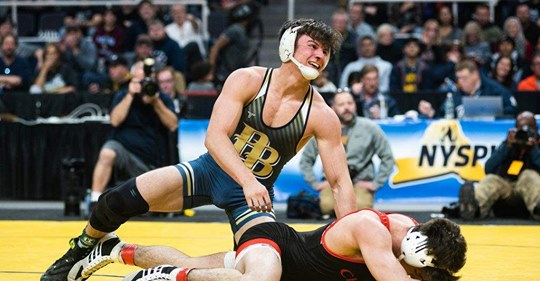 Congratulations to Pine Bush senior Tommy Askey and Minisink Valley 8th grader Zack Ryder for being crowned 2020 NYSPHSAA Wrestling Champions! Askey was the champion at D1 152 while Ryder won gold at D1 126. Section 9 had 2 other finalists with Onteora junior taking second at D2 152 and Monroe Woodbury senior Joe McGinty grabbing silver at D1 160. Section 9 had a total of 13 place winner. Congratulations go out to Monroe Woodbury's Jordan Brown (6th @ 99 D1), Warwick's Alex Greco (8th @ 99 D1), Middletown's Justin Morales (6th @ 106 D1), Washingtonville's Andrew Marchese (5th @ 113 D1), Red Hook's Matt Morris (8th @ 126 D2), Middletown's Joe Velazquez (6th @ 170 D1), Minisink Valley's Ethan Gallo (6th @ 182 D1), Port Jervis' James Oosterom (3rd @ 220 D2), and Minisink Valley's Adam Fenner (3rd @ 285 D1).
Tommy Askey wrapped up a dream season with an 8-5 win in the state finals over AJ Kovacs from Iona Prep. Kovacs was the 2019 state champ at 145 and is currently ranked #5 in the nation at 152 according to InterMat. The Pine Bush senior also defeated 3rd place finisher Dennis Robin and 6th place finisher Wenchard Pierre Louis on his way to the title. Askey finished the year a perfect 41-0 and also won the Eastern States Classic back in January. He finished 4th in NYS last year at 145. Congratulations to one of the hardest working wrestlers in Section 9!
Zack Ryder is only in 8th grade and he is already a 2X state finalist! Last year Ryder put NYS on notice when he pushed nationally ranked Stevo Poulin to the limit dropping a 4-3 decision in the 106 state finals. This year Ryder was not to be denied, The MV middle schooler capped of an incredible 47-3 season by pinning previously undefeated George Oroudjov in the finals. Ryder also defeated 3rd place finished Rocco Camillaci and 6th place finished Ivan Garcia on his way to the title at 126, arguably the toughest weight class in the tournament this year! Congrats Zack – the future is bright!
Tournament Notes:
Greg Diakomihalis was voted D1 MOW. Greg finished his high school career as a 5X state champion with an incredible 221-1 career record. His only loss was to Dylan Ryder in ESC finals. Anthony Noto, now a 4X state champion, was voted D2 MOW. Stevo Poulin was absolutely dominating in winning his 3rd state title.