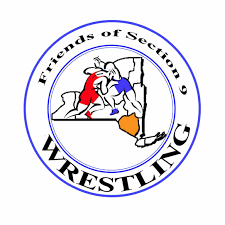 The Friends of Section 9 held their annual awards banquet last night at Twin Towers Middle School in Middletown. Our limited budget due to the fact that there has been no Eastern States Classic for two seasons prevented us from doing our usual full dinner and dessert banquet at a catering hall, however the 2021-2022 season was so special that we thought it was important to do something! There was so much to celebrate so we decided to have an awards assembly with coffee and desserts afterwards. This season, Section 9 won the sectional team race at the state tournament for the first time since 1975! For this year's banquet we awarded certificates to the top 6 Division 1 place winners and the top 4 Division 2 place winners at every weight. We also recognized several individuals and teams and provided them with plaques as special awards. Let's take a look at our special awards winners!
Division 1 Tournament MOW – PJ Duke, Minisink Valley
PJ, still only a freshman, went on the win his 2nd NYS title in Albany in convincing fashion!

Division 2 Tournament MOW – Charlie Wylie, Port Jervis
Charlie became the first girl wrestler to win a Section 9 title wrestling against the boys!

Most Exciting Match – D1 Finals – Luke Greiner (MV) vs Jackson Merli (NFA)
Both Luke and Jackson went on to compete well and earn wins in Albany. Greiner is only a sophomore and has two more shots at the jumping on the podium at states, while Merli will continue his academic and wrestling career at Bucknell!

Most Exciting Match – D2 Finals – Justin Coiteux (NP) vs Logan Zehr (High)
Coiteux went 1-2 up in Albany and is only a sophomore! Zehr wrapped up a great high school career by going 29-2 as a senior!
Friends of S9 Ref of the Year – Paul Cummings
Paul was selected to ref at the state tournament this year and he was recently inducted into the Upstate NY Chapter of the National Wrestling Hall of Fame!
Org/Sull Officials Sportsmanship Award – Sofia Macaluso, Minisink Valley
Sofia is currently ranked #1 in the nation for 122-pound female wrestlers. She is the first ever S9 girl to place in the S9 tournament. She is a 2X placer taking 2nd this past season and placing 3rd as a freshman in 2019. Sofia is also a 3X Fargo placer and the 2022 Folkstyle Nationals champion!
Parents of the Year – Mike and Kristi Greco, Warwick Valley
The actual plaque said "Mike Greco" but both we all know that this award goes to both of Alex's parents!
Scorekeeper of the Year – Elisa Rhodes, Onteora
Elisa became the first person to ever win Scorekeeper of the Year and also win the tournament! Elisa finished 1st in the Girls Only Division…Impressive!!!
Scorekeeper of the Year – Caitlin Hennamen, Minisink Valley
Caitlin has been a Mat Maid for the Minisink Valley program for three years. Her work as a scorekeeper and mentor has always been incredible, and this year she was instrumental in assisting in live feeds for venues with fan restrictions due to COVID!
Come-Back Wrestler of the Year – PJ Duke, Minisink Valley
PJ Missed all of the covid shortened 2020-2021 season and had to battle through an early season injury suffered at the Walsh Ironman. How did he respond? He notched his 2nd NYS title and is currently ranked 3rd in the nation by Flo at 138!
Fan of the Year – Bruce Whitman, Middletown
It's impossible to quantify the importance of a strong fan base for a wrestling program. Middletown coach Jason Lichtenstein made it very clear that Whitman is one of the Middies greatest all-time fans!
Dave Simmons Most Courageous Wrestler – Stephan Monchery, Middletown
Possibly the greatest ever choice to receive this award. Stephan battled through the emotional anguish of losing his brother to COVID and wound up winning the Section 9 title and finishing 5th in NYS at 285!
Coaches Wife of the Year Award – Katie Ehlers, Chester
Being a wrestling coaches' wife is never easy – the amount of time away at practice, matches, and tournaments in stressful! Being the wife of a wrestling coach and having your first child is a whole different level of commitment! Congratulations Katie!
Assistant Coach of the Year – AJ Voelker, Chester
The former Section 9 champion from Monroe Woodbury has done an incredible job in helping Coach Ehlers continue to grow Chester wrestling! Great work AJ!
John Bell Lifetime Achievement Award – John Lando, Tuxedo
Coach Landro received this well-deserved award and who better to present it to him than one of his greatest pupils – current Chester head coach Jim Ehlers. Congratulations on an incredible coaching career Coach Landro!
John Bell Lifetime Achievement Award – Bill Stutz, Red Hook
Current Red Hook coach Nick Fredericks gave a great introduction to the man who laid the foundation for the Red Hook wrestling program. Congratulations Coach Stutz. You represent everything that is good about high school sports!
Friends of Section 9 Person of the Year – Bill Coudrey, Newburgh
Bob Coudrey has been a trainer at NFA for over 20 years. He has been the head assessor at the weight certifications since its inception and on more than one occasion has been asked to serve as a trainer at the NYSPHSAA Tournament! Thank you for all that you do for Section 9 wrestling Bob!
Most Improved Team of the Year – Wallkill
This award is based purely on mathematics! Wallkill had the greatest improvement in the Section 9 tournament of any team – D1 or D2! Congrats to Coach Ng and the Wallkill Panthers!
Friends of Section 9 Coach of the Year – Anthony Ng, Wallkill
Taking of a wrestling program that was run by NYS and National Wrestling Hall of Fame member Jeff Cuilty is no easy task! Anthony has accepted the challenge and is working towards making Wallkill a perennial Section 9 power. Congrats Coach Ng!
Troy Bouzakis Wrestler of the Year – Andrew Marchese, Washingtonville
In an almost unanimous vote, Washingtonville senior Andrew Marchese wins the Troy Bouzakis Wrestler of the Year Award. Marchese, who will be continuing his academic and wrestling career and Castleton, capped off an incredible high school career by making it all the way to the state finals this season. He also placed 2nd last year the unofficial Journeymen NYS Tournament and he placed 5th in NYS as a sophomore in 2020. Congratulations Andrew!
Decapua Scholarship Award Winners
Let me begin by apologizing for "almost" forgetting to announce these scholarship recipients at the ceremony yesterday. I had already invited people to go to the cafeteria for coffee and desserts before realizing my mistake. I was able to announce the award winners while most everyone was still in the auditorium; however, they did not receive the proper recognition which they deserved. Again, my sincere apologies to the wrestlers and their families.
Max Winkler, Goshen
Winkler worked his tail off during the off-season and capped of a great high school career by finishing 3rd in the Section 9 tournament. He had an impressive 34-7 record this season and notched 31 wins via pinfall ranking him in the top 7 in Section 9 for pins. Winkler, who will wrestle in college at D2 East Stroudsburg, recently competed in the NYWAY state tournament where he was crowned the 189 Pound NYWAY State Champion for the high school division! Congrats Max!
Henry Villodas, Goshen
Villodas capped off a very successful high school career by putting together a 19-win season for the rapidly improving Goshen wrestling program.
Jackson Merli, Newburgh Free Academy
Merli has a great high school career! The Bucknell bound NFA senior is a 2X Section 9 finalist and a 2X NYS Tournament qualifier! Congrats Jack!
George Racz, Minisink Valley
"Three-Quarter Georgie" capped off a great high school career by finishing 3rd in the Section 9 tournament at 160 pounds. Racz had several huge wins for the Warriors this season and finished with a 41-3 record with 31 pins ranking him #3 in Section 9!
Sofia Macaluso, Minisink Valley
Sofia is a 2X Section 9 place winner and the first ever female to place in the Section 9 tournament wrestling against the boys. Macaluso placed 3rd as a freshman and took 2nd as a senior. Sofia is the #1 ranked girl wrestler in the nation at 122 and she will wrestle collegiately at East Stroudsburg University alongside her sister Mia!
Eric Tigue, Minisink Valley
Tigue made the most out of his 3rd trip to the NYS tournament in Albany! After falling short in the blood round as an 8th grader and a freshman, Tigue capped off a spectacular high school wrestling career by taking 3rd place at 152 pounds as a senior! Eric is still undecided about his college choice but wherever he goes he will certainly be an asset to the team! Congratulations Eric!
Andrew Marchese, Washingtonville
The aforementioned Marchese had a magical senior season. He came up one win shy of the state title but that doesn't take away from an incredible 2021-2022 campaign. Andrew finished the season with an incredible 47-1 record and 33 pins ranking him 2nd in Section 9! Congrats and best of luck at Castleton, Drew!
Mark Faller Coach of the Year & Frank Tschan Team of the Year
Kevin Gallagher and the Minisink Valley Warriors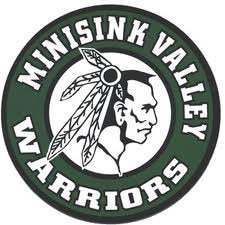 Had to save the best for last. Where to begin with the incredible season put together by Coach Gallagher and the Minisink Valley wrestling team??? The Warriors were perhaps the greatest team in the history of New York State wrestling. They were led by Coach Gallagher, who this season passed fellow Hall of Famer Donnie Blaine from Cornwall and became the winningest coach in Section 9 history. (I apologize for forgetting to mention that at the ceremony.) I know that Coach Gallagher would not be pleased if I did not give credit to his incredible coaching staff including long-time assistant Scott Hendershot as well as former MV wrestlers and now assistants Brenden Byrne, Ross Potter, and Michael Raccioppi. The Warriors had a perfect dual meet record and outscored their opponents by an average of 58 points per dual meet. They won the Section 9 Duals, the NYSPHSAA Dual Meet Championships, the Section 9 Tournament and they won the team title at the NYSPHSAA Individual Championships. Minisink Valley also broke the record for most points by a team by notching 155.5 points in Albany surpassing the previous record of 134 set by Hilton in 2019. The Warriors crowned eight Section 9 champions and sent a record ten wrestlers to the state tournament. At the state tournament the Warriors had six wrestlers place in the top 4 in NYS. Andrew Filip placed 4th at 189, Eric Tigue took 3rd at 152, Mikey Altomer placed 2nd at 172, and PJ Duke (138), Zack Ryder (160), and Ethan Gallo (215) were all crowned NYS Champions!!! For Duke and Ryder, this was their 2nd trip to the top of the podium! And just for good measure…the Warriors are only graduating four seniors – Macaluso, Racz, Tigue, and Altomer. Everyone else, including their three NYS champions, are coming back next season! Congratulations to the entire Minisink Valley wrestling program!!!