Congratulations to Minisink Valley's Zack Ryder for earning a bronze medal in freestyle at 80kg at the 2022 U17 World Championships held in Rome, Italy. Ryder, about to enter his junior year, is already a 2X NYS Champion and also won the 2021 Journeymen NYS Championship title – the year that the NYSPHSAA did not have a wrestling championship tournament due to COVID. Ryder now adds a World bronze to the Fargo title that he won last season to his Olympic style accolades – pretty impressive for a wrestler with less than 18 months of experience in freestyle wrestling!
Ryder's experience at the Worlds did not start off smoothly. He drew the wrestler from Iran right out of the gate! Iran is an international power in wrestling. Zack inexperience, and perhaps some nerves, may have affected him in his opening match where he was defeated via technical superiority by his opponent 10-0. International wrestling does not have full wrestle backs like we are accustomed to here in the USA – only the wrestlers who have lost to the eventual finalists are pulled back into the repechage rounds for a chance at a bronze medal. Fortunately for Ryder, the Iranian wrestler reached the finals, so Zack was given a new life and a chance to wrestle back for a bronze.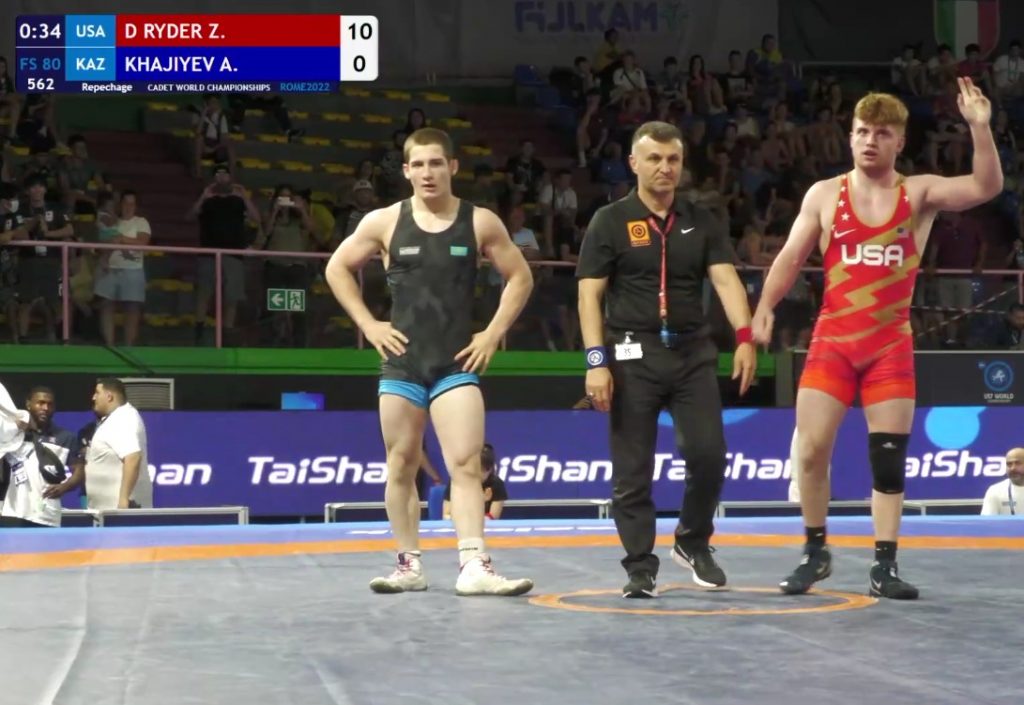 To nobody's surprise, Ryder made the best of this opportunity! In order to win a bronze medal, Zack needed to defeat the other three wrestlers who were also defeated by the Iranian. With the support of his club coach Khaled Dassan as well as U17 team coach James Green in his corner, Ryder reeled off three straight wins without surrendering a single point on Day 2 of the tournament and brought home a coveted world medal. He defeated the wrestler from Bulgaria 2-0, he downed Kazakhstan 10-0, and won the bronze with a dominating 8-0 victory over his opponent from Tajikistan. Never satisfied for less than the best, Ryder made it very clear that he intends on taking home a gold medal next year!
The 2022 World Championships were record setting for Coach Green and his U17 freestyle team. Of the ten weight classes, Team USA took home four gold, three silvers and two bronze medals. USA won the team title and set a record for the most points ever scored by a team in tournament history! Great job Team USA!!!!
45 kg – Domenic Munaretto – GOLD
48 kg – Christian Castillo – SILVER
51 kg – Luke Lilledahl – GOLD
55 kg – Jaxen Forrest – SILVER
60 kg – Kyler Larkin – DNP (went 1-1 and only lost 2-1 to the bronze medalist)
65 kg – Tyler Kasak – SILVER
71 kg – Joe Sealey – GOLD
80 kg – Zackary Ryder – BRONZE
92 kg – Maxwell McEnelly – BRONZE
110 kg – Koy Hopke – GOLD