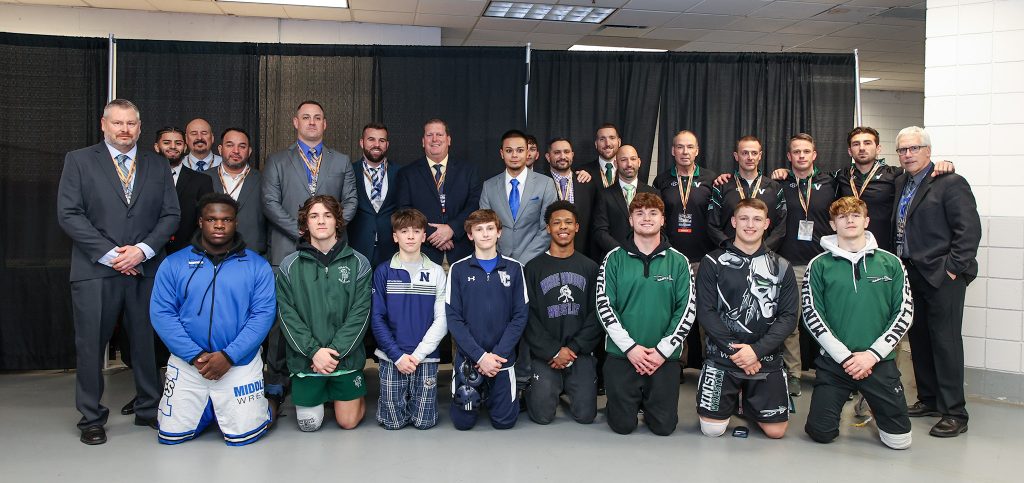 DIVISION 1 AND MINISINK VALLEY GO BACK TO BACK!!!
Congratulations to the Division 1 Section 9 wrestling team for another incredible performance at the NYSPHSAA Championships! Section 9 had eight finalists, crowned five state champions, and had a total of 12 state medalists step onto the podium in Albany. For the second year in a row our Division 1 squad won the sectional team race and Minisink Valley won the school team race! Absolutely amazing!!!
WYLIE MAKES HISTORY AND OOSTEROM SHINES FOR DIVISION 2!!
Our Division 2 team did not fare as well as our D1 team did however we did have a few major bright spots! First and foremost, we have Port Jervis freshman Charlie Wylie making history by being the first Section 9 girl, and only the second in NYS history, to place at the boys tournament! Charlie place 6th in the state at 102 pounds! Port Jervis junior Matthew Oosterom was the second Raider to reach the podium at this year's tournament by taking 4th place at 215 pounds. Oosterom is now a 2X state place winner!
Let's take a look at all 14 of our Section 9 state place winners!
102 – Cooper Merli (NFA) – STATE CHAMPION
The NFA freshman made the most of his second trip to Albany. Last year Merli lost in the blood round and did not place. This year – State Champion! Merli began the tournament with a 6-3 win over Trevor DellaPanta from Section 6 and then notched an 18-4 major decision over Vincent Graulau of Section 2 in the quarters. Merli advanced to the finals with a 7-0 semifinal win over Ryan Munn of Section 3 and capped off his state title performance by beating Connor Sheridan of Section 11 in the finals by a score of 8-4!
102 – William Soto (NFA) – 3rd Place
Merli's teammate Soto also had an incredible tournament at 102 pounds! Soto, a NFA 8th grader, made his first trip to the state tournament a memorable one! Soto won his opening bout by major decision 14-2 over Vincent Mastrianni of Section 2 before losing a 10-8 heartbreaker in the quarters to Section 11's Anthony Lagala-Ryan. Soto then stormed all the way back in the consolation bracket with a pin over Gino Manta from Section 11, a 6-0 win over Ethan Andrula from Section 8, a 10-0 major over Ryan Munn from Section 3, and a 9-6 decision over Vincent Graulau from Section 2 to take third place in NYS!
102 – Charlie Wylie (Port Jervis) – 6th Place
As mentioned above, Port Jervis freshman Charlie Wylie made history this year by becoming the first girl in Section 9 history to place in the state at the boys tournament. Wylie is only the second girl in the history of the state to accomplish this feat – Section 6's Carlene Sluberski placed 2nd in the D2 tournament back in 2009. Wylie began her tournament with a 7-3 win in the Round of 16 over Jacob Hurd from Section 3. In the quarters, Wylie was pinned by eventual champion Tommy Aiello from Section 11. Wylie woke up on Saturday and defeated Section 5's Wyatt Sartori 4-0 in the blood round to guarantee her place on the podium – and Section 9 history! Wylie won her next match 8-6 in sudden victory over Joe Scott from Section 5 before losing in the consolation semifinals 7-2 to Jakob Lucinski from Section 6. Charlie lost 7-1 in her medal match to Derek Walseman from Section 3 but finished in 6th place in NYS!
110 – Luke Satriano (Valley Central) – STATE CHAMPION
Hard work pays off! Satriano placed 4th in this tournament last season at 102 in a bracket that was eerily similar to this year's bract at 110. Satriano started his tournament with a :29 pin of Ryan Ball from Section 1 then posted a 9-0 major over Ralph Keeney of Section 2 in the quarterfinals. In what was perhaps the most exciting match of the tournament, Satriano defeated returning state champion Dunia Sibomana from Section 8 in the semifinals by a score of 2-1. In the finals, the Valley Central sophomore defeated PSAL's Evin Gursoy by a score of 2-1 to take home the state title!
138 – Jordan Brown (Monroe Woodbury) – 2nd Place
Monroe Woodbury senior Jordan Brown caps off an incredible high school career by making it all the way to the finals making him a 3X NYS place winner! Brown started his 2023 state tournament campaign by pinning Justin Lee from PSAL in 2:55 and then notched a 10-5 win over Manuel Gonzales of Section 3. In the semis, JB posted a 5-2 win over Section 2 champ Gabe Goss before falling 6-1 in the finals to Nick LaMorte from Section 11.
160 – Tyler Reed (Cornwall) – STATE CHAMPION
Reed, a senior from Cornwall, was a state qualifier at the 2022 tournament where he went 2-2 and did not place. This year Reed would not be denied! Tyler began the tournament with a win by pinfall over fellow Section 9 wrestler Quinten Morgan from Minisink Valley. In the quarters, Reed recorded another pin, this time at the 5:41 mark against Section 1's Tristan Robinson-July. In the semis Reed avenged a loss from the Eastern States Classic to Connor Gregory by defeating the Section 2 champion by a score of 5-3. Reed capped off his state title run by beating Joeseph Mattei from Section 8 by a final score of 7-6!
172 – Andrew Filip (Minisink Valley) – 2nd Place
Filip capped of an outstanding high school wrestling career by placing 2nd in NYS and becoming a 2X state medalist! Filip placed 4th in the state at 189 last season! He began this year's tournament with a 7-4 win over Ryan Monahan from Section 11 and then beat Robby Cunningham, also of Section 11, by a score of 8-3 in the quarters. In the semifinals, Filip topped Section 1's Leo Venables by pin at the 2:51 mark before being defeated by top seeded Brady Unger from Section 5 in the finals by a score of 3-2.
189 – Zack Ryder (Minisink Valley) – STATE CHAMPION
Minisink Valley junior is now a 3X NYS champion…and let's be honest, if COVID didn't cause the cancellation of the 2021 tournament, Zack would be a 4X state champion! Ryder wasted no time in his first two matches of this year's tournament posting pins in :21 and :33 over Deondre Woods from Section 1 and Lorenzo Palleschi from Section 2, respectively. In the semis Ryder notched another pin, this time at the 3:44 mark over Kwazi Bonsu from Section 8. In the finals picked up state title number 3 by beating Section 5 champion Elijah Diakomihalis by a score of 3-0!
189 – Braydon Pennell (Pine Bush) – 5th Place
In 2022 Pennell went 1-2 and did not place at the state tournament at this exact weight. This year Pennell went 4-2 and took 5th place in NYS! Braydon opened the tournament with a 1:29 pin over William Henry from Section 8 before losing in the quarters to another Section 8 wrestler Kwazi Bonsu. In the consies Pennell pinned Mason Depew from Section 5 and majored Lorenzo Palleschi by an 11-3 margin. In the consi semis Pennell wrestled his third Section 8 wrestler of the tournament falling to Eric Carlson 13-7. Pennell won his medal match by pin in 1:33 over Section 11's Michael Sanchez.
215 – Ethan Gallo (Minisink Valley) – STATE CHAMPION
Warrior senior Ethan Gallo is now a 3X state medalist and a 2X NYS champion! Gallo, a 3-sport athlete who is leaning towards playing baseball and football at Cortland, placed 6th in 2020 at 182 before willing gold at 215 in 2022 and 2023. Gallo began this year's run to the title with a pin in :55 over Pat McKinley from Section 2 and then teched Jackson Burns from Section 5 by a 17-2 margin in the quarters. In the semis Gallo pinned fellow Section 9 wrestler Bryson Tibbs from Middletown in 1:08 and then defeated Section 2 champion Darien Insogna in the finals by a score of 11-4.
215 – Matthew Oosterom (Port Jervis) – 4th Place
The Port Jervis junior is now a 2X NYS place winner after following up last year's 5th place showing with a 4th place finish at this year's state tournament! Oosterom opened his 2023 state tournament campaign with a pin in 4:49 over Section 4's Donovan Mitchell. In the quarters, Oosterom picked up an impressive 8-3 win over fellow returning state medalist Garrett Bidwell who was also from Section 4. In the semis Oosterom was pinned in 3:16 by Section 2 champ Evan Day dropping him to the consies. In the consolation semis Matt gutted out a 2-1 win over Caden Allen from Section 5 before losing in his medal match for 3rd/4th by a 6-3 margin to Section 6 champ Trevor Barry.
215 – Bryson Tibbs (Middletown) – 6th Place
Tibbs, a Middletown junior, made his second trip to Albany and this time earned a spot on the podium by placing 6th at 215 pounds! Tibbs began his tournament with 1:02 pin over Section 1's Yiorgos Georgas. In the quarters Bryson pinned Section 11's Liam Knapp in 4:22 before losing to Gallo by fall in the Saturday morning semifinals. In the consolation semifinals, Tibbs was defeated by fall by Section 11's William Francois and then lost 18-12 to another Section 11 wrestler, Jaiden Green, in the medal match to determine 5th and 6th place.
285 – Stephan Monchery (Middletown) – 2nd Place
Still only a junior, Middletown's Stephan Monchery is now a 2X NYS place winner! Monchery finished 5th at 285 last year and made it all the way to the state finals this year! Monchery won his opening match 3-2 over Section 1 champion Dimitri Pierre. In the quarters Stephan won 3-0 over Section 5's Ty Radar and then beat Section 2's Cameron Groncki 4-0 in the semifinal round. In the finals Monchery would lock horn with returning state finalist Sebastian Regis from Section 11. Monchery pinned Regis earlier this season at the Eastern States Classic finals however it was the Section 11 champ who prevailed this time recording the pin in the second period at the 3:40 mark.
285 – Rahmiere Bradley (Middletown) – 7th Place
Also a Middletown junior, Rahmiere Bradley made his second trip to the state tournament a successful one by taking 7th place at 285. Bradley won in the Round of 16 by a 7-5 score in sudden victory over Section 8's Brandon Goldstein. In the quarters, Bradley was defeated 4-1 by Section 2 champion Will Hotaling. In the blood round on Saturday morning, Bradley defeated Section 3's Chris Belmonte 3-2 in the ultimate tie breaker to guarantee a spot on the podium. Rahmiere dropped his next match by fall to Gabe Garibaldi from the Catholic Schools before receiving a win by forfeit over Section 5's Ty Radar to take 7th place!