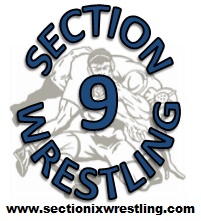 The top four seeds all advanced to the semifinal round of this year's Section 9 Duals Championship tournament.  In preliminary action at the Middletown site, Middletown defeated Port Jervis by a score of 48-37 while Saugerties defeated Kingston 35-29.  In the quarterfinal round, Middletown was defeated by 3rd seeded Minisink Valley 58-24.  Saugerties did not fare much better in their quarterfinal against #2 seed Monroe Woodbury losing to the Crusaders by a score of 58-18.  Click here for the individual results from the Middletown site.
At the Pine Bush site fans were treated to an exciting preliminary match between Cornwall and Valley Central eventually won by the Dragons by a 39-30 score.  In the other prelim, NFA overmatched Washingtonville 51-32 to advance to the quarterfinal round.  The quarterfinals went according to seed as #1 Warwick beat Cornwall 52-21 and #4 Pine Bush defeated NFA 43-30.  Click here for individual results from the Pine Bush site.
Day 2 of the Duals begin Wednesday at NFA with semifinal action getting under way at 5:30.  The semifinal match-ups are #1 Warwick vs. #4 Pine Bush and #2 Monroe Woodbury vs. #3 Minisink Valley.  The Division 1 and Division 2 (Onteora vs. Red Hook) finals will start at approximately 7:00PM.  Good luck to all of the teams!