Onteora's Austin Weigel to Battle for Belt at 170; Pine Bush's Andrew North Entered at 106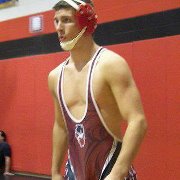 The Super 32 Challenge has become the toughest preseason wrestling tournament in the country.  Every year, approximately 1500 of the top wrestlers from across the country make the trip to Greensboro, NC to test their skills against the best of the best.  Onteora senior Austin Weigel (pictured) and Pine Bush junior Andrew North are the only two Section 9 wrestlers making the journey.  Weigel qualified for the event via his 2nd place finish at a qualifying tournament in Shippinsburg, PA were he dropped a hard fought 7-5 decision in the finals to PA state champion Garrett Peppelman. 
Like every other weight class at the Super 32, 170 pounds is loaded.  Some of the "big guns" registered include Cody Wiercioch (2X PA state champ), Zach Epperly (3X VA state champ), Brett Harner (3X state place winner in PA), Nick Vonegidy (2X NC state champ), and Peter Renda (PA runner-up who is nationally ranked).
North's competition at 106 will be just as fierce.  Many of the favorites at this weight will come from the the Northeast.  PA stud Luke Pletcher leads the way but he will be joined by other Intermat ranked wrestlers including Nick Suriano (NJ), Luke Karam (PA), Kyle Bierdumpfel (NJ), and Gage Curry (PA).
Best of luck to Austin and Andrew! 
Betsy Veysman from newyorkwrestlingnews.com has put together an excellent article which highlights all of the New York wrestlers entered in the event.  Intermat's Josh Lowe has provided an outstanding weight-by-weight breakdown of the Super 32.  Links to both articles are below.
     New York Wrestlers at the Super 32            Intermat's Weight-By-Weight Breakdown