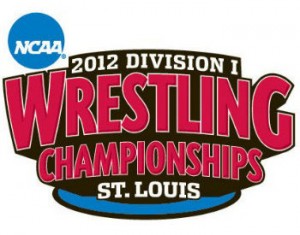 PENN STATE DOMINATES!
With six All-Americans including three national champions, the Penn State Nittany Lions clinched the 2012 NCAA Wrestling Championships team title before the finals had even started.  Under the leadership of 3rd year head coach Cael Sanderson, the Nittany Lions have won the last two team titles.
Cornell's 157-pound wrestler Kyle Dake (Lansing, NY – Section 4) becomes the first wrestler in NCAA history to win national titles in 3 different weight classes!
                                                   Finals Results                                                                              
125 Pounds Matt McDonough (Iowa) dec 4-1 over Nico Megaludis (Penn State)                            
133 Pounds Logan Stieber (Ohio State) dec 4-3 over Jordan Oliver (Ok. St.)                           
141 Pounds Kellen Russell (Michigan) dec 6-4 OT over Montell Marion (Iowa)                            
149 Pounds Frank Molinaro (Penn State) dec 4-1 over Dylan Ness (Minnesota)                            
157 Pounds Kyle Dake (Cornell) dec 4-1 over Derek St. John (Iowa)                            
165 Pounds David Taylor (Penn State) tech fall 22-7 Brandon Hatchett (Lehigh)                            
174 Pounds Ed Ruth (Penn State) mdec 13-2 over Nick Amuchastegui (Stanford)                            
184 Pounds Steve Bosak (Cornell) dec 4-2 over Quentin Wright (Penn State)                            
197 Pounds Cam Simaz (Cornell) dec 7-5 over Chris Honeycutt (Edinboro)                            
285 Pounds Tony Nelson (Minnesota) dec 4-1 Zach Rey (Lehigh)
SectionIXWrestling.com has provided updates on our local wrestlers at this weekend's NCAA D1 Wrestling Championships in St. Louis, MO.  For complete tournament coverage including up-to-date brackets go to www.intermatwrestle.com.
All-American Joe Kennedy finishes in 8th …. CONGRATS
197   Joe Kennedy (Lehigh) Delaware Valley, PA         
          Rd. 1 – bye                 
          Rd. 2 – Joe Kennedy (Lehigh) dec 3-1 over Richard Perry (Bloomsburg)  
          Rd. 3 – Cayle Byers (Oklahoma State) dec 5-2 over Joe Kennedy(Lehigh) 
          Cons. Rd. 2 – Joe Kennedy (Lehigh) dec 3-4 over Keldrick Hall (Oklahoma) 
          Cons. Rd. 3 – Joe Kennedy (Lehigh) dec 6-1 over Cody Reed (Binghamton)
          Cons. Rd. 4 – Joe Kennedy (Lehigh) dec  10-3 over Brent Hayes (Missouri)
          Cons. 1/4's – Sonny Yohn (Minnesota) dec 2-0 over Joe Kennedy (Lehigh)
          Medal Match – Micah Burak (Penn) dec 2-1 OT over Joe Kennedy (Lehigh)

NY Wrestlers who earned All-American status:
125 – Steve Bonanno (Hofstra) – Wantagh – finished 8th
133 – Steven Keith (Harvard) – SWR – finished 8th
141 – Mike Nevinger (Cornell) – Letchworth – finished 7th
149 – Donnie Vinson (Bing) – Whitney Point – finished 3rd
157 – Kyle Dake (Cornell) – Lansing – 2X Champ…will wrestle St. John (Iowa) in finals!!!
285 – Nick Gwiazdowski (Bing) – Duanesburg – finished 8th                     
133   Jamie Franco  Hofstra
          Rd. 1 – bye
          Rd. 2 – Chris Dardanes (Minn) wbf  2:43 over Jamie Franco (Hofstra)
          Cons. Rd. 1 – Matt Nelson (Virginia) dec 6-2 over Jamie Franco (Hofstra)  
133   Jordan Thome  Army
          Rd. 1 – bye
          Rd. 2 – Jordan Thome (Army) wbf 4:20 over Garrett Drucker (Ore. St.)
          Rd. 3 – Logan Steiber (Ohio State) wbf 1:17 over Jordan Thome (Army)
          Cons. Rd. 2 – Jordan Thome (Army) dec 2-1 OT over Bryan Ortenzio (Penn)
          Cons. Rd. 3 – AJ Schopp (Edinboro) dec 7-5 over Jordan Thome (Army)
165   Coleman Gracey  Army
          Rd. 1 – bye
          Rd. 2 – Coleman Gracey (Army) dec 3-2 over Mike Ottinger (Central Mich.)
          Rd. 3 – Bekzod Abdurakhmono (Clarion) m dec 11-3 over Coleman Gracey (Army)
          Cons. Rd. 2 – Nick Sulzer (Virginia) dec 10-8 over Coleman Gracey (Army) 
197   Derek Stanley  Army
         Rd. 1 – bye
         Rd. 2 – Mario Gonzalez (Illinois) dec 6-1 over Derek Stanley (Army)
         Cons. Rd. 1 – Derek Stanley dec 5-2 over Ryan Smith (Cal. Poly)
         Cons. Rd. 2 – Cody Reed (Binghamton) dec 4-2 OT over Derek Stanley (Army)