Congratulations to Nick Wentland, Frankie Carrozza, Jalen Palmer, and Matthew Wagner for earning All-American honors at the 2012 NHSCA High School Nationals Wrestling Championships held in Virginia Beach.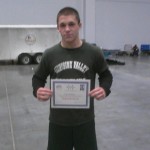 Round 16:  Wentland dec 9-4 over Ethan Newall (VA)      
Quarters:  Jake Young (PA) dec 6-1 over Wentland     
1st Consie:  Wentland dec 6-3 over Jacob Woolson (NY)
Consie Quarters:  Taquan Long (SC) dec 7-5 over Wentland
7th Place:  Logan Womeldorf (PA) dec 10-6 over Wentland
Carrozza, Palmer, and Wagner all attend Delaware Valley High School in Matamoras, PA.  Carrozza finished 8th in the freshman division at 126 pounds.  Jalen Palmer, the sophomore brother of 2X PA state place winner CJ Palmer, placed 3rd at 132 pounds.  The top performance of all local wrestlers was turned in by DV freshman Matthew Wagner who finished 2nd at 182 pounds.  Congrats to Frankie, Jalen, and Matthew….great job guys!