Minisink and Port Jervis at the NYSPHSAA Dual Meet Championships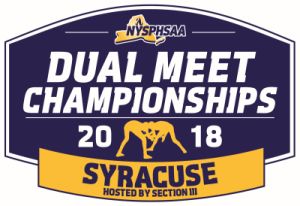 It was a historic weekend for NYS wrestling as we saw our first ever sanctioned dual meet championship tournament take place in Syracuse.  Section 9 was very well represented in both D1 and D2.  Minisink Valley won the Section 9 Duals  a few weeks ago and they had an outstanding tournament in Syracuse finishing in 2nd place to Lond Island's Wantagh by a score of 37-28.  The Warriors dominated Lancaster and Horsehaeds in pools matches before defeating Rocky Point 47-26 in the semifinals. Port Jervis also represented S9 well!  The Red Raiders went 1-1 in their pool with their win coming over one of the top D2 teams in NYS, Central Valley Academy from Section 3. Port lost to Tiaga who had previously lost to Central Valley Academy causing all 3 teams to finish 1-1 in the pool.  Toaga advanced to the semis out of the pool due to tie-breaking criteria – most points scored.  Great job both squads!  Click below for all of the results from the tournament!
NYSPHSAA Dual Meet Championships
Middletown, Pine Bush, and Rondout Valley at the Peter Caruso Wrestling Memorial in Mahopac
Middletown came in 5th as a team and had one champion in Justin Morales who was the winner at 99 pounds.  Pine Bush had two champions and finished 9th as a team.  Tommy Askey avenged a loss from a few weeks ago to state qualifier Kyle Sams with a 3-2 victory.  Askey was voted the tournament's MOW!!! Shaun Burgos was also a champ for Pine Bush taking the title at 160 pounds. Rondout Valley's Ian Houck scored a pin, a tech fall and a major decision in winning the title at 145 pounds!  Full brackets and team scores below!
2018 Peter Caruso Memorial Tournament
New Paltz and Monticello at the Edgemont Tournament
New Paltz had one champion, 7 placewinners and finished 4th as a team at the Edgemont Tournament.  Ethan Palanca had 2 pins and 2 decisions in capturing the 120 pound title.  Great job Ethan!  Full tournament results below.
NFA, VC, Wallkill, and Warwick @ Newburgh Duals
John Glenn 59 Warwick 22        John Glenn 41 NFA 27
John Glenn 53 Wallkill 22          John Glenn 54 Valley Central 30
NFA 57 Shoreham WR 22          NFA 72 John Glenn "B" 13
NFA 58 Natick 29                         NFA 63 Beekmentown 21
Pool A Champion – Newburgh         Pool B Champion – John Glenn
Greg Fischer (106) 5-0 Team MVP
Tyler Serafini (152) 5-0
Conner Leggett (170) 5-0
Dan Banegas (220) 5-0
Caleb Williams (285) 5-0
Washingtonville, Saugerties, Highland, E/L/SW @ Wizard Duals
Washingtonville 42 E/L/SW 40    Arlington 50 Washingtonville 36
Washingtonville 47 Highland 37  Washingtonville 48Saugerties 30
Red Hook @ The Coach Ken Baker Classic
Red Hook crowned 2 champions, 2 other finalists, and finished 4th in the team race at the 2018 Coach Ken Baker Classic.  Matt Morris was the champion at 106 while Liam Dietrich took the title at 285.  Tristen Schaifo (160) and Ryan Hobson also made the finals for Red Hook!
Monroe Woodbury @ Ridgefield, CT Challenge
Monroe Woodbury had 3 finalists and placed 6 in the top 4 at the 2018 Ridgefield Challenge.  They finished 3rd in the team race behind champion St. Anthony's and runner-up Coventry. Making the finals for the Crusaders were Richard Toledo at 99, Dylan Earl at 113 and Joe McGinty at 138.  Also placing for Monroe were Carter Stweart (3rd @ 152), Lex Lendoff (4th @ 182), and Preston Havison (4th @ 285).  Link to full results on FloArena below!