The 2018 NYSPHSAA Championship tournament is only one day away!!!  On Friday and Saturday, the Times Union Center will become a hive of wrestling activity with action taking place simultaneously on 8 mats for the majority of the tournament. Many fans are familiar with their local wrestlers but may not be aware of some of the incredible talent that exists throughout the rest of the state. Let's take a look at some of the marquee names that will electrifying the arena this coming weekend in Albany!
Jacori Teemer (152 D1, Senior) – Section 8, Long Beach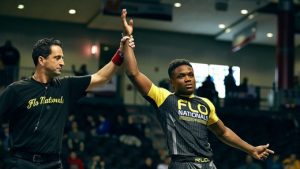 Teemer is looking to join Troy Nickerson as the only 5X NYS champion in the history of our state. The Arizona State commit is 28-0 on the season and 215-5 for his career. Teemer is currently ranked #2 in the nation at 152 by both FloWrestling and InterMat and Flo ranks him as the #3 best P4P wrestler in the entire nation!  Jacori is also an accomplished freestyle wrestler and took home a bronze medal for the US in the 2017 Cadet World Freestyle Tournament in Athens, Greece at 63 kilograms.
Frankie Gissendanner (145 D1, Senior) – Section 5, Penfield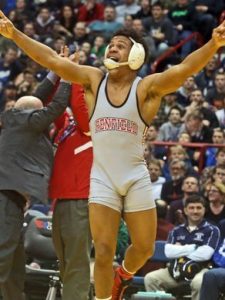 The Penfield senior has already notched 3 state titles and he's looking to join a select few in becoming a 4X NYS champion.  Gissendanner is 37-0 on the season and 266-11 for his career.  Frankie has won titles at both the Eastern States Classic and the Powerade tournaments this season.  Gissendanner, who has not made his college decision yet, is ranked #3 in the nation by InterMat and #5 by FloWrestling!
Adam Busiello (126 D1, Junior) – Section 11, Eastport S. Manor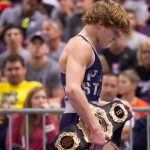 Like Gissendanner, Busiello is looking to become a 4X NYS champion.  He is still only a junior and his career record is an incredible 226-8! Busiello is a perfect 40-0 on the season including a title at the 2018 Eastern States Classic.  The Penn State commit is ranked #2 in the nation at 126 by FloWrestling, #3 by InterMat, and is a 3X Super 32 champion!
Greg Diakomihalis (113 D1, Sophomore) – Section 5, Hilton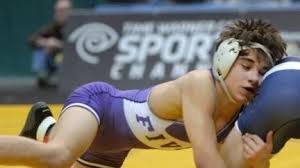 Yianni who??? The younger brother of the Cornell superstar is carving out his own piece of history in New York State wrestling.  He is only a sophomore and has already won state titles as an 8th grader and a freshman.  Greg is 40-0 on the season and has laser focus on picking up state title #3 this weekend.  Diahomihalis is ranked #7 nationally by InterMat and FloWrestling has him as the #11 113 pounder in the country!
Orion Anderson (126 D2, Senior) – Section 2, Schuylerville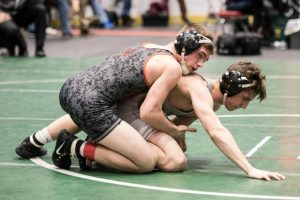 One of the more impressive wrestlers you will see this weekend in Orion Anderson from Section 2.  He is a 2X NYS champion, a 3X NYS finalist and a 3X finalist at the Eastern States Classic.  His three career losses in the ESC finals have been to Beau Bartlett, Jacob Camacho, and Adam Busiello – all three wrestlers are currently ranked in the top 5 in the nation! Anderson has a 138-7 career record and is 33-1 for 2017-2018. He is a heavy favorite to take home state title #3 this weekend!
Tyler Barnes (170 D1, Senior) – Section 2, Ballston Spa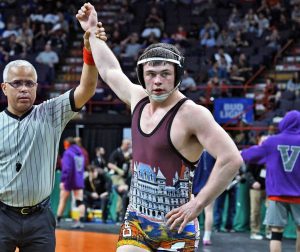 Barnes is the defending state champion at 170 pounds and is currently ranked 11th in the nation by InterMat and 15th by FloWrestling. He will be taking his talents to NC State in the fall to wrestle for head coach Pat Popolizio, also a Section 2 alum. Tyler is 41-0 on the season, 163-16 for his career and won the ESC this past January. However if he wants to take home state title #2, Barnes will probably lock horns in the finals with another nationally ranked wrestler – Grant Cuomo from Section One.
Grant Cuomo (170 D1, Senior) – Section 1, Brewster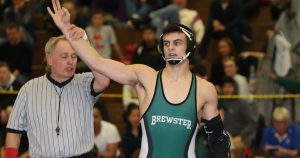 Cuomo was a state finalist last year at 160 pounds losing in the finals to Section 9's 2X state champ Ryan Ferro from Warwick.  He had an incredible off season and has gathered the attention of the national wrestling websites.  FloWrestling has him ranked 9th in the country and InterMat has him at #12.  Cuomo, who will be attending Princeton in the spring, has only one wrestled loss this season and that was to Julian Ramirez of Blair Academy.
Dylan Ryder (113 D1, Senior) – Section 11, HHH West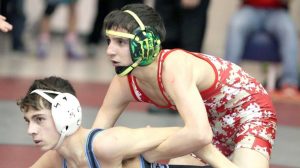 The Hofstra recruit was the state champion at 106 pounds last season and is currently ranked #16 in the nation by Flo. He was picked off in the S11 finals by Sean Carter so needed a wildcard to punch his ticket to Albany but he's anxious for a rematch with Carter and a chance to take on Diakomihalis for the 113 D1 crown!
Trent Svingala (120 D2, Junior) – Section 2, Maple Hill

Svingala was the 106 pound D2 state champ last season and he's a heavy favorite to take home title #2 this weekend! Only a junior, Trent has already given a verbal commitment to wrestle for Rob Koll at Cornell starting in the Fall of 2019. He is 35-0 on the season, 200-16 for his career and is currently riding a 77-match winning streak.
Jake Silverstein (160 D1, Senior) – Section 11, Hauppauge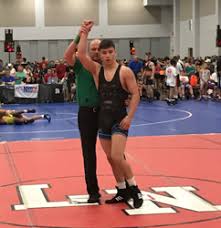 Silverstein is a 2X NYS finalist and he was the 2018 Eastern States Classic champion.  He is 29-2 on the season and suffered both of his losses at the Walsh Ironman where he finished 8th. The Section 11 senior will be heading to Nebraska in the fall to wrestle for Mark Manning. Silverstein is ranked 18th in the nation at 160 by FloWrestling.
Hunter Shaut (145 D2, Junior) – Section 3, Central Valley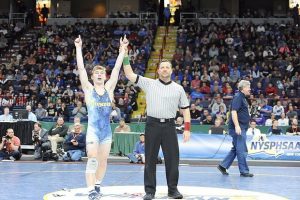 The Section 3 junior was the 138 pound D2 state champion last season.  He is having another impressive season sporting a 51-2 record with both losses coming at the Eastern States Classic where he came in 7th place. Shaut has been wrestling varsity since the 7th grade and has a 189-46 career record!
Justin Vines (132 D1, Senior) – Section 8, Wantagh

Vines was the 126 pound NYS D1 champ last year and he's having a great 2017-2018 campaign. He is 50-1 and his only loss came in the finals of the Eastern States Classic to Jack Davis from Wyoming Seminary. Vines finished 7th at the NHSCA Junior Nationals in Virginia Beach last year. He has recently committed to wrestles at LIU Post in the Fall!
Jonathan Loew (195 D1, Senior) – Section 8 Wantagh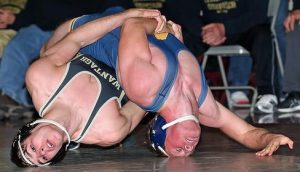 Loew finished 3rd in NYS last season but then absolutely exploded in the off-season. He is now wrestling at 195 pounds with the athleticism of a middle weight. He dominated the competition at the Journeymen Fall Classic and kept the momentum going all season. His only loss was in the ESC finals to Austin Cooley from Wyoming Seminary, the 10th ranked wrestler in the nation according to Flo. Loew has committed to wrestle for Cornell in the Fall and he is currently ranked 18th in the nation by InterMat.
Anthony Noto (106 D2, Soph.) – Section 5, Honeoye Falls-Lima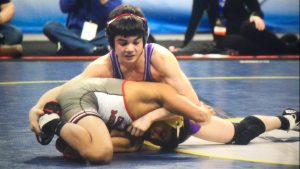 Noto was the 99 pound D2 NYS champion as a freshman last season. In the finals he defeated S11's Jordan Titus by pinfall in sudden victory. Titus defeated Noto at the Eastern States Classic this year and both wrestlers are entered at 106 pounds this weekend!  Will we see Noto vs Titus – Round 3 on Saturday night???