Let's take a weight by weight look at the 2020 NYSPHSAA Division 1 Championship tournament! The tournament takes place on Friday 2/28 and Saturday 2/29 at The Times Union Center in Albany, NY. Click here for tournament schedule!
2020 NYSPHSAA Wrestling – Official Brackets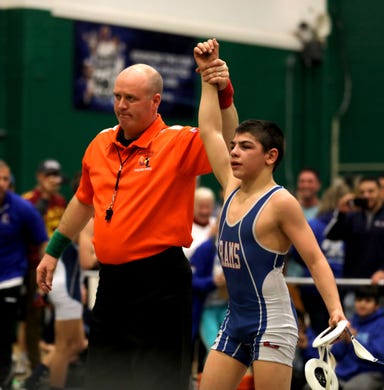 99 Pounds
Section 1 Carmel 7th grader PJ Duke is looking to make history by becoming the first 7th grader to become a D1 NYS champion (Tristan Rifanburg from Section 4 Norwich won a D2 state title as a 7th grader.)! The middle school phenom is undefeated this season sporting a perfect 41-0 record which includes a first place finish at the Eastern States Classic. Duke has head to head wins over a few of the other contenders here however one wrestler he hasn't yet met is Section 8 champ Joe Manfredi. The Herricks 8th grader is 43-2 and both of his losses are to kids from Wyoming Seminary. Section 11 has two studs in the tournament in Mikey Manta from Hauppauge and Christian Lievano from Ward Melville. Section 9 champ Jordan Brown placed 7th at the ESC and has a win over CHSAA champ Michael Adams who wound up finishing 6th at ESC. A few others to watch here are Cal Russo from Section 5 Spencerport, Gage LaPlante and Travis Browning from Section 6 and Alex Greco from Section 9 Warwick!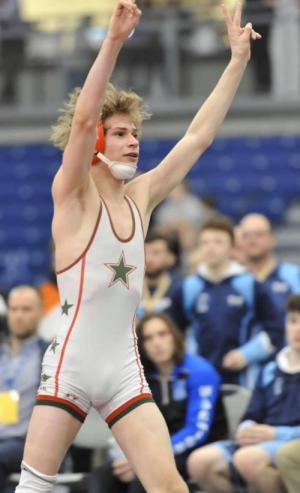 106 Pounds
This weight class is wide open!!! One of the things that will make this weight class interesting is that many of the top kids have not wrestled each other this year. Dominick Hofmann from Section 3 Fulton is 41-1 and has only lost to D2 hammer Lucinski. Section 4 champ Tyler Ferrara is 33-1 and has only lost to D2 state champ Gieslinger. Elijah Rivera from Section 11 is 33-3 and placed 6th at the ESC while Section 1's Chris Crawford is 37-3 with his losses coming to Lucinski, Section 9 113 runner-up Jaden Hansen, and an out-of-state wrestler. Section 9 champion Justin Morales has only lost to 2 matches – both at ESC – one to an out-of-state wrestler and another to Owen Deutsch who is not in the tournament. Section 9 also had a wildcard entry here in NFA's Jackson Merli. Others to watch here are Section 11 wildcard Vincent Ziccardi, CHSAA champ Sal Esposito, and Section 8 entries Matt Huggard and Isaiah Jackson.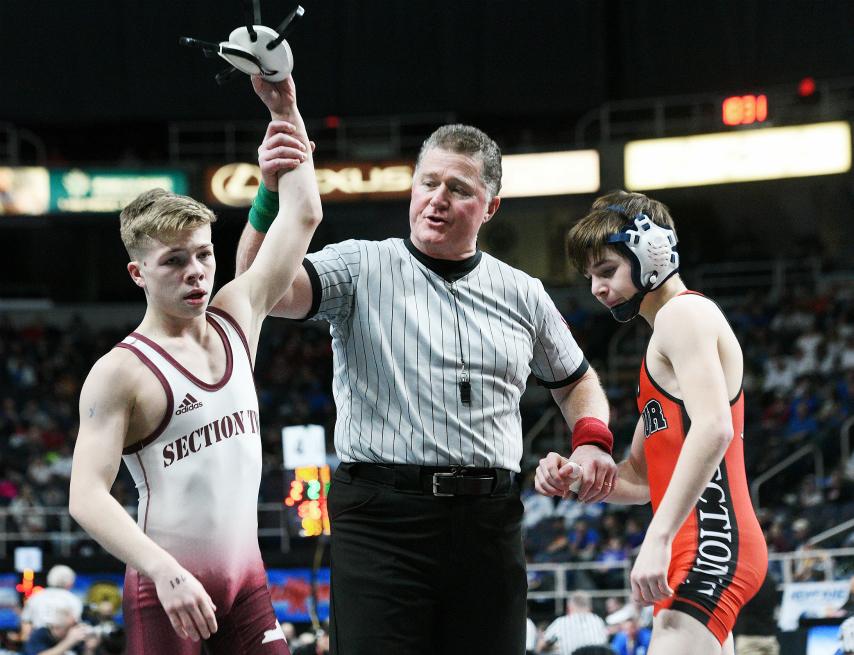 113 Pounds
Stevo Poulin is a 2X NYS champion and he is the 2nd ranked 113 pound wrestler in the nation. He is 40-0 this season and has won titles at the Beast of the East and the Eastern States Classic. He is the top seed here and the heavy favorite to take home state title #3! Last year Poulin was also the heavy favorite but was pushed to the brink in the 106 final by Minisink Valley 7th grader Zack Ryder. Can someone in this year's field push Stevo? Jeremiah Echeverria from Section 8 has only lost two matches this year – both at ESC and both to an out-of-state wrestler. The Section 8 wildcard Killian Foy was a state finalist last year and has had a great year as has Dan Adams from Monsignor Farrell. Section 9 champ Andrew Marchese has three losses all year and two are to Poulin – he will definitely contend here as will Anthony Surace from Section 5. Don't sleep on Angelo Centrone from S1 or Casey Carus0 from S3, both are having outstanding seasons!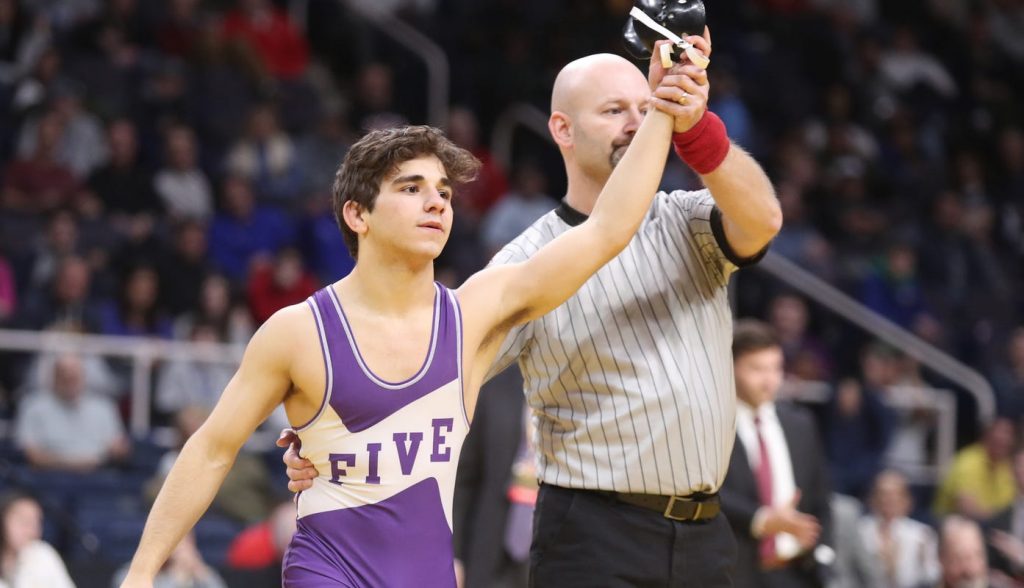 120 Pounds
This is an outstanding weight class with a lot of talent but the odds on favorite to win 120 is Greg Diakomihalis from Section 5 Hilton. Greg has missed the majority of the season recovering from off season knee surgery but he is back, he is healthy, and he is looking for state title #5! He would be only the 4th person in NYS history to be a 5X NYS champion joining Troy Nickerson, Jacori Teemer, and Adam Busiello in this very exclusive club! This field is loaded however and Diakomihalis could be tested. Josiah Encarnacion from Section 8 Wantagh was Greg's opponent in the state finals last year. He is in this bracket however he needed a wildcard because he was defeated by another former state finalist Chase Liardi from Massapequa. Section 4 also has two hammers entered in Dante Rigal and Zach Levey and the same can be said for Section 3 with Alex Booth and Andru Walts. Section 9 champ Nick Picariello is having a great year as is Section 11 champ Jake Eckerle. Catrabone from Section 6 and Hoffman from Section 1 will contend here as well! Diakomihalis will likely come out on top but 2-8 will be a battle at 120!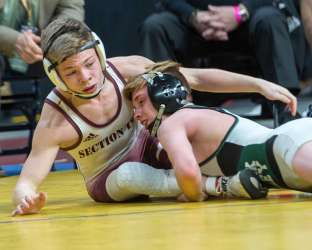 126 Pounds
Most agree that 126 will be the marquee weight class to follow! There are at least a half of a dozen wrestlers with a legitimate chance of winning the gold! Minisink Valley 8th grader Zack Ryder put NYS wrestling on notice last year when he stormed into the 106 pound finals and lost a hard fought 4-3 decision to Stevo Poulin. Ryder is having another monster years however did suffer 2 losses at the Eastern States Classic to Section 11 champ Anthony DiBartolo from Hauppauge. DiBartolo punched his ticked to Albany by defeating his teammate Luke Smith in the S11 finals. Smith finished 3rd in NYS last year and will be a contender here as will Hilton's Rocco Camillaci who also finished 3rd in last year's state tournament. Sound like a tough field? Not done yet! The top seed at this weight class is Ivan Garcia from Section 1. Garcia finished 4th in NYS last year and was an ESC finalist this year where he picked up a win over DiBartolo in the semis before losing to the #1 126 pounder in the nation, Nic Bouzakis from Wyoming Seminary. Did I mention that Goerge Oroudjov from Syosset is also in this bracket? Oroudjav is the younger brother of Vito and Nick Arujau. He is undefeated this season and also has a win over DiBartolo and has defeated David Correa from PSAL who is another contender here. Logan Patterson from S3 and Michael Catanzaro from S6 should not be overlooked either! This weight is absolutely loaded!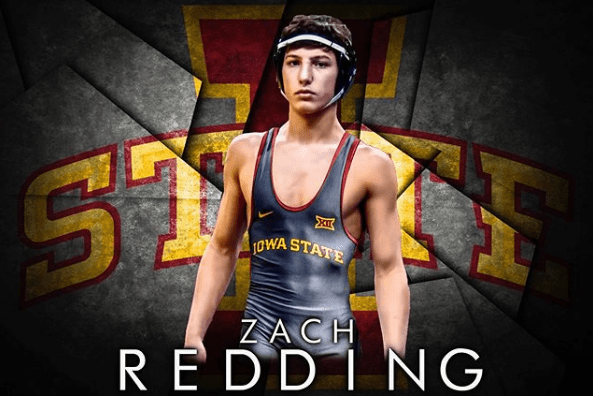 132 Pounds
This is another weight that is loaded with talented wrestlers however the two favorites here are Zach Redding from Section 11 and Jayden Scott from Section 5. Both wrestlers finished 3rd in NYS last year – Redding was a state champ in 2018 and Scott was a finalist that year. Redding, an Iowa State commit, was this year's ESC champ at 132 where he defeated the 2nd ranked 132 pounder in the nation, Ryan Jack from Danbury, CT, in the finals. Scott finished 3rd at the same tournament where he lost a 6-5 heart breaker to Ryan Jack in the semis. Several other kids in this bracket competed well at ESC including Jayden Cardenas from PSAL and Drew Witham from Section 4. Witham lost 3-2 to Scott and 4-3 to Cardenas in the tournament where Cardenas also lost a 5-4 decision to Scott. Section 9 champ Jordan Suarez is having a great year at 41-4 and will contend for a medal here as will Jake Schneider from Section 8. This weight is deep – Garofal from S1, Catrambone from S2, Wade from S3, and Forrest from S6 all have potential to place and we shouldn't for get about Matt Romano who is a 3X state tournament qualifier.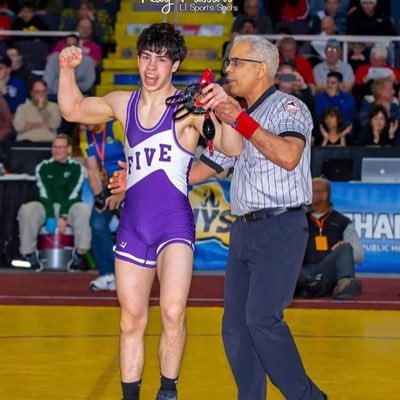 138 Pounds
This is going to be another weight that will be a blast to watch! Ryan Burgos from Section 5 Hilton is the top seed here. He was the 126 pound state champion last year and he is 45-1 this year with his only loss coming in the ESC finals to Wyoming Seminary's Beau Bartlett, the #1 ranked 138 pound wrestler in the nation. Burgos will definitely be tested though. In the semis of the ESC Burgos was pushed to the limit by Section 6's Justin McDougald who finished 5th in the state last year. Also a contender here will be Gavin Damasco from Section 11 Commack. Damasco only lost 6-5 to Burgos in the ESC quarters however he needed a wildcard to get to Albany because he lost in the S11 finals to former NYS placer Logan Sciotto from Rocky Point. Ben Rogers from Section 8 Wantagh and Sean Savacool from Section 9 Minisink Valley are both tough as nails and will contend here as will Chase Daudelin from Section 4, Tim Bova from Section 1 and Section 4 wildcard Logan Gumble.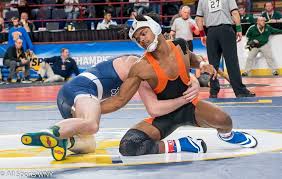 145 Pounds
This will be another very entertaining weight to watch unfold. There are several contenders here but let's start with Section 6 stud Willie McDougald. The Niagara Falls senior was a state finalist last year and his only loss this year was a 5-4 loss in the ESC finals to Wyoming Seminary's Lachlan McNeil, the top ranked 145 pound wrestler in the nation. McDougald is the top seed and favorite here but there are several wrestlers here that will test him. Section 3 champion Mulhauser finished 3rd at ESC. His only loss was to Nick Sanko who he later defeated in the medal match. Section 8 champ Lee Mauras is is undefeated this year and was a state placer as was Sanko from Section 5 Pittsford. Section 11 champ Lobo is a grinder who wins a lot of close matches and will be a factor here as will Section 5 wildcard Wersinger from Spencerport. Others to watch here are Section 9 champ Ethan Palanca, Section 2 champ Griskowitz, Section 1 winner Harrison, and Section 8 wildcard Szilaygi.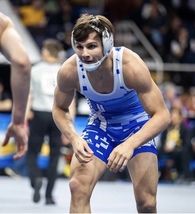 152 Pounds
If the seeds hold up in this weight class, a 152 final between CHSAA's AJ Kovacs and Section 9's Tommy Askey will be one of the most anticipated matches of the tournament! Kovacs was the the 145 state champion last year and he is currently ranked 5th in the nation by InterMat Wrestling. Askey finished 4th in state last year but seems to have taken his game to the next level. He is a perfect 37-0 this season and won the 152 pound title at the Eastern States Classic. This bout could be worth the price of admission however in order for it to happen, both wrestlers will need to beat some very tough opponents. Section 11 has excellent wrestlers here. Hunter Hughes placed in the state last year and was undefeated until he lost the S11 finals to Wenchard Pierre Louis. Seam Malefant from Section 2 is also undefeated however hasn't wrestled anyone in the bracket. Dennis Robin placed 4th in NYS last year and is 41-2 this year. Both of his losses were 5-3 decisions to Section 9 champs – Tommy Askey and Nick Ross. One of Robin's wins was over another contender here, Karamvir Hothi from Section 5. Jason Scibek from Section 4 is talented and will make noise here as may Jeremy Scutellaro from S8 and Dylan Collins from S6.
160 Pounds
This definitely a solid weight class but the favorite to take home the title is Section 5 champ Cooper Kropman. The Penfield junior finished 2nd in NYS at this exact weight last year and is a perfect 38-0 on the season. This weight by no means will be a runaway as there are several wrestlers with the game to upend Kropman. One of those wrestlers is Section 9 champion Joe McGinty from Monroe Woodbury. The Hofstra bound senior finished 4th in NYS at 152 last season and has yet to lose to a D1 wrestler this season. The same can be said for S11 champ Jack Spahn – he is 39-3 but all of his losses are to D2 wrestlers. Section 3 champ Camrin Galvin placed 4th in NYS at this weight last year. This year he is 43-2 and both of his wrestlers were at the ESC and came from Section 9 wrestlers – Joe McGinty and Pat Ross. Another wrestler to keep an eye on here is Section 2 champ Colden Dorfman. The senior from Shenendehowa finished 5th in the state last year and is having a very good year.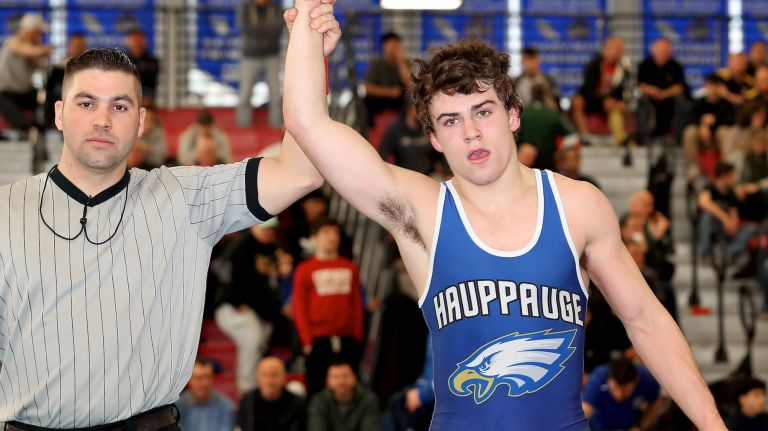 170 Pounds
This is a wide open weight class with several wrestlers in the running for the top spot on the podium. The top seed here is Section 11 champ Danny Mauriello. The Hauppauge senior was the NYS champion at 160 last year which would normally make him a prohibitive favorite; however Mauriello missed most of the season recovering from an injury and may be susceptible to an upset! One of those in the running is James Araneo from Ward Melville who narrowly lost a 3-2 decision to Mauriello in the S11 finals. Fellow Long Islander JD Moore will be in the hunt. He is having a great year and his only two losses came at the ESC. Section 1 has two strong entries here in Quincy Downs from Fox Lane and Tyler Albis from John Jay East Fishkill. Adam Daghestani from Section 6 received an at-large bid after missing the qualifying tournament and he is definitely a contender. He finished 4th in NYS last year and has not lost a wrestled match all year – his two defeats at ESC were injury default. Section 9 champ Joe Velzquez placed at ESC and is someone to watch here as is Peter Meshkov from Section 2.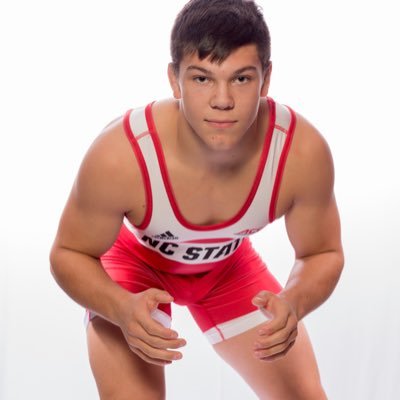 182 Pounds
This is without question one of the most highly anticipated weight classes on this year's tournament! There are some extremely talented wrestlers here and a few of them have yet to lock horns this year! Brock Delsignore had an incredible performance in winning the Eastern States making him one of the favorites here. Delsignore is 41-4 this season with all four losses coming to out of state wrestlers at The Beast of the East where he placed 8th and the Bethlehem Holiday Classic where he took 2nd. Section 8 champion Matthew Rogers is definitely a top contender here. The Wantagh senior placed 5th in NYS last year at 170. He is 35-2 this year but both of his losses came to out-of-state wrestlers at the Walsh Ironman back in December. Section 6 champ Ryan Stencel is as tough as nails and will definitely make noise here as will Section 9 champ Ethan Gallo from Minisink Valley who is only a freshman. Section 11 has three hammers entered here in Joe LoPresti , Michael Tyrell, and Tyler Pelech. PSAL champ Andrew Grechko is as good as anyone in the field and we definitely can't sleep on Section 1 champ Alex Behar both of whom placed at the ESC. Let's also keep an eye on Pannell and Aina from S5 and Watterson from CHSAA!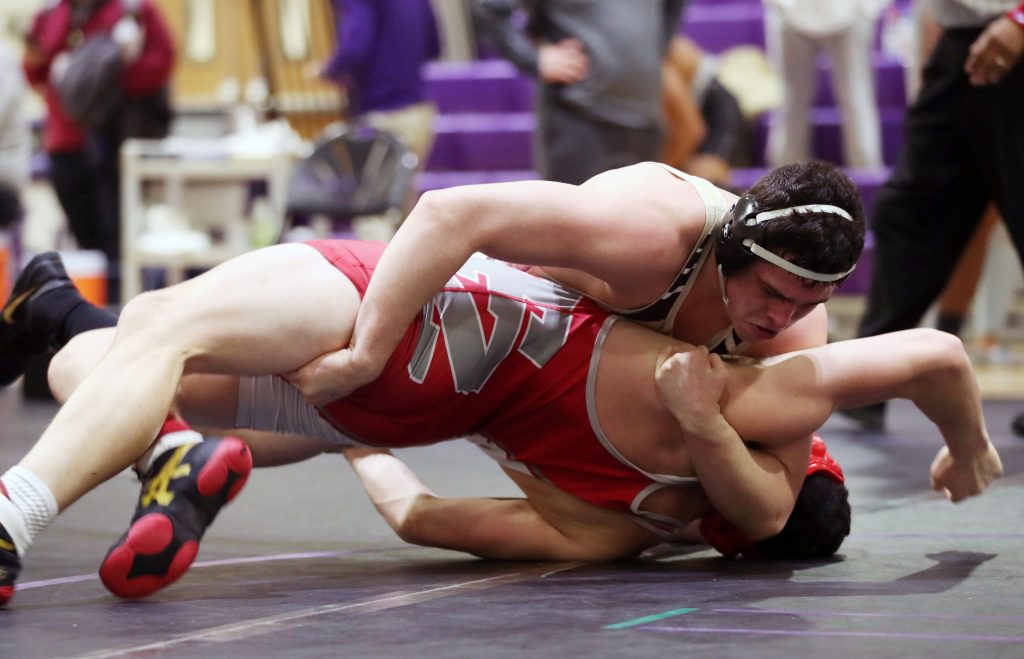 195 Pounds
Iona Prep senior Matt Kelly finished 3rd at 195 in NYS last year and is the heavy favorite to win the weight this year! Kelly is having a great year which includes a 38-3 record. All three of his looses came to out-of-state opponents at the Walsh Ironman and the Eastern States Classic. PSAL has two absolute hammers entered here in
Anthony Cascen and Azamat Davlyatov – both will be in the high medal hunt. Section 3 champ Fombo Azah is dangerous and we definitely should keep an eye on Section 5 champ Silas Eganlauf. Others to watch here are Section 9 champ Brian Giacchi and Section 6 champ Codie Scotland. Kelly is the definite favorite but this weight is wide open after him!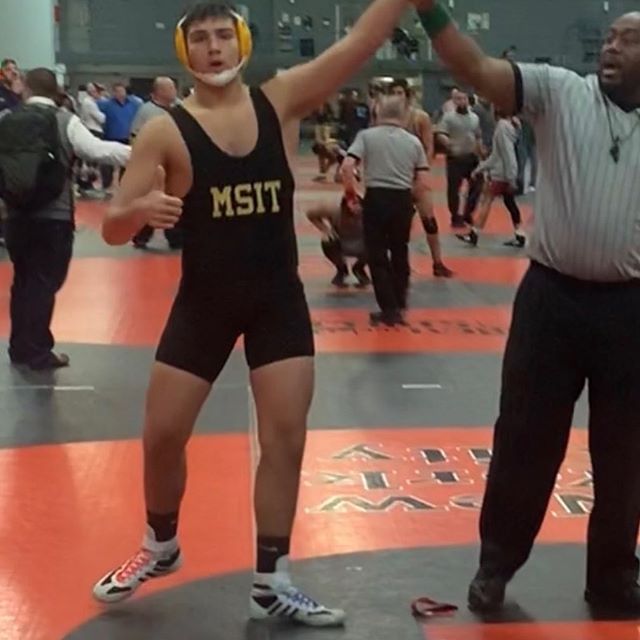 220 Pounds
This weight class is wide open! The top seed is a sophomore from PSAL Alexender Semenenko. He's having a great year however he needed a wildcard to get into the tournament because he was defeated 7-5 sv in the PSAL finals by Mohammed Diop, a wrestler he pinned earlier this season. Section 11 has three outstanding wrestlers entered here in Mark Leftenant, who has a win over Semenenko, Peter Magiliocci, and Jashon Hines. Section 1 champ Sebastian Garabaldi was an ESC finalist and will defintely contend here as will Section 2 champ Ryan Stein. Keysin Cooper from Section 3 is undefeated and must be watch as well as Section 6 champ Beilec and Section 8 champ Funchess. Can Section 9 champ JC Cabrera keep his momentum rolling? Did I mention that this class is wide open.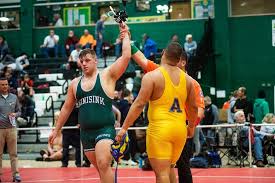 285 Pounds
With five returning state place winners plus an Eastern States Classic champion this weight class is absolutely stacked! Section 4 champion Lucas Scott was a state finalist at 220 last year and is the top seed here. He's a perfect 33-0 this year and has the strength and athleticism to make himself a difficult match-up for anyone. Section 5 champ Colin Burns placed 3rd at this weight last year and is back this year. He has been out nearly the entire year but is definitely a contender here. Long Island has a couple wrestlers who will be in the medal hunt – Section 11 champ London Castillo and Section 8 champ Myles Norris are returning state placers and Section 8 wildcard Sam Khodaparast won the ESC. Minisink Valley junior Adam Fenner placed 5th at 285 last year and took 3rd at the ESC – he definitely has the chops to win it all here. We should also keep an eye on S11 wildcard Powell, PSAL champ Bogdanov, and S3 champ Null as all will be in the medal hunt.