Let's take a weight by weight look at the 2020 NYSPHSAA Division 2 Championship tournament! The tournament takes place on Friday 2/28 and Saturday 2/29 at The Times Union Center in Albany, NY. Click here for tournament schedule!
2020 NYSPHSAA Wrestling – Official Brackets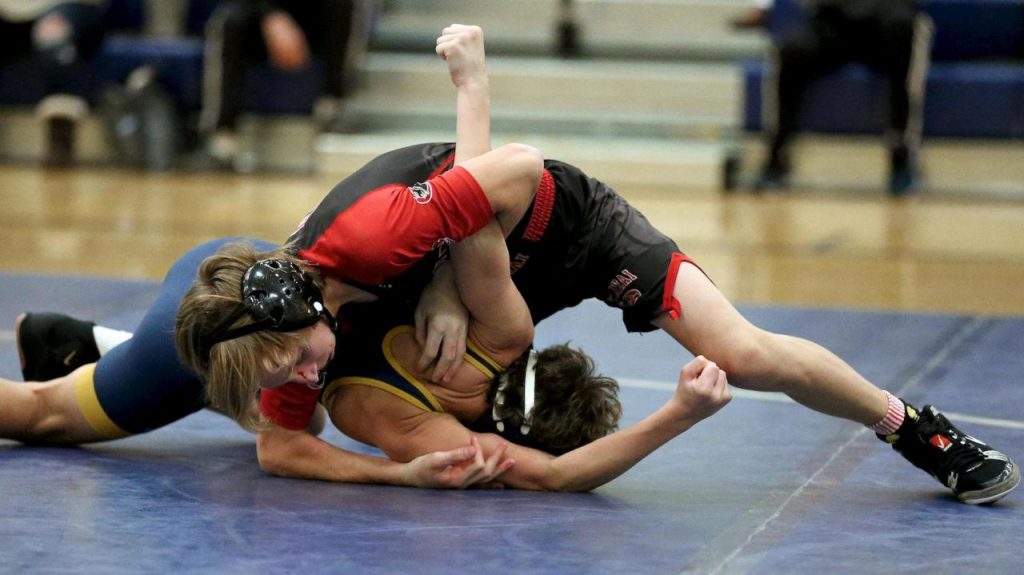 99 Pounds
The lightweights are always fun to watch because it's often a showdown between many of our young studs from around NYS. This year is no different. The top seed here is Trey Kimball from Section 3 Camden. Kimball is 39-2 and both of his losses were back in early December at 106. There are a few wrestlers on his side of the bracket who definitely have the potential to pick him off though. Avi Berg from Section 2 Glens Falls has been impressive this year as have Martin Ohlsson from Section 6 and Gavin Bob from Section 5. Gianni Silvestri from Section 4 Tioga is 36-1 with his only loss coming to wrestler he would beat later in the season, Brayden Fahrbach from Section 11 Mt. Sinai. Fahrbach is on the bottom half of the bracket and is one of the favorites to make it to the finals. To do so he'll have to navigate through a tough half of the bracket which includes Section 6 7th grader Aiden Gillings and undefeated Section 5 champ Xavier Dejesus-Remch. Section 9's entry is Trevor Tufano who is making his second trip to the state tournament.
106 Pounds
This is a great weight class with plenty of talented wrestlers however all signs point towards a rematch of last year's 99 pound state final – Jace Schafer vs Andy Lucinski. Schafer was last year's state titlist. The Pal-Mac junior is 50-2 this season with both losses coming at ESC. One loss was to D1 wrestlers Rivera and the other to a wrestler from Wyoming Seminary, Dom Federici. Lucinski, a junior from Section 6 Newfane, is 45-2this season. One of his losses was an early season 5-2 decision to Schafer and the other came in the ESC finals to Brandon Cannon from Wyoming Seminary. Lucinski, however, had wins over both Rivera and Federici at ESC. A Schafer vs Lucinski rematch would be a tournament highlight however both wrestlers will need to beat some quality kids to get to the finals. Caden Bellis from Section 4 Tioga and Matt Gatto from PSAL Petrides are both having awesome season and will contend here as will Carl Santariello from Section 3 and Chris Pettys from Section 2!
113 Pounds
Dante Geislinger from Section 4 Norwich is a 2X NYS champion and he is the heavy favorite to make it #3 this year. Geislinger is 31-2 this season with his two losses coming to Stevo Poulin in the ESC finals and to Mason Bush up at 120. Geislinger is the top seed and the favorite but will not go untested. Max Gallagher from Section 11 finished 3rd in NYS last year and is having a great year! He is 37-1 and finished 3rd at the ESC this year at 106 only losing to Cannon from Sem. Daniel Kirsch from Section 6 Pioneer is a perfect 43-0 and must definitely be watched as should Jackson Polo from Section 8 who placed 7th at ESC and Braidon Woodward from Section 5 who placed 4th in the state last year and is sporting a 43-3 record. A few others to keep an eye on here are Ryan Ross from Section 9, David Ball from Section 6 and Logan Campbell from Section 2.
120 Pounds
This weight class has an awesome mix of star power and balance. Let's start with the start power – Anthony Noto! Anthony is a 3X NYS champion and 33-1 this season. His only loss came in the finals of the Eastern States Classic to nationally ranked 126 pounder Jordan Titus. Noto is without question the heavy favorite to pick up state title number four but this weight is loaded with talent. Let's start with Mason Bush from Section 3; he's 51-2 and is a 3X NYS place winner. Avery Leonard was the Section 3 runner-up and received a wildcard to Albany. He placed 3rd in NYS last year and has traded wins with Bush this year. Len Balducci from Section 1 Pleasantville is 43-3 this year and is a 2X NYS placewinner. Joe Contrastano is also no stranger to the podium in Albany and he's having another great year with a 22-3 record and let's not forget about fellow Long Islander Joe Sparacio who placed 4th in NYS last year. There are others to watch here too! Don't sleep on Section 4 hammer Donovan Smith, Section 6 stud Carson Alberti, and the very dangerous Joe Curreri from Section 9!
126 Pounds
This is another weight class with no shortage of talent however there is definitely a clear favorite! The top seed here is returning state champion Jordan Titus from Section 11 Center Moriches. Titus is having an incredible season which has seen him go 35-0 and win titles at the Walsh Ironman and the Eastern States Classic! He is currently ranked #12 in the nation at 126. Titus is awesome but he will be tested! Micah Roes from Section 3 Lowville is 40-4 this season and he finished 2nd in the state at 113 last season! Section 2 champion Caleb Svingala was a state finalist last year and is a perfect 42-0 this season! Section 9 champ Matt Morris from Red Hook placed 6th in the state last year and is very scrappy and we can't overlook Jordan Soriano from Section 8 Clarke. Soriano is a perfect 19-0 with 18 pins and a tech fall! Others who will likely be in the medal hunt at 126 include Kyle Willard from S4, Hunter Devins from S7, Hunter White from S5, and Jack Bosco from the Independent Schools.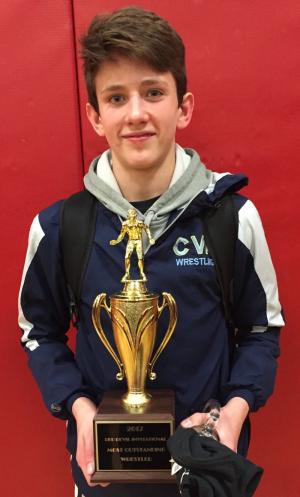 132 Pounds
The Division 2 132 pound weight class is wide open and will be fun to watch unfold! There are at least a half of a dozen wrestlers who have the potential to come out on top! Section 8 champion Gage DeNatale is the top seed and definitely one of the favorites. DeNatale finished 4th in NYS last year and placed 4th at this year's ESC. The next wrestler we should discuss is former NYS champion Marek Bush from Section 3 Central Valley Academy. Bush is 50-5 this year and placed 3rd in NYS last season. The wrestler Bush defeated in the S3 finals is also a contender here – Dean Shambo from Mexico. Shambo placed 4th in NYS last year and is sporting a 37-6 record this year. Three other wrestlers who will definitely be in the hunt are Alex Chrisman from S7, Aiden Cullen from S2, and Mitchell Gaiser from S5. All three have what it takes to place high here and we should also keep an eye on are Josh Post from S4, Luke Tomlinson from S6, and Joey Amato from S9!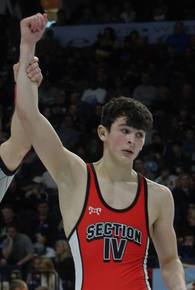 138 Pounds
This is another good weight with a handful of returning state place winners however the favorite to win it all is Brady Worthing from Section 4. The Tioga senior was the state champion at 132 last year and he is a perfect 42-0 this season. Worthing dominated almost every opponent this year,however his closest match of the season was a 3-1 decision over Mike O'Brien from Section 11 Mt. Sinai who is also in this bracket. O'Brein is a former state placer and is 40-5 on the season. Another top conteder at 138 D2 is Kaleb Burgess from Section 5 Pal-Mac. Burgess is 50-4 this season and he is battle tested! His losses are to Beau Bartlett, Ryan Burgos, Nick Sanko, and Justin McDougald – he has wins over Gavis Damasco and Ben Rogers! Carter Baer from Section 10 is no stranger to Albany and he will contend here as well. He is 38-3 with no bad losses on his ledger – McDougald twice and Damasco once. A few other wrestlers to keep our eyes on at this weight are Greg Hotaling from Section 2, Riley McHale from Section 1, and Zach Harrington from Section 4.
145 Pounds
This will be one of the more wide open weight classes at this year's state tournament. Top seeded Brody Oleksak from Section 4 lost his first match of the season back in early December. He dropped a 4-2 decision to Sean Malenfant from Section 2 who has finished the season undefeated. Since that match, Oleksak, a 5th place finisher at last year's state tournament, has reeled of 35 consecutive wins. Eagle Academy senior Hector Rodriguez will also contend for a title here. The PSAL senior is 30-4 and is very scrappy. Section 5 champ Ethan Ferro is having a monster year at 49-3 as is Booby Treshock from Section 2 Tamarac who is 39-2. Section 7 champ Alijah Seymour is tough as nails Hi is 31-3 and will definitely contend here. We also shouldn't look past Section 6's two entries here in Ryan Nugent and Carmeron Riordan.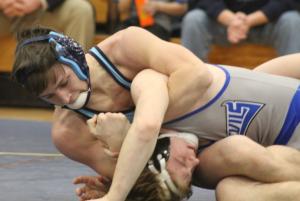 152 Pounds
This weight class is stacked! Christian Hansen from Section 8 Cold Spring Harbor is your top seed and the favorite. Hansen 36-2 this season. He finished 3rd at ESC with his only loss coming in sudden victory to D1 stud Askey. His other loss was up at 170 to Matt Campo. Hansen is the favorite but this is not a one horse race. Keagan Case from Section 3 Central Valley Academy has a 50-3 record this season. All three of his losses came at the ESC where he finished 6th – two of those losses were competitive decisions to Hansen. Section 9 champ Nick Ross finished 3rd in NYS at 138 last year and will definitely contend for the title here. To do so however, Ross will need to avenge a loss to Bryce Smith from Section 7 Saranac who pinned Ross at ESC. Section 5 champ is undefeated at a perfect 37-0 and will definitely make some noise at this weight! Emmett Wood from Tioga is 36-6 and looks tough as does Aiden Canfield from Section 1 Pleasantville who is 33-3. This weight has several guys with very impressive records! A few others here to keep an eye on are Joe Cummings from S10, Hunter McKenna from Section 2, and Thomas Giaramita from S11.
160 Pounds
This weight class has plenty of talent however the heavy favorite is definitely Jacob Null from Section 3. The NC State bound junior finished 2nd in NYS last year and is a perfect 43-0 this year and won the Eastern States Classic at a very tough weight! One of Null's biggest challenges will likely come from Section 6 champ Giovanni Schifano who is 42-1 this year. Section 1 champ Will Carano lost 7-2 to Null back in December and will certainly be in the mix here as will Section 9 champion Patrick Ross how is 35-3 and placed 6th at the ESC. Ethan Stotler from Section 4 has had an awesome season. He is 41-1 and his only loss was to nationally ranked Cooper Kropman. Section 5 wildcard Justin Smith is 40-4 and definitely can't be over-looked but the whole bracket needs to look out for the S5 champion Andrew Englerth who is 47-0 with some absolutely dominating wins! A few others to watch here are Lucas Abatiello from Section 8 and Ryder Slayton from Section 5!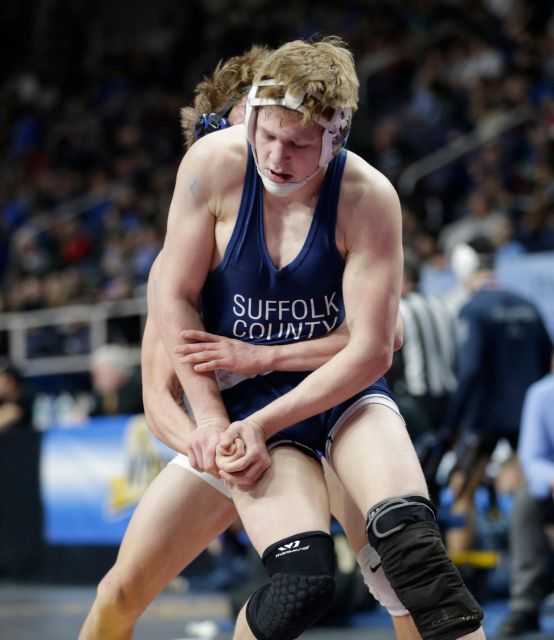 170 Pounds
Section 4 senior Mikey Squires from Norwich is your top seed and favorite at 170. Squires was a state finalist at 152 last year and he is 45-2 this season and finished 3rd at the ESC. His only loss at ESC was a 6-3 decision to eventual champ Andrew Donahue from Wyoming Seminary. Squires will definitely be pushed though – and possibly soon! His quarterfinal opponent could wind up being Nate Ross from Section 9 Onteora. Ross placed 6th in NYS last year and also gave Donahue a great match at ESC losing 3-0 to the eventual champ. One of Squires closest matches this year was a 6-4 win over Matt Campo from Mt. Sinai. The Section 11 champ is 40-2 and seeded 2nd here. This weight is well balanced! Some others that we should keep an eye on are Alec Richards from Section 2, Kaul Runfola from Section 5, Jake Minier from Section 5, and Dean Sheinman from Section 8.
182 Pounds
This weight class has three undefeated wrestlers in the bracket – and none of them are the #1 seed! The top seed here is Ethan Cooper from Section 2 Colbeskill-Richmondville. Cooper is 36-3 this year and he was an ESC finalist. He finished in 3rd place in NYS at 170 last year. Now let's talk about the undefeated guys. Anthony Rasmussen is your Section 3 champion. He is 33-0 this year and he finished 4th in NYS last year. Brock Conaway won the Section 5 title this year. He sports an impressive 51-0 record this year with 33 pins. Joe Goodrich is also undefeated. The Section 11 Mt. Sinai senior is 44-0 on the season and will definitely contend here. Jacob Shippee from Section 10 Gouverneur is tough as nails and can't be overlooked and the same can be said for Mitch Knapp from Section 4 who placed 6th in NYS last year as well as sophomore Gabe Monroe from Section 4 Windsor. A few others to watch here are Ethan Eldred from Section 3 and Ceric Kristin from Section 6.
195 Pounds
This is a solid weight with several very talented wrestlers but the favorite here is top seeded Tyler Mousaw from Section 3 South Jefferson/Sandy Creek. Mousaw is a perfect 31-0 on the season with 21 pins and he's a 2X Pennsylvania state place winner. The #2 seed in this bracket is Hudson Evingham from Section 5 who is sporting an impressive 54-1 record this season. The only wrestler to pick off Evingham this season is the #3 seed Nate DeGroff from Section 5 Warsaw. Evingham avenged the loss with a 2-0 win over DeGroff in the Section 5 finals. Kolton Gagnon from Section 8 is 29-4 while Bryce Dare from Section 3 is 41-2. These two placed 5th and 6th in NYS respectively last season and will definitely be in the hunt here. Brandon Butler from Section 4 is 35-3 and will also contend here as will Noah Kennedy from Section 4 and Brenden Covey from Section 2. Also keep an eye on Hunter Roberts from Section 9 and Tim Gadway from Section 7.
220 Pounds
Last year's 220 pound 3rd, 4th, and 5th place winners all return this year and will all contend for the top spot here. Carl Bouyer from Section 8 Clarke finished 3rd in NYS last year and is 39-1 this year. Who beat him? The kid who came in 4th in NYS last year – Jeff Crooks from Section 2 Colbeskill-Richmondville. Crooks has misses a good portion of the season and is only 13-0 but one of his wins was a 5-1 decision over Bouyer at the state duals in Syracuse. Bouyer also had a win in Syracuse against the James Oosterom from Section 9 Port Jervis. Oosterom finished 5th in NYS this year and is 35-2 for the season. His other loss was also at Syracuse and it was to Bouyer. Colby Suglia from Section 11 Mattituck is having a great season and will contend here as will Section 3 champ Sam Sorenson from Homer. Sorenson is a freshman 195 pounder who decided to bump up to 220 for Sections and the gamble paid off! The wrestler he defeated in the S3 finals, Alex Thompson, received a wildcard and will definitely be in he mix making his second trip to states! Tyler Smith from Section 5 is 50-3 this season and he hasn't lost a match since the middle of December. A few others to watch here are Connor Walsh from Section 6 Olean, Collin Bidwell from Section 4 Windsor, and Scott Barnhart from Section 4 Walton.
285 Pounds
The Division 2 heavyweights will be a hotly contested weight this year. There is no clear favorite and several wrestlers with the ability to come out on top on Saturday evening. Section 1 champion George Lebberes is 37-4 this year and he's your top seed here. The Ardsley senior placed 6th at the ESC and has shown that he can wrestler with any wrestler in the state D1 or D2. His biggest competition coming out of the top half of this braket will likely be from Jaden Heers from Section 6 Newfane who is 42-2. The bottom half of the brakect is set up to gave a great semifinal if the seeds hold up! The #2 seed is Mike Leibl from Section 3 Canastota. Leibl is a perfect 42-0 this season and finished 5th in NYS last year and will likely meet up with Section 4 champ Tyler Rice in the semis. Rice is 31-5 this year however he has a win over top seeded Lebberes. A few other we need to keep an eye on here are Mike Raschiatore from Section 5, Jake Skinner from Section 6, and Devin McGovern from Section 9.