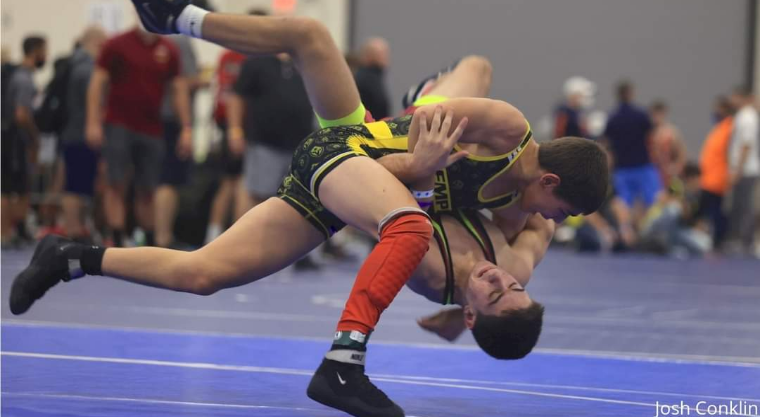 Congratulations to Minisink Valley's PJ Duke for finishing 2nd in the high school division at this weekend's Super 32 Challenge. The Super 32 is generally considered the toughest high school wrestling tournament in the nation. Duke made it all the way to the finals where he dropped a razor close 4-3 decision to Michigan sophomore Caden Horwath. Duke was attempting to become only the 3rd 8th grader in tournament history to win a coveted Super 32 belt!
PJ had to navigate his way through a brutal bracket in order to take his shot at the belt. His first match was a 5-2 win in the round of 128 over Davian Guanajuato of Arizona and he followed it up with a pin in 1:47 over Daniel Hurt of Ohio. In the round of 32 the Minisink middle schooler decked Trevon Grey of Virginia at the 3:22 mark and then notched a 14-4 major decision over Michigan's Kaden Chinavare in the round of 16. Duke started Day 2 with a bang when he pinned Kentucky's Spencer Moore in 3:05 in the quarters – Moore is ranked #7 in the nation at 113! In the semifinals Duke picked off another nationally ranked stud when he upended #17 Jore Volk from Minnesota 2-1 in the ultimate tie breaker. PJ looked great in the finals but just fell a little short in his 4-3 loss to Horwath who is ranked 15th in the nation.
Duke was not the only Section 9 stud who laid it on the line at the Super 32. His Minisink Valley teammate Zack Ryder finished the tournament 3-2 in a loaded 145 pound weight class. Ryder notched a :41 pin in the round of 128 over Zac Cowan from Kentucky and then recorded an 8-0 major over PA state place winner Ty Cymmerman in the round of 32. In his next bout Ryder wrestled a very smart match and came away with a 5-1 victory over Kael Voinovich in a match-up of two stud freshmen! In the round of 16 Ryder dropped a 9-4 decision to CA state finalist Henry Porter and then was eliminated when he was edged 4-2 in sudden victory to Alabama's Jaden New.
In the middle school division Section 9 had two wrestlers entered as Newburgh resident Cooper Merli went 2-2 in the 80 pound weight class and Washingtonville's Mason Ketcham went 3-2 at 105. Merli started the tournament with an 8-0 major over Ezekiel Keel from Virginia but was then pinned in the round of 16 at the 1:04 mark by Revin Dickman from Indiana. In the consies Merli notched a 3-2 win over Ohio's Rocco Czanecki before being eliminated by Roman Belardo of Georgia in a 4-2 sudden victory loss. Ketcham lost his opening match 4-0 to Leo Contino from California before reeling off three straight wins. He beat Cody Salomon from VA 4-0, Bradley Williams from AL by fall in 2:36, and David Perez from RI 7-4. Ketcham's run ended when he lost by major decision to Carson Bissey from IL 9-0.
Great job PJ, Zack, Mason, and Cooper!!!!