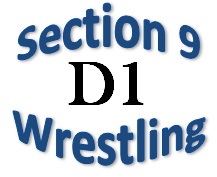 After a weekend full of exciting, early season tournaments, it's now time to determine who is going be crowned the 2011-2012 Section 9 Dual Meet Champions!  The Division 1 tournament is set to get underway on Tuesday December 6th at two different sites:  Pine Bush and Middletown.  The D1 semifinals and finals, as well as the D2 finals, will take place on Wednesday December 7th at NFA.  Click here  for a complete tournament schedule.  Below is a preview of this year's D1 tournament.
Pine Bush site:
In what can prove to be a very interesting match, Cornwall will take on Valley Central in one of the prelims. Cornwall has a very solid core of returning wrestlers including 2011 state qualifiers TJ Kreider and Luke Roth as well as 2010 S9 runner-up Sean Sweeney who missed last year due to injury.  Valley Central may be the surprise of this year's tournament.  After a "down" 2010-2011 season, the Vikings started this year's campaign by going 7-2 at the Tiger Duals in Kingston this weekend including wins over Pine Bush and Middletown.
The winner of the Cornwall/VC dual earns the right to take on defending champions and #1 seeded Warwick.  The Wildcats have started their season in convincing fashion on Saturday by winning the very competitive MacArthur Tournament.  The Warwick squad returns five Section 9 champions from last year led by 4X champion Shane Connolly.
The other preliminary match at the Pine Bush site pits Washingtonville against NFA. Newburgh's numbers are a bit down this year however Head Coach Jeff Cuilty is hopeful the team will be competitive by season's end.  NFA will be led by S9 runner up Johnny Bastone as well as third place finisher Terrence Cheeks.  Washingtonville is another team that is a hoping to make progress this year and they will be led by Colin Casey.  Casey had an outstanding weekend at the Tiger Duals including victories over Middletown's Kirk Nelson and Pine Bush's Patrick Sause.
The Washingtonville/NFA victor will take on fourth seeded Pine Bush.  Pine Bush was 6-3 at Kingston this weekend including a 48-33 victory over Washingtonville on Sunday.  Pine Bush is anticipating a very good season and will be led by a solid core of returners including 2X Section 9 Champion Johnny Stramiello, Jordan Robles, Chris Weston, and Patrick Sause.
Middletown site:
The first preliminary match will have host Middletown taking on Port Jervis.  Due to the late football season (Erie Bell game played on Thanksgiving Day), both teams are off to a late start this season. Middletown, however, was able to get some matches under their belt this weekend in Kingston and went 6-3.  The Middies will be led by Kirk Nelson, Donald Brown, Jordan Jackson and Blaize Smith.  Port Jervis is also blessed with a solid core of returning wrestlers including Dylan Booth, Dylan Muller, Travis Edwards, Bret Sauschuck, and Dan DeCarlo.
The winner of Port/Middletown will take on third seeded MinisinkValley.  The Warriors graduated four state qualifiers but are confident they will have a successful season behind a young, well-balanced, and tough team.  Minisink will be led by returning S9 Tournament place winners Gerard Daly, Mike Raccioppi, Mason Rambrose, and Anthony Sannella as well as Nick Truglio, Kenny Lumbrazo, Devyn Fennell, Frank Mayo, and Shane Hanlon.
The final preliminary match of Day 1 will be Saugerties against Kingston.  Both teams were at the Kingston Tiger Duals this weekend however they did not wrestle each other.  This match will be highlighted by a rematch of last year's Section 9 285 pound final with Saugerties' Ethan Stanley taking on Kingston's Seth Stauble. Stanley won last year's final, however both wrestlers went to the states after Stauble received an at-large entry.
The Saugerties/Kingston winner will have to take on a very high-caliber squad from Monroe Woodbury.  The Crusaders will be led by a host of returning S9 Tournament place finishers including Vinny Vespa, Alex Baum, Tom Murphy, AJ Voelker, John Vandercliff, and Anthony Milano.
Good luck to all of the teams….let's get it on!!!