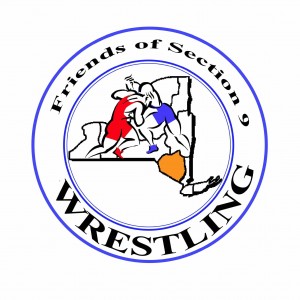 The 13th Annual "Friends of Section 9" Banquet was held on Sunday March 16, 2014 at the Meadowbrook in New Windsor. Approximately 225 Section 9 wrestlers, parents, and coaches were in attendance.
The top 4 place winners in Division 1, and the top 2 place winners in Division 2 each received plaques. In addition the attached 28 Special Awards were presented. (The history of each award is also listed on the first tab of the attached.)
                                                 2014 Friends of S9 Special Award Winners
Some of the highlights of the evening included:
Wrestlers of the Year: Dan DeCarlo (Port Jervis) 
                                         James Bethel (Saugerties)
Comeback of the Year: Gerard Daly (Minisink Valley)
Most Courageous Wrestler: Tyler Blasko (Wallkill)
Monroe Woodbury finished the season ranked #1 in NYS and received the Team of the Year Award.  The Crusaders head coach, Steve Fischbein, received the Mark Faller Coach of the Year Award.  After receiving a well-deserved standing ovation, Coach Fischbein, who is retiring from his head coaching position, gave an outstanding speech acknowledging many of his fellow coaches from around the Section.  Congratulations and great job Coach Fischbein…you went out with style and class!