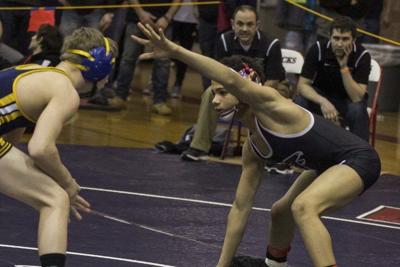 132 Pounds
With no clear cut favorite, 132 will be one of the most entertaining weight classes to follow at this year's Eastern States Classic. One of the favorites will be Kyle Fields from Danbury, CT who finished 4th here last years and is a 2X CT state champ. 2X NYS finalist Justin McDougald will definitely contend for the title here as could 3X NYS place winner Alex Samson from Victor. Logan Sciotto from Rocky Point placed 3rd in NYS last season and is always dangerous and let's not forget about Lincoln Heck from Wyoming Seminary who is very tough. Nick Calderone from Newfield is undefeated and will open some eyes here and we can't overlook Gage DeNatale from Locust Valley who was a state qualifier last year and has yet to lose this year. Sean Peterson from Islip has a win over Sciotto this season and we cannot forget about Jacob Verien from Iroquois who was a NYS place winner last season as was Ethan Ferro from Pal Mac. Victor Perllishi from Pleasantville placed 8th at last year's ESC and will be in the mix as will Jayden Cardenas from Grand Street Campus, Joe Foxen from Garden City, and Cole French from Fulton. Section 9 has a few wrestlers who could do well here in Matt Romano from Valley Central, Mat Malherio from Highland, and Tommy Maddox from Washingtonville!
138 Pounds
Adam Busiello is a 4X NYS champion, 3X S32 High School Champion, 2X ESC Champion, and is currently ranked #2 in the nation by Intermat making him the definite favorite here at 138!  However, in order to pick up his 3rd title at Eastern States, Busiello will have to defeat a few well decorated wrestlers! Niagara Falls junior Willie McDougald was a NYS champion and will definitely be a contender. We have a few other state champs at 138 – Ben LeBlanc from Danbury is a 2X Connecticut state champ, Samuel Martel from Noble is a Maine state champ and Mahari Miller from Springfield Central is a Massachusetts state champ. Dan Gibson from Port Washington, who finished 6th in NYS last year, is entered here and we should also keep our eyes on Tyler Albis from John Jay East Fishkill, Kyle Althenn from Mepham, Zacc Romero from Brooklyn Tech, and Hector Rodriguez from Eagle Academy! Section 9 has a few wrestlers who could definitely contend for a spot on the medal stand at 138 in Sean Savacool from Minisink Valley and Ethan Palanca from New Paltz!
145 Pounds
Starting to sound like a broken record but this is another weight class that is absolutely loaded! There are at least a half of a dozen guys with a legitimate shot at winning this bracket! Let's start with Hunter Shaut from Central Valley Academy. Hunter was the 2017 NYS champ and a 2018 state finalist and should definitely be a contender here. Tyler Sung from New Canaan, CT finished 3rd at last year's Eastern States Classic and is looking to get to the top step of the podium this year. Niagara Wheatfield's Warren McDougald is a 2X NYS place winner and will be in the mix at 145 as will Jonathan Spadafora from Half Hollow Hills East who took 2nd here last year at 138! Cahal Donovan from Marcellus is a 3X NYS place winner and is always a threat and let's not forget about Lee Mauras from Freeport who came in 4th in NYS last year and is undefeated so far this season. Not done yet….AJ Kovacs from Iona Prep is undefeated, Brock Delsignore from Shenendehowa finished 8th at ESC last year, Ryan Burgbacher took 6th in NYS, and Raymond Costa from Cold Spring Harbor took 6th in NYS and has only one loss this season … to Kris Ketchum of Rocky Point who is also entered at 145. Let's not forget that Wyoming Seminary has two entries at this weight who are both very tough – Carter Tuttle and Niko Katsuyoshi. Tyler DeSena from Garden City is very formidable and Pine Bush's Tommy Askey has only lost to Ketchum so far this season! Yeah, this weight class is stacked!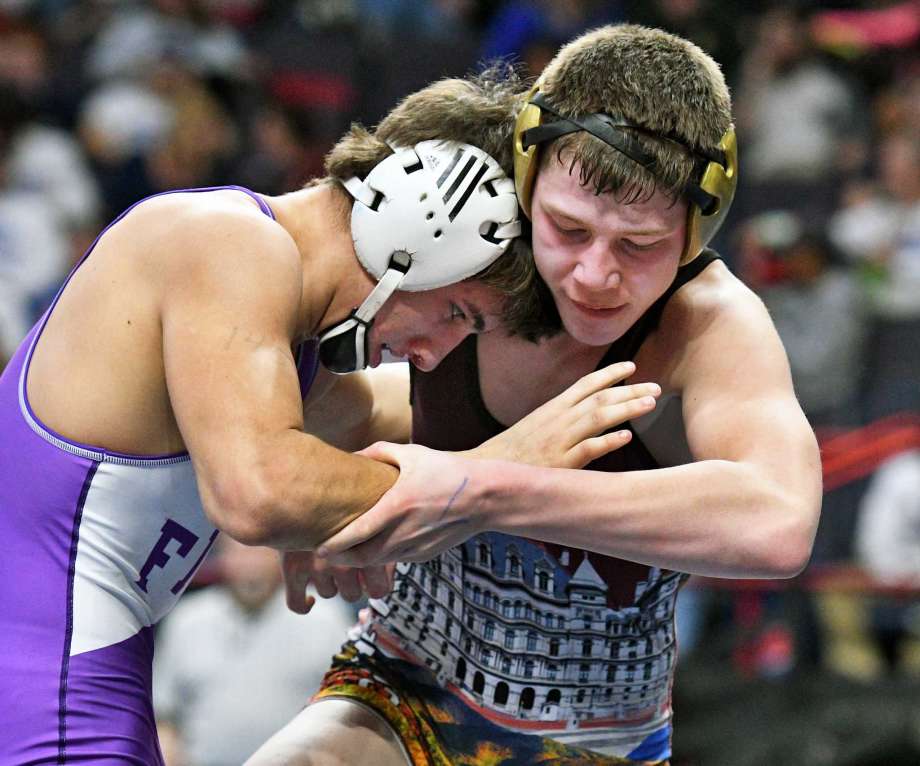 152 Pounds
The 152 pound weight class is without question one of the most wide open weights at this year's ESC!  There are several contenders and no clear cut favorite. Let's start with Zack Lawrence who finished 3rd at the ESC last year and he's a 2X NYS place winner as is Bryce Smith from Saranac, Mike Squires from Norwich, and Ryan Stencel from Lancaster. Another wrestler to watch is David Berkovich from Poly Prep who placed 5th at National Preps last season and also took 7th at ESC. Gaven Bell from Cold Spring Harbor is undefeated this year and has a major decision win over 160 pound contender Corey Connelly. Hauppauge's Danny Mauriello is also undefeated and was a state qualifier last year as was Jacob Edwards from Columbia. Keagan Case from Adirondack has been dominant this season and may surprise a few people here! A few others to keep on your radar are Sammy Toggas from Evangelical Christian Institute (MD) who finished 8th at Prep Nationals, Jack Spahn who was a state qualifier for Islip, Mike DiForte from Petrides and also Section's Nick Florin from Pine Bush!
160 Pounds
This will definitely be a competitive weight however Kyle Mosher from South East Cyclones HS is the definite favorite at 160 pounds. Mosher is a 3X NYS place winner, 2nd place finisher at the 2018 ESC and he is currently ranked #6 in the nation by FloWrestling! He will not be untested though because guys like 2X NYS place winner Jack Chesman from Pearl River and Corey Connelly from Rocky Point who took 4th in NYS last year are very formidable! JD Moore from Wantagh also finished 4th in NYS last year as did Cory Day from Iroquois and we can expect both to contend here. Jacob Null is a sophomore from Dolgeville and he is going to open some eyes at this year's ESC. He's undefeated and has a few wins this year over previous NYS qualifiers! Section 2 has a few intriguing entries at 160 including Charlie Grygas from Duanesburg and Peter Meshkov from Niskayuna. A couple others to watch here include Cameron Galvin from Fulton, Cole Rees from Wyoming Seminary, Jose Rodriquez from Tottenville, Alvan Cesar from Springfield Central (MA), and Steven Gazzillo from Cornwall!